Are you looking for Payday loan apps that work with Chime bank account?
Do you want to know apps like Dave that work with Chime?
You have landed on the right page if you are looking for money advance apps that work with Chime.
This post provides a list of the best money advance or Payday loan (Spotme) Apps that use Chime bank.
So, let's get started.
Chime offers a Spotme feature, using which you can overdraft your Chime account up to $200, but it is limited to only $20 for most people.
The $200 Chime Spotme only gets unlocked for limited people based on the Account history, direct deposit frequency and amount, spending activity, and other risk-based factors.
Well, don't worry; there are dozens of other options that allow you to take loans without any fees or additional charges that even work with Chime.
Below, we have listed some of the best Payday loan apps that work with Chime bank account.
---
What Does Cash Advance mean, and How do Payday loan Apps work?
Cash Advance Apps, also known as Payday or Paycheck apps, are the apps or services that offer users to get paid early before their paycheck arrives. Usually, most of the services allow users to borrow $100 – $200 from their next paycheck.
Usually, people use cash advance apps when they run out of their funds and some emergency arrives.
Cash Advance or payday advance doesn't mean you are taking a loan; it is because you are just accessing your own hard-earned money a few days earlier as you have run out of your funds and your next paycheck hasn't arrived yet. And when your paycheck arrives, these apps will then deduct the amount you borrowed directly from your paycheck.
Since you use your own money, most Cash advance apps do not charge any interest. However, they come with a monthly subscription, or some even offer a tipping system.
One of the industry-leading apps that offers cash advances of up to $100 per pay cycle to the user at a minimal cost of $1 per month is Dave. It offers dozens of other features such as overdraft warnings and budgeting tools.
Dave is not the only app that offers cash advances at such a low fee; there are many others.
Below, we have listed Cash Advance Apps like Dave that work with Chime.

---
Payday loan apps that work with CHIME
Note: Here, we are only listing the Payday loan apps that work with Chime and only offer services primarily in the USA.
Dave
MoneyLion
Cleo
Albert
Empower
Varo
| | |
| --- | --- |
| (Payday loan) Cash Advance Apps  | Works with Chime |
| Brigit | No |
| Cleo | Yes |
| MoneyLion | Yes |
| Earnin | No |
| Branch | Yes |
| Dave | Yes |
| Albert | Yes |
| Klover | Yes |
| Empower | Yes |
| Chime SpotMe | Yes |
Below, we have discussed every app in details.
---
1. Dave
Dave is an app that provides cash advances to its user to help them avoid bank overdraft fees. Dave doesn't charge you any interest but asks for tips and a small monthly subscription fee to use the app.
Dave has two types of Card, one physical debit card and another virtual debit card. Both of these cards have different card numbers, so if your physical Card gets lost or stolen, you will still be able to pay online bills and make purchases using your virtual Card.
How to link Dave with Chime:
 Open Dave app,

Go to the profile tab.

Select Linked Banks and Card.

Tap Change/link Bank account.

Go to the bank search and find Chime.

Enter your Chime login details and link it.
---
2. MoneyLion
Cash advance or Instacash of MoneyLion is usually 15% of your anticipated recurring direct deposit amount of your account. The maximum cash advance limit from Moneylion is $250, but if your account does not have any recurring income, you will not have access to a large amount. However, the minimum limit is $25.
Well, before you can get a loan/cash advance or Instacash from Moneylion, your checking account must fulfil the following requirements;
An account has to be open for at least two months

The account has your regular deposits of income/paychecks

It has a positive balance

It's active
Alternatively, you can also qualify for Instacash advances by opening a RoarMoneySM account.
Moreover, You can unlock higher amounts 
By setting up direct deposits into a RoarMoneySM account,

By signing up for a Credit Builder Plus membership

By completing certain tasks in your MoneyLion App to qualify for boosts.
In this case, your cash advance will be up to 30% of your recurring deposit or up to a maximum of $1,000. For more details, visit the official website.
To request Instacash advances, tap Accounts on the Home screen of the MoneyLion App. In seconds, you'll find out if you qualify and how much you can get.
---
3. Cleo
The next Payday loan or Cash advance app that works with Chime is Cleo, using which you can get a cash advance of up to $100.
Cleo is an AI-powered money management app that lets you analyze your deposits and spending patterns by linking your bank account.
It works with over 3000 banks in the USA and also with Chime, which is under the top 10 banks that Cleo supports.
Using Cleo, you can cash advance up to $100 to your bank account. 
However, Cleo's cash advance is only part of the Cleo+ package that costs $5.59 per month. Although, other budgeting features of Cleo are free.
Well, if you are ready to pay a $5.59 monthly fee to Cleo, you can cash advance up to $100 to your Chime account easily.
To connect Cleo with Chime, head over to the bar present at the top of the app and search for Chime, select it and enter your Chime credentials.
For more details read our guide: Working of Cleo with Chime
---
4. Albert
Albert is the next spot me app or cash advance app that works with Chime.
Albert, just like Cleo, is banking, investing, and saving app that lets you cash advance your paycheck up to $250.
Using Albert, you can cash advance ranging from $100 up to a maximum of $250, depending on your income.
The cash advance does not have any interest or late fee, but it also has a monthly subscription model like other apps.
The premium service that Albert offers is known as Albert Genius that costs $3.99 per month.
Once you link your bank account with the Albert, you can get the advance up to $250 depending upon your income. The advance is free if you take normal delivery(2-3 days). For instant delivery, you'll pay $3.99 if you're a Genius subscriber and $4.99 if you're not.
How to link Chime to Albert:
Open Albert app
Head over to the Budget tab.
Tap + at the top of the screen.
Select Chime, or search it if not listed.
Enter your Chime account login details, and you are ready to go.
For more details read our guide:Working of Albert with Chime
---
5. Empower
Another cash advance app that offers an interest-free payday loan of up to $250 is Empower.
The money you borrow can be sent for free if you have an Empower checking account or to another bank account is with a $3 fee.
Empower has an $8/month membership charge, with 14 days free trial. 
However, the app doesn't charge any late fees, and there are no credit checks in order to borrow money.
Well, it requires you to have regular direct deposits to your Empower Checking Account.
Moreover, it allows users to access their paycheck up to 2 days earlier and offers up to 10% cashback on eligible purchases at hundreds of restaurants, grocery stores, and gas stations.
Furthermore, Empower also offers a budgeting feature that allows you to control your spending by sending you alerts when you spend more.
Download Empower: Android (Free), iOS (Free)
---
6. Varo
Another spotme like app that works with Chime is Varo.
Varo is a neo bank that offers features similar to that of Chime, such as you can open a checking or saving Varo account. You can also get a debit card using which you can shop online or offline or withdraw cash from an ATM.
Varo allows users to cash advance, but it charges a $5 fee for a maximum $100 cash advance. For $75, the fee is $4; for $50, it's $3, and a $20 cash advance incurs no fees. 
Well, like other payday loan apps such as Cleo or Albert, Varo doesn't have any monthly subscription, nor does it charges any fee to get a Cash advance to your account instantly.
To qualify for a Varo cash advance, you should have an active Varo account, and it should be at least 30 days old. You will also need to have received at least $1000 in direct deposits in the last 31 days.
Varo account holders would like to get the Cash advance and use it with their Varo debit card, but if you want to get a cash advance from Varo to Chime, follow the steps below.
Tap "Link an Account +"
Select Chime or search for it if you don't see an icon
If you see options when you select your bank, pick the one with the web address where you would normally log in online
Enter your user ID and password and tap "Submit"
Follow any prompts from Chime
Follow further instructions.
---
Final words:
Chime is a financial technology company based in America that provides fee-free mobile and internet banking services. It is owned by The Bancorp Bank or Central National Bank.
Chime allows you to send and receive money to friends and family and helps you get your paycheck up to 2 days early. Using Chime, you can also overdraft up to $200 without paying any fee.
The overdraft feature of Chime is called SpotMe. Well, if you are looking for other Spotme (Payday loan) cash advance apps that work with Chime, you have many options such as Dave, MoneyLion, Cleo, Albert, Empower, and Varo as discussed above in the post.
So, that's all for now. We hope you were able to know which Spotme apps work with Chime and which do not after reading this post. 
You can visit our Chime category or follow a few related posts below for more posts on Chime.
---
Further Reading:
Is it Possible to Increase Chime Spending Limit (2021)
How to check Chime balance & Chime card balance
Why is my Chime Spot Me not working (6 Reasons)
Can I overdraft my Chime Card at Atm or for Gas?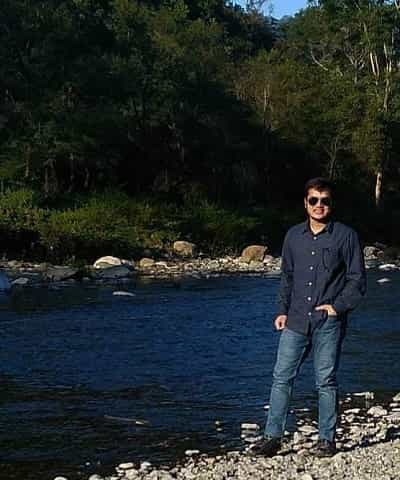 Ankit Kumar is an Engineer by profession and a blogger by passion. Over the last several years, he has written tons of articles, solving queries on Quora. He also has years of experience in investing in Cryptocurrencies, Funds, and Stocks.