Are you finding it hard to make transactions with your Chime app?
Are you having issues with the Chime app's functions?
Well, we have received a lot of requests from our readers to help them out with Chime app not working, loading problems.
To answer all of those queries, we have created this detailed post. Here, we have tried to answer a very common query. Firstly, we have discussed the possible reasons why Chime is not working for you. And along with that, we have provided possible solutions.
So, if you are ready, let us dive right into the details now.
---
Why is Chime not working or loading?
There are many reasons why Chime is not working for you. It might be the case that your Chime account is blocked for some reason, or your Chime card is locked. And it could be a case that you have used the daily transaction limit of your account. Sometimes, the issues could be from Chime's end.
Chime is a popular neo bank that has been serving users in the USA. The users can enjoy all the services at the tip of their fingertips. One just need to access a mobile device or a PC for banking with Chime.
Chime offers multiple services like mobile check deposits, SpotMe – Chime's cash advance feature, Chime credit builder card, debit card service, and more.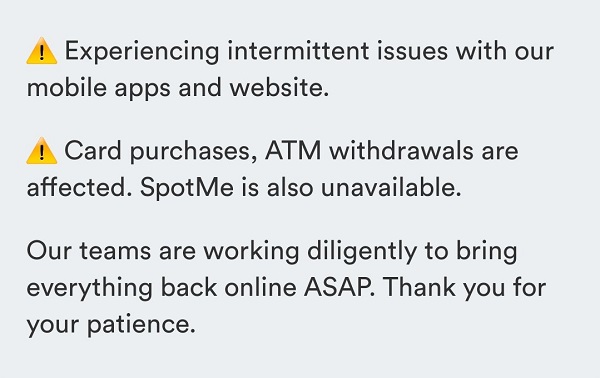 Sometimes users report that Chime is not working for them. And that is very common; there could be many things triggering the problem.
If you want to learn more about the reasons why Chime is not working, you can check out the second part of this post. We will discuss the possible reasons for the issues and the ways to solve them.
If you are encountering issues with specific Chime services, consider visiting the links below.
ALSO READ: [Fixed] Chime Pay Friends not working
[Fixed] Chime Spot Me not working
---
How to fix Chime not working
Before we start discussing the reasons and possible ways to fix the issues with Chime, we would like our readers to know how we will be proceeding with the solutions.
To begin with, we will mention some of the very basic troubleshooting methods, which will be really helpful if you are having issues with your device. And later, the methods will help you fix problems with the Chime app.
Proceed with methods step-by-step. Follow method-1 first. And if things do not work for you, proceed with method-2 and then 3rd.
If you are ready, let us start without further ado.
1. Check internet connection
The first and basic method to fix the possible issue is to check if your internet connection is working fine. If you get an error while you proceed with your payment or the page is not loading for you even after waiting for some time, you must check your internet connection.
Check if your Wifi router is working fine as intended. Try connecting it to another device and stream Youtube.
Check if the Wifi is indicating that the network connection is poor or 'not available'. If your router is O.K, but the internet service is not available, you might have to contact your service provider right away.
Before you make a call, check if you have paid the bills.
You can check the internet connection speed on your browser on any mobile device or PC. To check the speed, simply search for the phrase – 'Check internet speed' or visit the website.- speedtest.net.
If your internet connection is working fine, you will see the results on SpeedTest.net like this –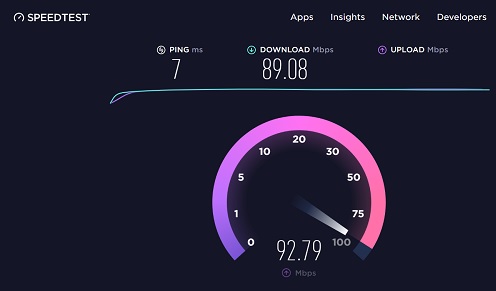 But, if the page doesn't respond at all, this is a clear indication that your wifi internet connection is not working as intended.
So, what else can be done?
Well, you can use your mobile internet connection for the time being or wait for the wifi internet connection service to come online. If you want to use Chime on a PC, you will have to use your mobile hotspot to use data using the PC's wifi connection.
---
2. Disable private/ shared network
Many users are using VPNs these days for streaming content to keep their network secure from third-party trackers. But, there is a possibility that your VPN connection is causing problems in the normal working of your apps on your device.
If you are connected to servers of a different country, let's say, the United Kingdom, you won't be able to use Chime. The Chime app cannot be used anywhere else other than the United States. That means your VPN connection is causing the connection issue.
That's why you will need to check if you are connected to a VPN and disable it. Well, connections to VPN servers of a different city in the USA might not cause any issues, but you must try disabling the connection if you cannot use your Chime app.
VPNs are great when it comes to getting a secure connection. We, here at UniTopTen, have curated a list of the best VPNs for 2022. You can check out the list below.
READ NOW: Top 4 VPNs for 2022
---
3. Check Chime services status
If, after checking the network issues, you are still encountering problems with Chime, we will suggest you check the service status of Chime. Before proceeding with the basic troubleshooting issues, check if there are issues from company's end.
Sometimes, you will find it hard to take action on your app, even if your internet and everything else is working fine on your end.
Chime is a neo bank that offers all services online, and a minor bug in servers might create chaos which may even result in multiple services breakdown.
Unfortunately, there is nothing specific you can do on your end to get things fixed. All you can do is wait for the services to come online again and check the service's status. To check the status of Chime's services, you can reach out to the Chime official status page.
Another way to keep yourself updated is by checking the reports on Downdetector.com. Visit the website and search for Chime. This particular website shows the number of reports posted on micro-blogging site – Twitter. It is an excellent way to check the status.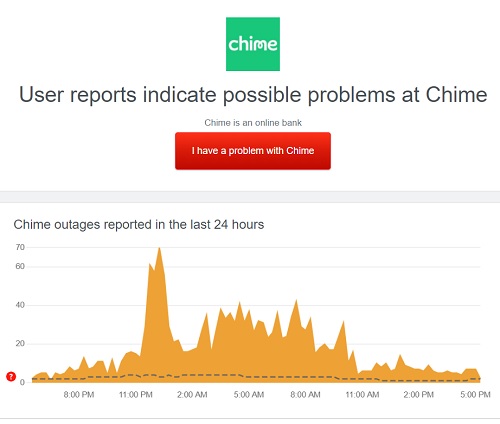 ---
Now that we have talked about the general network issues, we will now see the possible app issues and the methods to fix them. Proceed step-by-step.
4. Download patch update
If there are no issues with the network connection, maybe there is problem in your app only.
The most basic troubleshooting for app-related problems is downloading the patch update. The bugs and glitches are common in any app and generally appear when the developers bring new features to the app.
There is a high possibility that just a bug in the app is making it hard for you to proceed with your transactions or any other action on the Chime app. But, this can be fixed very easily.
The app developers keep checking the apps for any issues and release updates to bring new features and patch any bugs and glitches. If you have easy access to an internet connection, you must always keep your app updated.
Download the latest app update from the respective app stores if you haven't already. This should resolve the issues. But, if you are still encountering the issues, proceed with the next step.
---
5. Reboot your device
If you have been struggling to complete an action on your Chime app and there are no issues with the internet connection, we suggest you restart your app once. And if that doesn't work, try rebooting or restarting your device once.
Restarting the device refreshes the device's RAM and loads all the programs again. So, if the Chime app had some issues in grabbing its share of RAM and processing power earlier, restarting the app will certainly resolve this issue.
Try it once. If the issues still exist, proceed with the following method.
---
6. Sign-in again
If rebooting the device and app do not resolve the issues, you must try to sign in to the app again. Sometimes, if you have logged in with the same Chime account on a different device, your current logged-in device might face usage restrictions.
You can easily solve it anyway. Log out from the Chime app on other device and log in again with the account details. Go to the app settings, where you will find the option to log out.
---
7. Clean app cache
To help the users use any of the apps, the device stores some data related to the app before even loading the app. This helps the user get the best out of their personal device and use the app efficiently without submitting the same data repeatedly.
Some of the cache data is very important, like your account credentials, password, profile photo, app settings, and more. But, sometimes, the system piles up unnecessary temporary cache data, making the app laggy.
If the Chime app is not working for you as intended, you must try to delete the cached data. If you need, we are providing a quick guide to help you delete the cache below –
Locate the Chime app
Tap and hold the app, and select App Settings
Select the 'Data & Storage' section
Select the option to clear cache data
Uninstall and then install the app
Before you proceed, make sure that you have the Chime log-in details with you. It is because, on clearing the cache, you will lose your Chime account log-in details as well.
---
8. Free Up Internal Storage
Cleaning the app cache might have solved the issues with your Chime app. But, if you are still facing the issues, you should try cleaning up your phone's storage.
Some apps might malfunction if there is insufficient phone internal storage. And if that's the case with your device, you might have seen an 'Insufficient Internal Storage' alert on your phone.
You can easily fix this situation by freeing up some space on your device. There is no particular limit, but try getting up to 2 GB of free space.
Reinstall your Chime app once you are done freeing up the space. Hopefully, your Chime app won't malfunction if it was causing some issues earlier.
---
9. Use another device
Well, the methods mentioned in the list above might have solved all of the issues with the Chime app. We have covered all basic troubleshooting till now.
And if you still cannot use the Chime app on your mobile device, you must try using it on another device now. This is the best you can do if nothing is working for you.
Sometimes, the service providers block the IP address of a device; the reasons can be different. If you have received an IP address block for a device, you won't be able to use it.
You can contact Chime support ask them for assistance.
---
10. Use Chime web version
Chime services are available on different platforms. You can use the Chime services with the help of the Chime app, which is available for both Android and iOS platforms. You can use the web version of Chime on both Windows and Mac OS with the help of a browser. Simply visit www.chime.com and log in with your details.
All of the Chime services can be accessed using the web version except Chime mobile deposit feature, which involves uploading photos using a mobile device.
If the Chime app is not working and you have been banned from using the Chime app on a particular device, you should consider using Chime's web version on a PC.
This will also confirm an issue with your mobile or Chime's app.
---
11. Try a Different browser
Well, for the users, who have tried Chime's web version but still couldn't get the work done, we have one last thing for you to try before proceeding to a different approach.
You can try using a different browser. In most Windows laptops out there, the default browser is still Microsoft Edge. You can try using any popular browser – Google Chrome browser, Mozilla Firefox, and Opera browser.
If you still do not get the desired results, check this very next method to get the issue resolved.
---
12. Use Chime with Zelle app
If nothing has worked for you till now, but you are in great need to access your Chime account, there is one more way to do that.
You can use the Zelle app. Zelle is generally used as an integral feature in the bank's app itself. But, Zelle has a standalone app as well, where bank accounts or debit cards can be linked and accessed.
And in case you can't access the Chime app to make transactions, you can use Zelle, which can transfer money from your Chime bank account to another account.
Below, you can check out the quick guide for how to link Chime account to Zelle –
---
If you are still reading this post, it will be suitable to assume that you still cannot use your Chime app as intended. In the methods mentioned above, we discussed how to tackle issues with the Chime app. Now, we will see how issues related to Chime account can be fixed.
13. Check if limit reached
Well, you cannot use your Chime account to transfer unlimited funds. Payment processing platforms and banks limit the amount a user can spend in a day and a month. This limit varies from bank to bank and depends on the transaction type.
With these types of limitations, banks keep a check on any kind of illegal money laundering on their platforms. Whatever be the reasons, if you reach the daily or monthly spending limits on your Chime app, you won't be able to use the Chime account for more transactions.
Unfortunately, there is nothing that can be done. You will have to wait till your spending limit renews. Below you can check out all the limits that Chime puts on an account –
| | |
| --- | --- |
| Transaction Type | Frequency and/or Dollar Limit |
| ATM Withdrawal | $500 per day, no limit to the number of times per day |
| Cash Back at Point-of-Sale (POS) | No limit to the number of times per day up to $500.00 per day |
| Over The Counter (OTC) Withdrawals | No limit to the number of times per day up to $500.00 per day |
| Card Purchases (Signature & PIN) | No limit to the number of times per day up to $2,500.00 per day |
---
14. Get official support
You might have used your daily limit for spending money using your Chime account. In the previous section, we have mentioned the applied limits for a Chime account user. Make sure to check if you have reached the daily or monthly limit already or not.
If there isn't any problem with the spending limit and you have tried all other methods mentioned here, we suggest contacting Chime support now.
There could be any other problem with your Chime account. And to find out the exact problem, you will have to contact the Chime support team.
You can try calling the support team at 1-844-244-6363.
If you are finding it hard to call support, you can email them as well. The official email address for the support team is [email protected].
---
15. Use alternatives
Well, ladies and gentlemen, we have tried our best to include all possible reasons for the problem along with the solution. We strongly believe you might have received the solution. But, if you have reached this point now, there is one last solution left.
Unfortunately, you will have to use a different payment to make the transaction. You can use payments processing platforms like – Paypal, Cash App, Venmo, and others.
---
Final Words
And that's it, ladies and gentlemen. Let us wrap this post now.
We have provided you with 15 possible solutions for the issues in the Chime app.
If you need assistance regarding any of the methods, you can let us know in the comments section below. We will be more than glad to help you out.
---
Further Reading:
[Fixed] Chime Pay Friends not working (2022)
Why is my Chime Direct Deposit Late
[Fix] Why did Chime deny me? What should I do?
[Fixed] Why is my Chime card being declined
Why is my Chime Spot Me not working (6 Reasons)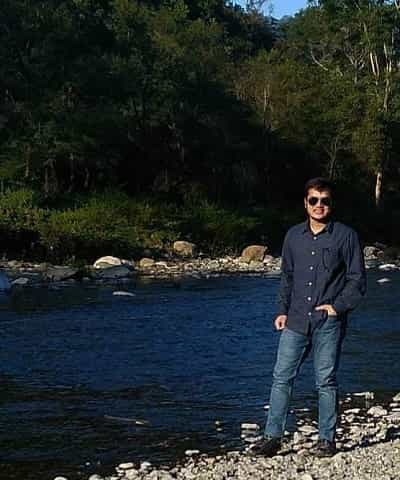 Ankit Kumar is an Engineer by profession and a blogger by passion. Over the last several years, he has written tons of articles, solving queries on Quora. He also has years of experience in investing in Cryptocurrencies, Funds, and Stocks.