Is your Chime card not working?
Are you wondering why your Chime card gets declined?
Well, if you nodded, you are at the very right place. Here, we will be talking about all the reasons which might be causing issues with your Chime card and how to fix it.
So, without any further delay, let us jump right into the details.
---
Chime is an online bank service that has become quite popular in recent years. The US-based Neo bank has got a lot to offer.
The best offering is the Annual Percentage Yield (APY). It is 0.50%, probably better than what other banks offer. And another feature would be the fee-free overdraft feature called Chime Spotme.

Chime also offers a different type of credit card. It helps users to ramp up their credit scores by sending reports of timely-payments to the concerned bureaus. And it is literally called Chime Credit Builder Card.
Well, Chime also has a standard debit card that can be used for payments at online and offline stores.
Sometimes Chime users report that they find it hard to use the card, and it gets declined with money in account. Well, if you are facing issues with the Chime card, do not worry. You are definitely not the only one.
You have arrived at the right web page. As here, in this post, you will learn the reasons for the issues and the ways to fix them.
So, let us start listing the reasons without any further delay.
---
Why is my Chime card being declined
Short answer: Chime card may get declined due to many reasons such as wrong credentials, insufficient funds, withdrawal limit reached, card is locked, card might have expired, card may have been blocked or frozen, card not supported by the store, international transactions are disabled, technical issues with Chime servers, etc.
Let's learn more about it in detail below:
#1 Chime card isn't active
The first reasons your Chime card isn't working or getting declined is that the card isn't active.
You may need to activate your Chime Credit Builder Visa Secured Credit Card or Chime Visa Debit Card in your app.
To activate your card, follow these steps:
Open your Chime app
Tap Activate Card on the home screen
Follow the prompts
You can also call the number on the back of your card to begin the card activation process.
---
#2  Card Transactions Disabled
Another reasons why the Chime debit card is not working could be that the your transaction are disabled
Follow the steps to re-enable transactions:
Open your Chime app
Tap Settings
Turn on Allow Transactions (the button will be green when this is turned on)
---
#3 Wrong Pin/Card Details
Another reason for the 'Chime card not working' issue is the user enters the wrong pin when using it at offline stores.
To finalize the transactions from the card, you will need to enter the correct PIN for the card.
And if you are using the card at an online store, you might have to enter other details like card number, etc. You will be able to make the payments only if you enter the correct details.
Fix – If you forgot your PIN, call 1-844-244-6363 and follow the prompts to reset your PIN. You'll be asked for your card information, so be sure your card is nearby.
---
Moving on, Another common issue why your Chime card is being declined is the insufficient fund in your Venmo account. FYI, if you are eligible and enrolled yourself in the Chime Spotme program, you will be able to overdraft your Chime account to up to $200.
But in case you have already over drafted the amount and are ineligible to request more, your Chime card will be declined.
Fix – To use your Chime card usually. You need to settle the overdraft amount from Chime first. And later, you will be required to add some funds to your Chime account to keep using the Chime card for transactions.
---
#5 Withdrawal Limit Reached
As you already know, banks put limits on transactions of funds. This is done for security purposes. By allowing a transfer of a limited amount of money allows them to check any illegal money laundering.
Only special users who have their identity verified by the bank can be involved in transactions more than the default limit.
Sometimes, when you try to withdraw money using your card, even after reaching your daily or monthly limit, you won't be able to proceed with the transactions.
Talking about the Chime limits, you can quickly have a look at the Chime transactions limit.
| | |
| --- | --- |
| Transaction Type | Frequency and/or Dollar Limit |
| ATM Withdrawal | $500 per day, no limit to the number of times per day |
| Cash Back at Point-of-Sale (POS) | No limit to the number of times per day up to $500.00 per day |
| Over The Counter (OTC) Withdrawals | No limit to the number of times per day up to $500.00 per day |
| Card Purchases (Signature & PIN) | No limit to the number of times per day up to $2,500.00 per day |
Fix – There is no specific solution for this. If you have reached the spending limit, you won't be able to use it. That's it. You will be able to use your card as intended after 24 hours of making the last payment.
---
As you already know, every debit card is password protected. That means you will need to enter the correct pin in order to get your transactions done.
You are given around three chances to enter the correct password. But, if you enter the wrong PIN every time, your bank will detect it as suspicious activity. And your card will be locked temporarily.
This is another security feature. The security systems have to take incorrect PIN insertion seriously as someone might have stolen your card and trying to withdraw cash from the ATM.
Fix – There is no specific fix for this one. You will have to wait for some time till the temporary lock time is over. To play it safe, only try to enter the PIN after 24 hours.
In case things are not working as intended, we suggest contacting the Chime support team.
---
SEE ALSO: [14 Ways to Fix] Chime not working (Workaround)
---
Many times, the primary reason why Chime card declines are the use of expired cards. Every card comes with an expiry date. And if your card is expired, you won't be able to use it for any transactions.
You can check out the expiry date printed on the card itself. It is generally in mm/yy format.
Fix – If your card is expired, you will have to apply for a renewal. To do this, contact the Chime support team and let them know that your card is expired. And do as instructed.
---
Sometimes transactions on your Chime debit card are blocked in order to protect you. This transaction may have been blocked based on the Chime Account Agreement and Chime's internal policies.
In this case, you can try to use the card with after a while or use a familiar device if your using the card online.
---
Debit cards come with a microchip embedded in them. These chips are the real deal. All your data is stored in it. And if it gets damaged by any means, you will have a hard time using it.
If you are a cardholder, you must always keep the card safe, especially the part where the microchip is embedded. High temperature, corrosive chemicals, high magnetic fields are some of the factors that can affect the normal life of your card's microchip.
And there are high chances that your payment is declining because of the damaged microchip.
Fix – If you are sure that you have damaged your card, and if there is no way out, you can apply for a replacement. The procedure is quite simple. You just let Chime know about it.
If you need assistance, make sure to check out the dedicated guide on the same.
GUIDE: How to apply for Chime credit card replacement
---
#10 Chime Account is Blocked/Frozen
Another reason why the Chime card getting declined is your account has been temporarily blocked or frozen by Chime.
There could be many reasons why this happens. Sometimes, Chime might detect some unusual activity from your end. Chime flags any kind of suspicious activity to keep your account safe.
But, sometimes, the temporary blocking action can be triggered because of some error.
Fix – There is no specific fix for the problem. You can wait for a couple of hours before proceeding with the transaction. And if the transaction is important, you must call the Chime support team right away.
Let them know the issues you are facing and follow the given instructions very carefully.
---
#11 International Transaction Disabled
One of the best features of the Chime card is international transaction support. You can easily buy stuff online even if it needs an international transaction.
But, if you are having issues in making international transactions particularly, you might have this feature disabled.
Fix – Fret not, if this is the only reason why your Chime card is getting a decline. It can be fixed easily. You can enable the international transaction feature easily from the Chime app or website.
To do this, go to the app settings and then go to the account section.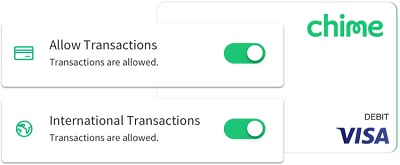 ---
#12 Card Not Supported by Store
Chime Card is a Visa-based debit card service. And you can easily use Chime for making payments everywhere Visa cards are accepted. As you already know, nowadays, almost all merchants accept Visa cards even if they are online or offline based.
But, still, there is a possibility that the store you are trying to pay for doesn't accept Visa-powered cards. And in that case, your Chime will be declined. You won't be able to make any payments.
Fix – Ask the store owner if they accept Visa cards. If they do, the issue is in your card. But if they don't, you will have to pay them in cash. Ask for the location of the nearest ATM; you can withdraw cash using your Chime card.
---
#13 Chime Services Issues
Sometimes there could be issues on another end. If you have checked each and every point mentioned here and still couldn't find the issue, chances are Chime is having issues.
Chime is an online bank, and any technical issue might result in an outage of some of the services.
And chances are, you initiated the transaction just when the Chime server faced issues.
You can check the server status of Chime here.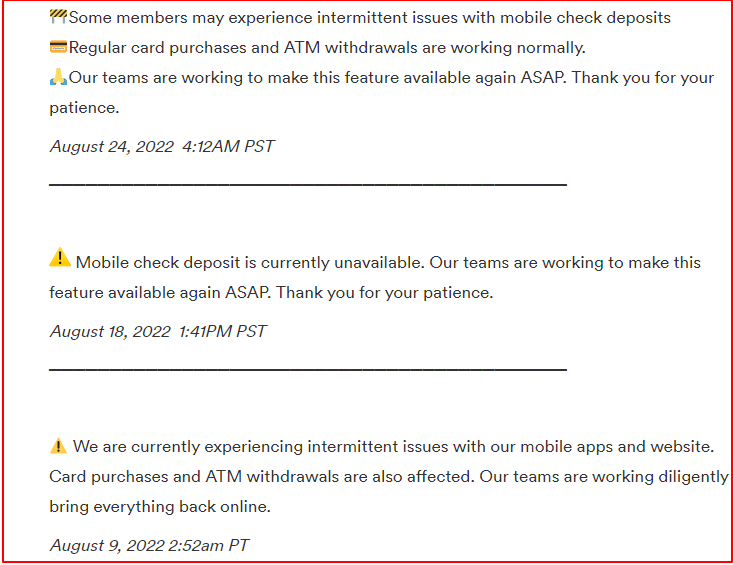 Fix – There is nothing you can do about it. You will have to wait till the services are back online. You can check the status, though. Visit Downdetector.com to check the service reports.
You can also follow Chime on Twitter as they report ongoing issues there:
We're experiencing intermittent issues with our mobile services. All card transactions are working, except for SpotMe transactions. Our teams are working diligently to bring services back online ASAP. For more information, please refer to our status page: https://t.co/Ap6DwvEVas.

— Chime (@Chime) February 26, 2020
---
Final Words
In this post, we have included all the possible reasons that might be causing issues with your Chime debit card.
We have also added a way to fix the issues. So, you can implement the fix and get your Chime debit card working again.
---
Further Reading:
[Fix] Why did Chime deny me? What should I do?
Why is my Chime Spot Me not working (6 Reasons)
Can I overdraft my Chime Card at Atm or for Gas?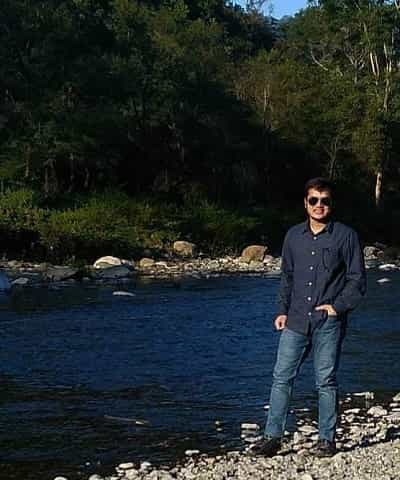 Ankit Kumar is an Engineer by profession and a blogger by passion. Over the last several years, he has written tons of articles, solving queries on Quora. He also has years of experience in investing in Cryptocurrencies, Funds, and Stocks.