Are you getting the error message "app features temporarily limited" on Chase?
If you are receiving such an error or message on Chase, you have landed in the right place. Here we have explained why it is happening and what you can do to fix it.
First, do not fret as you are not alone who is having such issues with the Chase app. There are many like you.
Below are some comments by netizens having problems with the Chase app:
For me it says "app features temporarily limited" and it says my balance updates are currently unavailable.

Is anyone having problems with Chase app? Or is it just me, says, some services are not available at the moment
So, without wasting much time, let's get started.
---
Why I am getting Chase app features temporarily limited
If you are getting Chase app features temporarily limited error while using Chase app, it could be due to severs issues, or on going Chase server maintenance, or you are using the outdated version of Chase app, or cache is causing the issues. 
In this case, you can follow the method listed below to fix the issue.

---
Why you are getting Chase features temporarily limited text message
In case you have received a text message on your smartphone from Chase saying 'Feature temporarily limited' or 'Account limited,' it could be an attempted scam or phishing attack sent to you at random or from an illegitimate list of targets.
If you do not have a Chase account, you can simply delete the message and think nothing more about it, as it is just an attempted scam or phishing attack targeting random people.
Well, if you have a Chase bank account and have received any such text message, do not click on any link provided on the message. 
Clicking on a link in the Text will likely take you to a page that looks like your banking log-on page but is actually taking a copy of your login details. 
Now, log in to your account as you would typically do and confirm that there is nothing amiss about the account, and no messages are waiting for you within the bank application. 
If there is nothing to indicate any problem, then delete the Text and ignore it.
If you are still concerned or unable to check your account online, contact your bank by telephone: once again, do NOT use a telephone number or a click-link in the Text. Look up the number to call online or on your bank card.
If you have not received the text message and are experiencing such issues with the Chase app, below are a few things you can try out to fix the issues or at least make sure the problem doesn't lie from your end.
---
How to Fix Chase app features temporarily limited error
1. Check Chase servers
It's always good to know whether the issue lies from your end or on the server-side.
If the problem is from the server side, you won't be able to do much rather than contacting Chase support channels.
That being said, you can use check the server status of Chase online for free.
We would recommend visiting the downdetector page for Chase. Here check the number of reports and user comments; if these are in significant numbers, then Chase servers are having issues.

If there aren't many reports, it means Chase servers are working fine, and the chances are high that the issue lies from your end.
---
2. Check Chase Twitter support
Moving on, you would recommend checking the Chase Twitter support for any update reading the ongoing issues, or if there is any maintenance of the servers.
You can head over the Chase Twitter support and look for any recent tweet regarding server maintenance or outages.
If any such issues are going, you will get the error such as feature temporarily limited or unavailable while using the Chase app.
In this case, we suggest waiting till the maintenance finishes or the issues get resolved.
---
3. Update Chase App
Another reason why you are having issues with the Chase app or getting the feature's temporarily limited error could be that you are using an outdated version of the Chase app.
If you are not using the updated version of the app, there could be several underlying bugs and errors affecting the app's features.
Updating the Chase app to the latest version will get you the latest features and ensure there aren't underlying bugs.
To update the Chase app, follow the steps below:
Open the Play store or App store on Android or iOS device respectively
Now, search Chase App
Open the Chase App page.
Now, tap on Update button (if available)
Once you update the update, remove it from recent apps, and then open the app again. We would also recommend restarting your device for better results.
If you're already using the latest Chase mobile app, follow the other fixes in the guide.
---
4. Clear Chase Cache
Moving further, another reason you are getting the error feature temporarily limited while using Chase app could be due to the cache.
Cache is a temporary memory that our devices store whether it is a PC or mobile to load the apps faster and improve their performance. However, with time the data becomes large and rather the providing benefits it can cause issues.
So, that's while it is recommended to clear the cache.
That being said,  follow the steps below to clear Chase app cache:
Head over to the settings of your smartphone.
Go to 'Apps' or Applications.
 Search for Chase App.
Tap on 'Data and Storage'.
 Tap 'Clear cache.'
Note: The above steps will differ slightly from device to device.
---
5. Log out and log in again
Moving on, there may be random bugs and glitches in the Chase app and its files. Hence, these bugs can corrupt your user data leading to unexpected error messages appearing on your current session.
Therefore, logging out and back into your Chase account is recommended. You can try this trick whether you are using the Chase app on your smartphone or using its web version.
To log out of your Chase account, simply find the logout button in your app settings.
Once you log out from your Chase account, simply close the app or its website and log in again to your account; it might now work correctly.
---
6. Contact Chase support
Lastly, if you have tried all the ways listed above and still can't figure out what is causing the issues, the last steps that remains is to contact Chase support.
---
SEE ALSO: 'Balance updates currently unavailable' CHASE meaning
---
Final Words
Chase is one of the largest American banks that offers a robust menu of features, services, and products. It has over 4,700 branches and 16,000 ATMs.
It offers auto loans, mortgages, the widest selection of credit cards. Its website and mobile banking app offer all the features that any online-only bank may feature.
You can use the Chase mobile check deposit feature to deposit your check with your smartphone from anywhere, without visiting the bank's branch or an ATM.
Sometimes your Chase app might not work for you properly, or you may get the feature's temporarily limited error, which could be due to several reasons detailed above.
So, that's all for now, folks. After reading this post, we hope you were able to know why you were getting the feature's temporarily limited error on Chase app and what you can do to fix it.
For more posts on Chase, you can visit our Chase section or follow a few related posts below.
---
Further Reading:
[Fix] Chase coverage not working for debit card
How to fix Chase digital wallet not working
[6 Reasons] Why did Chase put a hold on my Check
[10 Ways to Fix] Chase Mobile Deposit Not Working
[Reopen] Chase bank closed my account for suspicious activity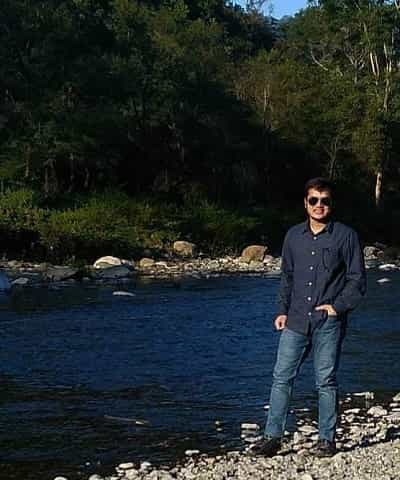 Ankit Kumar is an Engineer by profession and a blogger by passion. Over the last several years, he has written tons of articles, solving queries on Quora. He also has years of experience in investing in Cryptocurrencies, Funds, and Stocks.