BNPL (Buy Now Pay later) apps has been getting really popular recently as these allow users to split their purchase into multiple small installments without any extra charge.
One of the renowned BNPL app is Afterpay, based in Australia. It was initially launched in 2015. It currently serves users in Australia, New Zealand, the United States, Canada, and the United Kingdom.
Eligible users can sign up and use Afterpay to split their purchases from thousands of stores into installments without any extra charges.
Well, Afterpay may not approve your order, or may freeze your account which can be caused due to several reasons.
Is your Afterpay account got frozen?
Are you wondering how to unfreeze Afterpay account?
If you are not able to order from Afterpay because your account is frozen, and you are hunting for the ways to unfreeze it, you have been on the right page. Here we have explained all you need to know about why Afterpay account is banned or frozen and how to unfreeze it.
So, without wasting more time, let's dive into the details.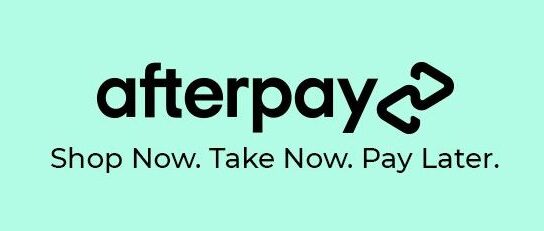 Why is my Afterpay account frozen
Your Afterpay account is frozen because you have not paid Afterpay on time, you have changed your account information, you have used an unsupported credit card, you are ordering too many items, or you are trying to do any usual activity.
Below, we have all the reasons it details:
1. Late Payment
The first and the foremost reasons why Afterpay has freezed your account is that you haven't paid your payments on time.
If you have ever missed your Afterpay payment, especially if you are a new customer, it could be one of the reasons your account is frozen.
2. You changed your account information
Moving on, if you have recently changed any information of your Afterpay account, it could be the reasons why your account is freezed.
If you have changed any of your account information such as phone number, your address, your linked debit or credit cards, etc. then it would have caused your account to get freezed.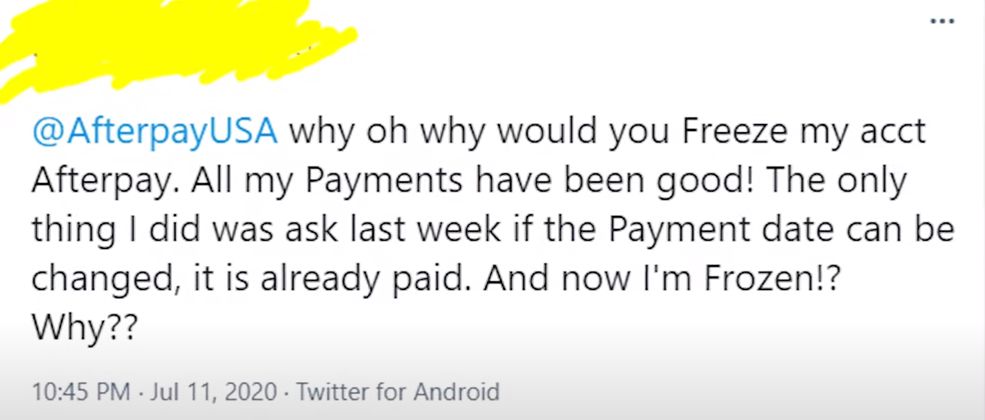 3. Unsupported bank/credit card
Another reasons as per confirmed by some users why their Afterpay account was frozen is that they used an unsupported card or bank account.
Well, Afterpay support most of the bank and credit card, but if you have used credit like of Capitol One, it could be a reason your account is frozen.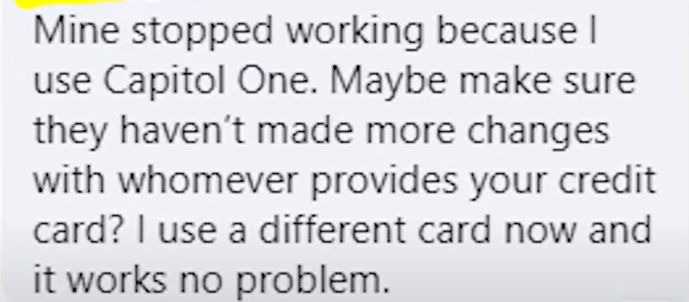 4. Ordering too many items
Moving forward, Another reasons for Afterpay account frozen could be ordering too many items on the platform especially if you are a new customer or already have a lot of open orders.
If you are a new users, we would suggest limiting your purchases to only 2-3 items a month and gradually increase it as your relation and trust build with Afterpay.
5. Unusual activity
Lastly, if you are trying to do any usual activity on Afterpay to manipulate its systems in some or other pay, it could cause an account ban or a frozen account.
So, do not try to perform usual activity such as installing any third party which to use Afterpay which promises further cash back or other offers.
---
How to unfreeze Afterpay account
If your account is freezed by Afterpay, you won't be able to do much from your side. In order to unfreeze your Afterpay account you will have to contact them, explain the issue, and they will unfreeze your account.
In the past, several users whose Afterpay accounts has been banned or freezed even when they paid Afterpay on time confirmed that they are able to unfreeze their account after contacting the support.
To unfreeze your Afterpay contact, you will need to raise a ticket and fill you the details and issues you are having and why you feel your account has been frozen by mistake.
Unfortunately, Aftepay has closed their phones lines, otherwise would have called them directly and your account should get unfreeze fast.
Note: Afterpay has closed their phone lines:

We have decided to close our phone lines and devote all of our team members to digital support, so if you cannot find the help you need online request the help you need by submitting a request to us now.  One of our team will get back to you as soon as possible
---
Final Words
Afterpay is a buy now pay later app, recently acquired by Square for $29 billion. It was initially launched in 2015. It currently serves users in Australia, New Zealand, the United States, Canada, and the United Kingdom.
Eligible users can use buy now and pay later from thousands of retailers worldwide through the Afterpay app. When you use Afterpay, it splits your payments into four installments. You make an initial down payment for the items you purchased, and then you have six weeks to make your remaining payments.
The best part of using Afterpay is that there is no interest, no credit checks, and no fees when you pay on time.
However, Afterpay will not approve you every time and may freeze your account, and it can depend on several reasons, as detailed above in the post.
So that's all for now, guys. After going through this post, we hope you were able to understand why your Afterpay account was frozen.
---
Further Reading:
Fix: Unfortunately we are unable to approve your order (Afterpay)
The Afterpay risk management department has declined your payment
Fix: Afterpay account blocked from making purchases
When will my Afterpay limit increase
[21 Ways to Fix] Afterpay Not Working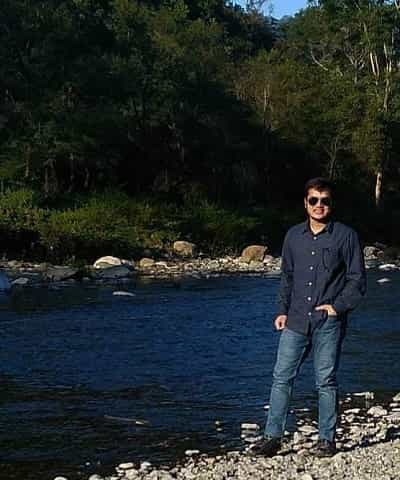 Ankit Kumar is an Engineer by profession and a blogger by passion. Over the last several years, he has written tons of articles, solving queries on Quora. He also has years of experience in investing in Cryptocurrencies, Funds, and Stocks.