Is your Afterpay order declined?
Are you getting the error Afterpay risk management department has declined your payment?
If Afterpay is not approving your order, you have landed in the right place. Here we have explained why Afterpay might decline your order and what you can do to minimize it.
So, let's get started.
Why I am getting the Afterpay risk management department has declined your payment
There can be several reasons why Afterpay may not approve your order, such as your card do not have sufficient funds; you are purchasing an expensive item, your account has limitations, you are new customers, you have a lot of open orders, you haven't repaid Afterpay on time, the merchant you are buying doesn't accept Afterpay, etc
Below, we have listed and explained all the possible reasons why Afterpay can decline your order and what you can do to minimize it.

1. You don't have sufficient funds on your card
The first and foremost reason that Afterpay isn't approving your order is that you do not have a sufficient balance on your card.
If you are using Afterpay for the first time, it's better to have the total amount of the order in your card or bank account. However, if you are a regular customer of Afterpay, you should at least have 25% of the total purchase value in your bank or card.
Afterpay says "Generally we look to see the first installment amount of the order value available to spend on the card you are using)
---
2. You are a new Afterpay member
If you are a new Afterpay customer and you are trying to order multiple items within a few weeks of getting started, your order will not get approved as Afterpay is quite strict with new users.
We recommend only ordering a few items in the first month of onboarding with Afterpay. Things will start improving after 6 weeks of usage. With the time as you repay the amount for your order on time, your trust with Afterpay will increase, and future orders will get approved quickly.
As per Afterpay:

The longer you have been a shopper with Afterpay and the more orders you have successfully repaid, the more likely you will be able to spend more.

Length of time you have been using Afterpay (tighter in the first 6 weeks)
---
3. You are buying an expensive item
If you are trying to purchase an expensive item with Afterpay, your order will likely decline, especially if you are a new customer.
We recommend you to buy items below $100 a couple of times and slowly build and increase your trust and relationship with Afterpay by paying the amount of every item on time.
Once your trust is built with Afterpay, you will be easily able to buy expensive items.
---
4. There are a lot of open orders
As per Afterpay, the number of open orders you have with them also affects the approval process of your next order.
It is recommended to have about 1-3 open orders at a time. If you already have a few open orders (orders for which you haven't paid the total amount), Afterpay might not approve your further purchase.
So, make sure you do not have a lot of open orders with Afterpay before buying the new items.
---
5. You already owe some amount to Afterpay
If you haven't repaid your previous owed amount to Afterpay and you are trying to order a new item, the chances are high that your order will get declined or will not get approved.
So, if you owe anything to Afterpay, then first pay it and then try to order another item.
---
6. You haven't repaid Afterpay on time
Moving on, another reason why Afterpay might decline your purchase, or you are receiving the error 'risk management department has declined your payment' is that you might not have repaid the amount of your purchase on time.
Not paying Afterpay on time for your previously purchased items is a good enough reason for Afterpay to decline your next order.
So, make sure you always repay Afterpay on time.
---
7. Your Afterpay account has been banned/blocked
If you are trying to do any illegal activity or trying to mislead Afterpay someone, its system might detect it and ban your account or apply some restrictions on your account.
You would like to check email or notification from Afterpay, if there isn't any restriction applied on your account due to XYZ reasons.
---
8. Merchant you are buying from doesn't accept Afterpay
Certain merchants and shops do not believe in buy now pay later apps and services. So, if you are buying an item from a merchant who does not accept Afterpay, then, of course, you won't be able to use Afterpay there.
There are also certain other limitations associated with the merchant.
---
9. Product you are buying isn't available using Afterpay
Not only do some merchants not accept buy now pay later services, but there are also several products that are not available for these of services.
So, if the product you are buying might not be suitable for Buy now, pay later, and that's why your Afterpay isn't getting approved. You can confirm this on your own by trying to buy another item. If it gets approved, the problem is with the product.
---
10. Try incognito mode
If your Afterpay isn't working or not getting approved, you can try to use it in the incognito or private mode.
In the past, several users have confirmed that they could only use Afterpay while using the private mode.
So, you can also give it a try; it might work for you.
Below is a Reddit discussion where many users have confirmed that they were able to use Afterpay only when using the private or incognito mode on their browser.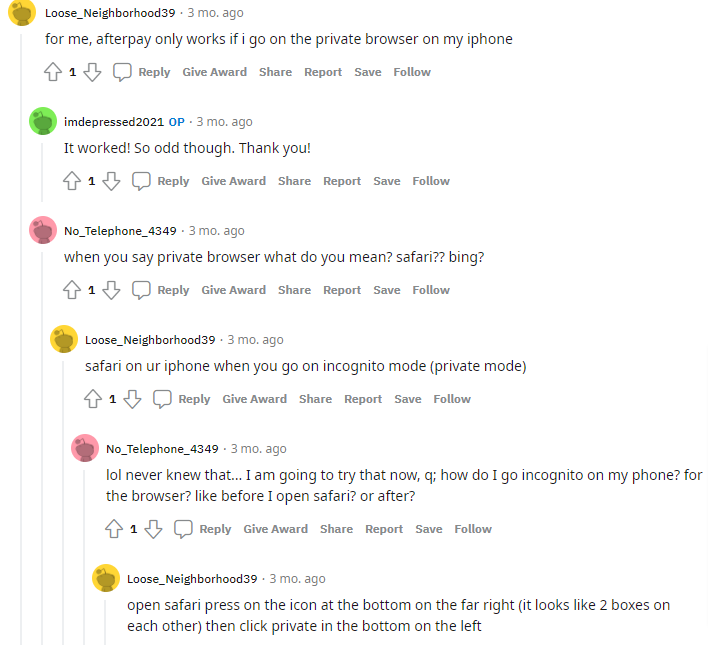 Final Words:
Afterpay is a buy now pay later app, recently acquired by Square for $29 billion. It was initially launched in 2015. It currently serves users in Australia, New Zealand, the United States, Canada, and the United Kingdom.
Eligible users can use buy now and pay later from thousands of retailers worldwide through the Afterpay app. When you use Afterpay, it splits your payments into four installments. You make an initial down payment for the items you purchased, and then you have six weeks to make your remaining payments.
The best part of using Afterpay is that there is no interest, no credit checks, and no fees when you pay on time.
However, Afterpay will not approve you every time, and it can depend on several reasons, as detailed above in the post.
So that's all for now, guys. After going through this post, we hope you were able to understand why Afterpay was declining your order.
---
Further Reading: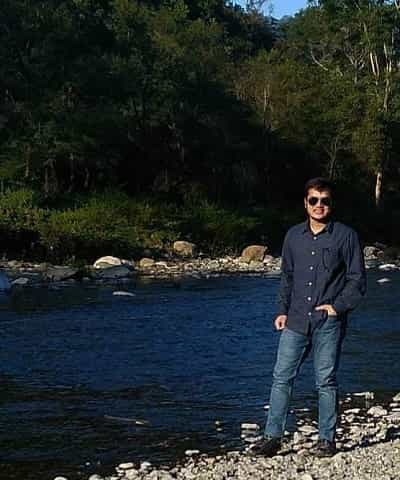 Ankit Kumar is an Engineer by profession and a blogger by passion. Over the last several years, he has written tons of articles, solving queries on Quora. He also has years of experience in investing in Cryptocurrencies, Funds, and Stocks.