Why won't Cash App let me add money/cash?
How to fix Cash App won't let me add money?
How to add money to Cash App without debit card?
These questions have been answered in this article. Read on.
Cash App is used a peer to peer i.e. a payment app that lets you pay to or receive money from your fellow human beings. You can use it by linking your debit card to your Cash App account. It can also be used to invest money, buy stocks and Bitcoin too. Furthermore, a unique feature it possess is the option to file your taxes.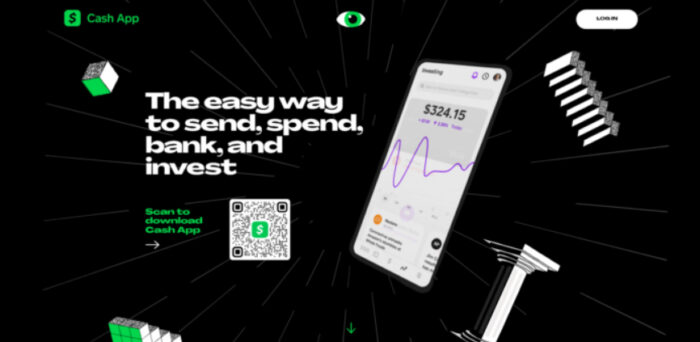 This app makes your life easier by transferring or receiving money from your family or friends. Also, you can even pay at your local grocery stores. Amazon accepts the Cash App card which can ease your order payments.
---
Why won't my Cash App let me add money/cash?
Short Answer: If you are unable to add cash or money to your account, it might be because you have added money too many times in a certain period of time. There are limits for adding money and buying bitcoins, so you might want to keep that in check.
Other reasons might be due to an issue with the server. If the server of the bank or the application's server is down, you might have to take a breather and then try again.
If you are adding money from a new card that is not previously added to your account, check your credentials. Incorrect credentials can cause errors with payments and other things on the application.
Also an important thing to note is that, even if you buy Bitcoins it is considered as adding money to Cash App. So, keep track of your purchases and additions to your account.
$7500 is the approximate limit for adding money to your account. Or you can buy Bitcoins worth up until $100k. Always keep these amounts in check and make sure you do not cross those limits. Also, these limits may depend on the area you live too. You can try to increase the limits of your account in your Cash App settings on your device.
---
How to fix Cash App won't let me add money?
Check out the following list and try out what works with you. 
Step 1 – Update your application
Before you begin thinking about adding the money to your account, it is important for you to check if you are running the latest version of the application on your phone. Application updates pack new and improved features upon the older version of the app. So, make sure to check your application store for updates once in a while.
Visit the respective application store on your device.
Search for Cash App and check if there are any new updates. Then, install it if you find any new updates. Otherwise, wait till a new one rolls out. Do turn on Auto-updates so that you don't miss out and you won't have to check manually.
Do turn on Auto-updates so that you don't miss out and you won't have to check for updates manually.
---
Step 2 – Check debit card credentials
Debit card credentials are the most important things to note when you are trying to add or even transfer money for that matter.
Check your name on the Cash App account and the debit card you have added. Make sure that they match.
Check the card number and other essential details thoroughly.
---
Step 3 – Check the server status of Cash App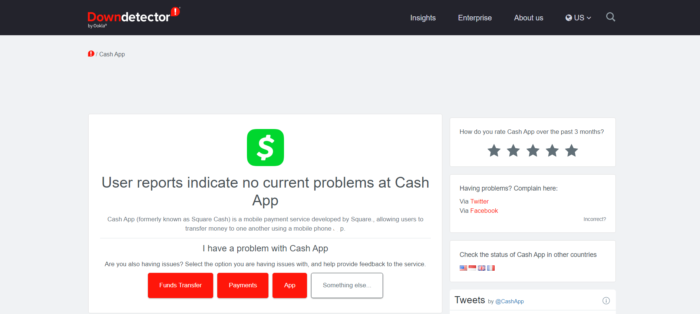 The down detector page of Cash App tells you whether the application or their server is down. Reporting the application and their service by selecting the appropriate option is also possible. You can type your personal issue in the "Something else…" box.
---
Step 4 – Check the status of your bank
Sometimes the problem is not with the Cash App itself, but the bank that you have linked to the application. If you have frequent issues with adding money or withdrawing money, you might want to contact the bank for more information.
If you are unable to add money, do not try it again and again. This will create issues wherein your money will be debited from your account, but it won't reflect in the Cash App wallet balance. The money will be in the cloud, until your bank solves the problem.
---
Step 5 – Clear cache and data
Cache is the storage of the present data by the application, for the processing of latter requests of the user more quickly. Cache gets piled up after each and every user interaction. To avoid this, you need to clear it once in a while.
Go to applications in settings
Select Cash App, go to storage settings and clear cache.
Clearing cache will remove unnecessary software errors also known as bugs and solve your problem with the application.
Also you can clear all the data from Cash App. This will log you out of the application. Clearing data is similar to installing a new application, all the data will be gone and you have to login again.
Go to the applications in settings.
Select Cash App, go to storage settings and select clear data. Once you click on it, it will ask you just to confirm the choice. Select Ok and the data will be cleared.
Clearing data will remove all your personal data, settings and other essential information for the application to run. Login again and your old setting will be brought back.
---
Step 6 – Clean install Cash App
Clean installing is the process of uninstalling and reinstalling any application.
Go to the respective application store on your device.
Search for Cash App and uninstall it.
Wait for a few minutes, say one minute.
Then, install Cash App  again.
---
Step 7 –  Switch networks
To know whether or not your issue is with the networks, try switching to another one. For example, Wi-Fi to cellular or vice versa or one Wi-Fi to another one. If this solves your problem, you can circle out your problem and prevent it next time.
Turn off Wi-Fi and turn on cellular data.
Or turn off cellular and turn on Wi-Fi.
Finally try switching to another Wi-Fi network.
Cash App doesn't process requests if you are trying to do transactions from an insecure network. Sometimes, Cash App payments fail for your own protection.
---
Step 8 – Restart your phone
Restarting a device frees up your RAM (Random access memory) and will leave more space for applications to run smoothly.
Restart your device by holding the power button and selecting restart option on the screen.
---
Step 9 – Contact Cash App Support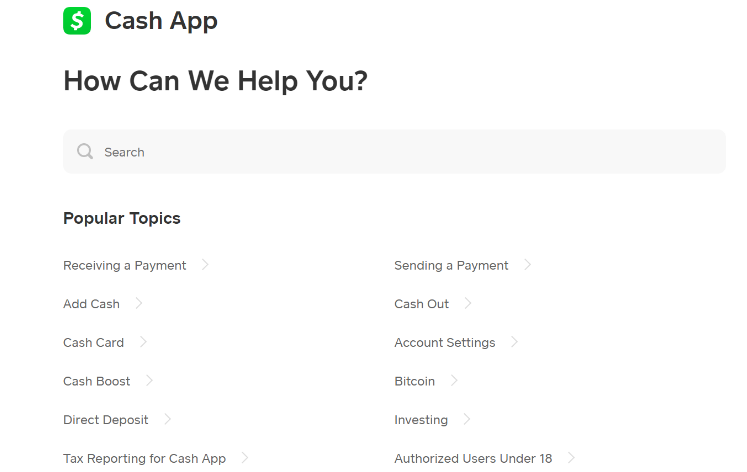 When all else fails, this is your go to. Visit the Cash App Support Page. There are various topics, guides and FAQs that will definitely answer any doubts you have. You can frame your own question to get a solution to your predicament.
---
How to add money to cash app without debit card?
You can add money to your cash app without a debit card by transferring money from a bank account to Cash App account. Another way is to select the "Paper Money" option and go to a local store to add the cash to your account.
The three following ways will help you add money without a debit card.
Go to your profile in the Cash App. Select the Linked Banks option. And instead of adding a debit card, directly select the Link Bank option. This way your bank account is connected to the Cash App account.
Another method is to go to a local store which accepts Cash App. Select the banking tab on the Cash App. Then, select Paper Money. It will show you nearby locations which accept paper money to add into your cash app account.
Finally you can also order the Cash App card, if you don't already have one. Similar to the Paper Money way, you just need to go to the nearest store which accepts paper money and deposit it with them. They will add the money to your account.
Bank accounts and paper money are the main methods to add money to your account without the need of a debit card.
---
FAQs
Q1. What are the deposit limits for Paper Money?
The limits for paper money are  $1000 for 7 days and $4000 for 30 days. And these two limits are said to be in rolling time frame. 
Please note that these limits also depend on the location or area you live in. Contact Cash App customer support for a localized information regarding the deposit limits.
Q2. What are the stores that accept Paper Money deposits?
Generally Walmart, Walgreens and 7-Eleven stores are preferred for these deposits. 
But you can check out this link (https://cash.app/help/us/en-us/6488-paper-money-deposits) for more stores that accept Paper Money.
---
Final Words
Cash App has limits on deposits and buying bitcoins and all other kinds of transactions. Beware of the limits and spend on bitcoins or add money accordingly. Stay careful with online transactions.
That is all folks! Hope this helps! Don't have a good day! Have a great day!
---
Further Reading:
Where can I add money to my Cash App for free
(Reasons) 'Cash App your payment cannot be sent' | What to do
[Fixed] Cash App balance not updating
[Fix] Cash App says 'refunded but no money' (What to do)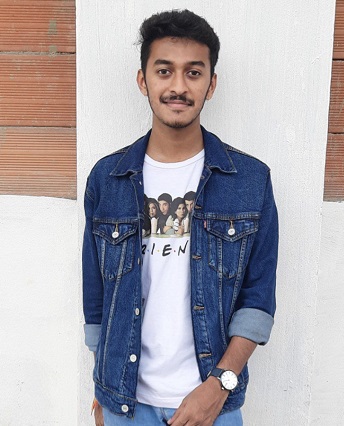 Sri Sahith is passionate and writes his articles by ensuring attention to detail. During his graduation study, he has taken elective subjects like Business Economics and Financial Analysis. These gave him the interest, knowledge and passion to write articles related to Finance-Tech. Also, he loves to read books and talk about them as long as possible.