Why does Afterpay keep saying something went wrong?
How to fix Afterpay something went wrong?
You will find the solutions for all the kinds of "something went wrong errors" in this article.
Afterpay is another one of those extremely popular companies which uses the buy now pay later model.  But all of the websites or applications that are made are not always perfect. Sometimes we encounter some kind of glitch during a payment or there might be a loading error. This article gives you information on what these errors mean and how to get around them.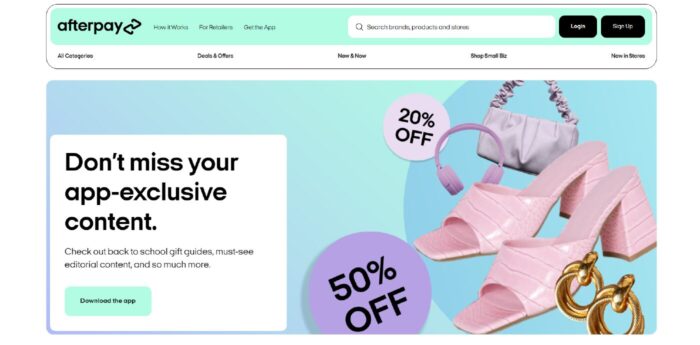 ---
Why does Afterpay keep saying 'something went wrong'?
Short Answer: Afterpay keeps saying "something went wrong" because there is something of concern in your account that you need to checkout. You can try the payment again or contact customer service. 
Before we get it into detail – let us look at some of the something went wrong errors,
It looks like something went wrong please close the window and try again
whoops something went wrong
Afterpay something went wrong with your payment
Afterpay something went wrong please contact us for assistance
All of these errors are raised when there is an issue with your Afterpay account that you have not been addressing for a while. So, it might be a low balance issue, an issue with mismatch of the details in your account or other account related issue. You will have to contact the customer support for getting rid of this error. And if your Afterpay account is blocked or frozen, you might want to check out our previous article.
---
Fix Afterpay something went wrong?
If this is popping up every time you try to pay, you can contact the customer support. But if this has happened to you for the first time, you can try the following steps to try and fix it.
1. Check your balance
Make sure that you do not have any outstanding balance. Afterpay gives you a pretty reasonable time to pay off your debts as soon as possible. Also, it doesn't even charge interests. But there are late fees, which can be avoided if you pay them off early.
You should not have a large number of debts with Afterpay. This might be the cause for the error too. They might approve your payments in some cases of good customers. Good customers are the people who try to clear of their debts as soon as possible.
---
2. Grant permissions
For the application to work as smoothly as possible, it is important for you to grant the required permissions. Permissions like locations, contacts, files and media, camera, phone, SMS and others should be allowed. When the screen pop-ups tell you to allow something, do it.
---
3. Accept T&C
Terms and Conditions are updated for every payment very frequently. So when you open the Afterpay, and it displays you with some T&Cs, read them carefully (nobody does!) and accept it. This will make sure that your app and your payments work properly.
---
4. Check server status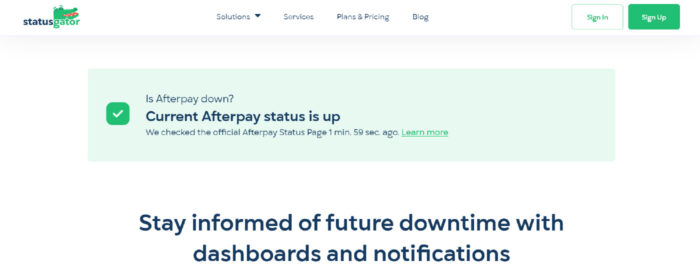 Sometimes the servers might face a downtime due to a lot of users using its service simultaneously. Or the company might be trying to update it's server. They will inform via a text message or a popup in the application or through social media handles. Keep an eye out for those too. So the next time before you try a payment be sure to check on the status of the server here.
---
5. Update the application
Afterpay will get updates frequently because it is a payment application. You know why? Because payment application needs to be secure. Your money should be safe isn't it? Updates will improve the security details for the application.
Go to the relevant application store on your device.
Then, search for Afterpay and turn on Auto-update for the application.
So whenever there is a new update you do not have to do it manually. The application will get updated in the background.
---
6. Restart your device
You can try restarting your device and try the payment again. Restarting a device generally resets the RAM (Random Access Memory), so that clears out some space for the applications to run more smoothly than before.
---
7. Check your internet connectivity
Although this might not always be the case, a slow or limited network might bring you issues like these. So, you might want to check out your Wi-Fi or cellular data settings depending on your device.
If you are connected to the network, but it does not have internet access, you will be notified by your smart devices. Or if you have issues with your network itself, you should contact your Internet Service Provider or network provider.
---
8. Contact customer support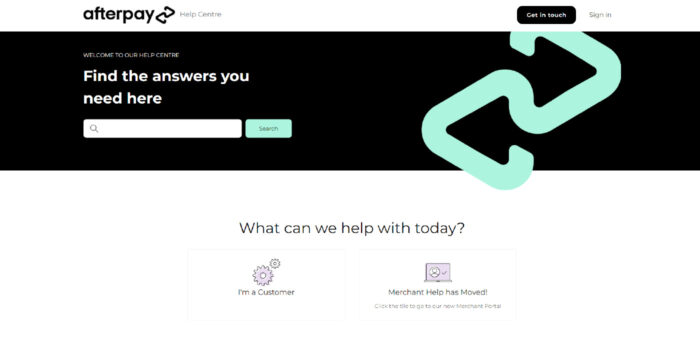 Afterpay Help Centre is your final resort. Sometimes the problem is not simple that it can be fixed by ourselves. You should seek professional help for these kinds of payment issues. Click on "I'm a Customer" and then select one of the topics shown. Or just type in your issue and wait for a customer support official or someone from the Afterpay community to give you a solution.
---
FAQs
Q1. Does Afterpay affect my credit score?
Afterpay doesn't do a credit check, so it doesn't affect your credit score.
But that doesn't give you a way out to escape out of your debts. The rules are stringent, and you need to pay late fees if you miss payment deadlines. And you will be banned if you don't clear your debts. They will collect all the money from you and then will stop you from taking any more debts.
---
Final words
This article gives you details on what these "something went wrong errors" mean and the steps to fix it. I hope this article helped you in solving your issue with Afterpay payments. Next time you bump into an issue, remember this list.
That is all folks!
Don't have a good day, have a great day!
---
Further Reading:
If I pay my overdue Afterpay can I use it again: All Details
Can you go to jail for not paying Afterpay
(2022) Does Stockx accept Afterpay, Affirm (Workaround Guide)
(5 Ways) When will my Afterpay limit increase [2022]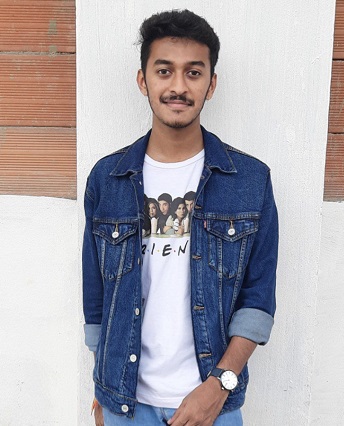 Sri Sahith is passionate and writes his articles by ensuring attention to detail. During his graduation study, he has taken elective subjects like Business Economics and Financial Analysis. These gave him the interest, knowledge and passion to write articles related to Finance-Tech. Also, he loves to read books and talk about them as long as possible.