Are you having issues with your Netspend account?
Has Netspend locked your account?
Well, if you are facing this issue and cannot access your Netspend account using your Netspend card, you have reached the very right place.
Here, we will include details and all the possible reasons which might have caused the problem in the first place.
---
Why is my Netspend account locked
Quick Answer: Your Netspend account is locked because you entered the Wrong PIN multiple times, your card has been reported stolen or lost, Netspend flagged your account, or your card has been expired.
Netspend is one of the best financial service providers in the USA. The users of Netspend services enjoy the Netspend card service, which has been powered by Visa and Mastercard. That's why Netspend card can be used anywhere where Visa and Mastercard are valid.
The issuer of the Netspend Prepaid card is The Bancorp Bank, MetaBank, N.A., and Republic Bank. The card can be reloaded by both online and offline methods. That also means you can reload the card in some offline stores as well.
Well, Netspend is widely used in the USA and sometimes, users report an issue where their Netspend account gets blocked by the Netspend security system.
And if you are a Netspend user and having the same issues, fret not. We are here to help you out with our detailed post.
In this post, we will be trying to mention all the possible reasons for the Netspend account blocked issue. Make sure to check all of them. And if you are finding answers, you will be glad to know that in the second part of this, we will be including the solutions for this issue.
Even if you need solutions, we will suggest the reasons once again.
If you are ready, we are now mentioning all the reasons.
Reason 1 – Wrong PIN
The first and most common reason which might be causing the Netspend blocked account is that the user is entering the wrong pin while trying to log in to the app.
Well, obviously, you won't be blocked from accessing your account if you entered the wrong password once. According to the official statement by Netspend, your account will be blocked only if you enter more than three wrong passwords.
This is a security measure; the support team at Netspend observes activities like these very carefully. Entering the wrong pin more than three-time triggers the security system, and Netspend sees it as an unauthorized attempt to access the account. Thus, blocks the account immediately in order to keep it safe.
---
Reason 2 – Card reported Stolen
Let's talk about the next reason now.
If the Netspend team has blocked your card or account, it means the accessibility has been blocked as a security measure. And sometimes, if you report your card stolen, Netspend block that card in order to check its accessibility.
If the card has been stored, anyone who is aware of the PIN or password can easily use the card without any issues. So, blocking the card looks like the best decision by the company to save the user from any kind of inconvenience.
But, sometimes, this security measure creates problems for the users as well. Netspend also blocks the account along with the card in order to keep the account safe. The locking of the account, in this case, is a temporary action and can be reversed.
If you want to know how to reverse the temporary block, you can check out the second part of this post for solutions.
---
ALSO READ: Why did I receive a Netspend card in the mail
---
Reason 3 – Card reported Lost
In the previous point, we mentioned how Netspend takes action if someone reports a card stolen.
Well, reporting a lost card causes the same security measures by the Netspend team. Your card will be blocked to avoid any kind of misuse of the account funds.
The accessibility of your Netspend card, as well as your account, will be locked temporarily. And again, no need to worry, this problem can be solved, and you can get access to your account again.
---
Reason 4 – Account Flagged
Talking about the next reason. Sometimes, Netspend locks the account to keep the user's account safe from any mishap. But, sometimes, Netspend has to keep other users on the platform safe from the user by locking the account accessibility.
Netspend, as a financial service provider, has to keep a check on all the users using their services. And as a security measure, Netspend locks the account that they find to be violating their terms and regulations.
And in the cases where Netspend finds the user to be participating in unethical activities like money laundering and all, the user gets flagged by the team.
In most cases, this blocking of the account is permanent, and sometimes it is temporary. But, you can always try getting the accessibility of your account back. We will be talking about the solutions in the next part of this post.
---
Reason 5 – Card Expired
We have talked about the most common reasons which might be causing the 'Netspend account locked' issue. But, still, one last most common issue is left, which could be the problem.
Sometimes, if the card has expired, the team at Netspend locks the account as per their policy. To check if your card is expired or not, you can check out the expiry date on the back of your card. You will find the month and year mentioned there.
---
How to unlock Netspend locked account
Now, we will be talking about the ways to unlock Netspend-locked account.
1. Call/Email Netspend Customer Service
The first and most common way to get your account access back is by contacting Netspend customer service. You can call the team or even email them.
Whatever medium of contact you select, make sure to address your issue and provide a detailed description of it.
---
2. Reach out through Social Media
You can even contact the support team of Netspend through their official social media platforms. We will suggest reporting your issues through Twitter, as companies are more active in providing solutions on Twitter.
---
3. Renew your Netspend card
If your card is expired, you can easily get access to your Netspend account by renewing your Netspend card. Simply contact the support team of Netspend to get a replacement card or renew it.
Right after getting the new card, you will be able to use your Netspend account again as usual.
---
FAQs
1. What do I do if my Netspend account is locked
If your Netspend account is locked, you can try finding out the reason for it and contact Netspend customer support to ask for more details and assistance on the same. Netspend blocks a user's account as a measure to keep it safe from any potential misuse.
---
Final Words
And that's pretty much it ladies and gentlemen.
Here, we first talked about all the possible reasons which might have sent a signal to Netspend security systems to lock your Netspend account.
In the next part, we have also included the solution to the problems. Make sure to check it out thoroughly. We are pretty sure, you will be able to fix the issue without any further assistance.
---
Read more:
How To Transfer Money From Netspend To Chime
Can I Deposit A Check On My Netspend Card At ATM
Does Zelle Work With Netspend? How To Add It?
 How Much Can I Overdraft With Netspend All Access | Limit, Fee & More
Why Is My Netspend Direct Deposit Late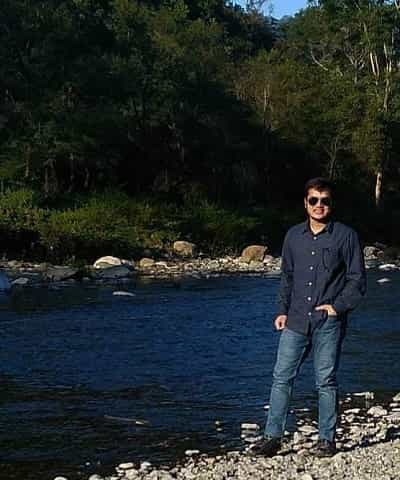 Ankit Kumar is an Engineer by profession and a blogger by passion. Over the last several years, he has written tons of articles, solving queries on Quora. He also has years of experience in investing in Cryptocurrencies, Funds, and Stocks.