Do you want to know what exactly happens if you don't pay Afterpay?
Are you someone having issues in paying your Afterpay installment?
If you have queries related to Afterpay installment and are looking for answers, you have found the right page.
Here, we will be discussing 7 things that will happen if you don't pay Afterpay.
And if you are facing hardship and cannot pay your installments, you must check the 2nd part of this post.
---
What happens if you don't pay Afterpay
Afterpay is an Australia-based BNPL (Buy Now, Pay Later) platform that offers different services. The eligible users have to request the purchase from the participating stores and pay back money to Afterpay in 4 easy installments.
Users don't have to pay interest on the borrowed amount, but a late fee will be charged if the installment is not paid on time.
Several users, who find it hard to pay back the installments, sometimes ask what would happen if they are not able to pay Afterpay. Well, for those users, we will be discussing all the possible things that can happen if you don't pay Afterpay.
1. Official Notice by Afterpay
Afterpay lets users add their credit or debit card details. By linking the credit or debit card with the Afterpay, the user can pay the installments automatically; nothing much has to be done. The associated bank account must have enough amount to make the payments.
But, sometimes, if the users haven't submitted the card details with Afterpay, the installments are not made automatically. The user will receive a notice from Afterpay regarding their late payment.
The official notice from Afterpay is nothing but a reminder that you have not paid the installments yet. You will keep receiving the reminders till you proceed with your installments.
---
2. Account Pause
Well, Afterpay sends a warning for the users who might have forgotten to make the payment for the installment on their Afterpay app. But, even after receiving the notice, one doesn't make the payment for the installment; Afterpay takes the first action.
A lot of users are concerned if they will be banned from using Afterpay or put on a blacklist. According to the official statement by Afterpay, they do not put users on the blacklist for skipping a payment. However, the users are required to pay the installment as soon as possible.
Afterpay has confirmed officially that there is no 'blacklist' system. But, they will penalize the Afterpay account by pausing it.
If you are someone whose account is paused, you won't be able to use Afterpay for requesting any goods on any popular online stores. It will be as good as nothing.
But, the good thing is, there is a way out. You can get your account ownership again. You just need to pay the installment that you might have forgotten to pay. We always suggest adding your debit/ credit card to Afterpay account to make the payments automatically.
And that's it; you will be able to use your Afterpay account again to make the purchases.
---
3. No Approval for Future Purchases
Afterpay, in its blog, has mentioned that they do not blacklist users. Moreover, there is nothing like 'blacklist.' Well, Afterpay might have a different name for it because users definitely get banned on Afterpay. And there is nothing wrong with it. Afterpay has all rights to save its platforms from any kind of misuse.
And if you are someone who has not paid their installment even after the team at Afterpay has banned your account, or you have a bad payment history with Afterpay installment, you will definitely be penalized.
So, what does Bad Payment History mean exactly?
Afterpay doesn't ban or penalize its user if they pay back the whole amount even after the scheduled time. But, if you are having issues in paying back the installment, Afterpay will consider it risky to accept your money request for any product.
The safe decision for the Afterpay team will be to eliminate all the risks by banning the users. And if you are getting banned for abnormal payment history, you will not be allowed to use Afterpay services, and no purchases will be approved by Afterpay.
If you haven't violated any rules and terms by Afterpay and still got banned, we will suggest you check the solutions and reasons why your Afterpay Is Not Working.
---
4. Spending Limit Decreases
When Afterpay pauses the account when the account holder doesn't make payment for the installment, as we mentioned earlier, this issue can be resolved easily. One just to make payments, and it's as easy as that. But, there is a catch.
Even if you succeeded in lifting the pause on your account, you might face issues in the future. Afterpay keeps track of the user activity and even late payments. And multiple late payments can decrease your spending limit on Afterpay.
That's not a hardcore ban or something like that. Afterpay doesn't decrease spending limits after a single event but considers multiple payment behavior. Some other different factors are considered to determine the spending limit.
Lower Spending limit means you will be asked a higher down payment in order to get the entire purchase.
---
5. Late Payment Fee
Afterpay is a great option for someone who wants to purchase goods right before the arrival of their paycheck. And the best thing about Afterpay is that the users are not charged any interest amount on the borrowed amount.
But if you are someone who has not paid Afterpay the amount back that you borrowed using their services, you will be charged a late fee.
Well, we cannot tell you the exact amount which is charged. The fee is calculated based on the amount borrowed, time of the late payment, and other parameters. So, always pay the installment on time, or you will be charged a late fee.
---
6. Pulse Rewards program Affected
Afterpay shows affection towards the users for paying the installments on time and maintaining great spending behavior on their platforms by rewarding them. The loyalty program is called Pulse Rewards, and it rewards Afterpay trustworthy users.
If you are someone who delayed the payment, your Pulse Rewards tiers will be affected. And if you haven't paid the previous payments, your rewards will be canceled, and you will be asked to pay the dues first.
Well, if you heard about it for the first time, you must join the program right away. Pay on time and get rewarded. Check the official eligibility criteria for more details.
---

7. May Affect Credit Score
Afterpay is a popular app among the users who needs a little flow of money for a small period of time. There is no interest rate on the amount loaned from the Afterpay platform. And user can pay back the amount in 4 easy installment.
Well, there is nothing to worry about the credit score as well, Afterpay doesn't consider the current credit score of the user. A lot of buy now, pay later apps like Afterpay do a soft credit check and do not approve the requests of users having poor credit scores. But, Afterpay doesn't do credit checks to approve a payment. Afterpay does a identity check to keep the money laundering and frauds in check.
Well, Afterpay reports to credit bureau if the users do not pay Afterpay installment. It is necessary to pay back the amount you requested from Afterpay.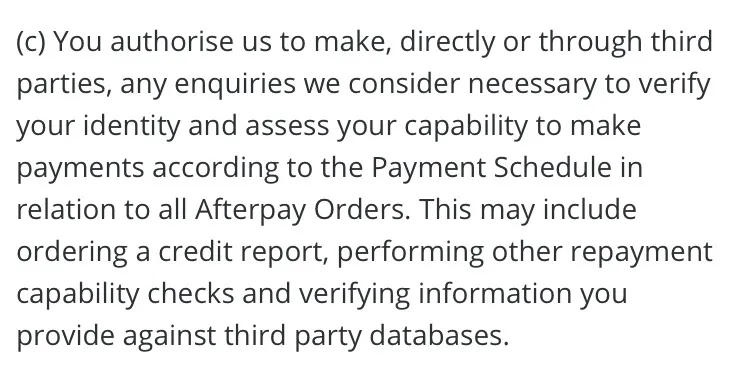 According to the official Afterpay blog, by using their services, you, as a user authorize them to order a credit report. They will even report your credit negatively, which is going to affect your Credit Score.
---
Update: February 15, 2022
According to the updated version of Afterpay terms of service, they won't conduct any credit check with a credit reporting bureau. So, if you don't pay Afterpay, your credit score won't be affected, but the company can take other actions against you.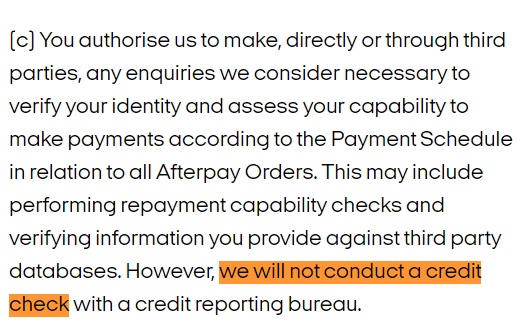 ---
If I pay my overdue Afterpay can I use it again
Yes, if you pay your overdue Afterpay, you can use it again. However, poor payment history on Afterpay can affect your spending limit. The company will consider approving your purchase request as risky.
So, you will be able to use Afterpay again, but we can't say if you will be able to use it in the same way or not. Afterpay considers several parameters to determine the spending limit of a user.
But, if you are a new user on Afterpay and skipped the installment only once, you might not be penalized for it. We will suggest you stick to the Afterpay rules and terms and always pay the installment on time.
---
What happens if I can't pay my Afterpay
If you can't pay your Afterpay, you can contact the Afterpay team and ask for hardship support.
After the pandemic, when almost everyone had a hard time earning and managing their home, Afterpay brought the Hardship Policy. With their hardship policy, Afterpay aims to help those who are finding to hard to pay back the money they borrowed from Afterpay services.
The team might create a new payment plan with new installment schedules. Or you might get a concession as far as the late fee is concerned.
Make sure to contact the Afterpay team by filling up the Hardship Support form. You will be asked a few details like your name, phone number, address, reasons for the current inability for payments. You can visit this link to start filling up the form.
---
FAQs
1. What happens if you don't pay Afterpay at all?
If you don't pay Afterpay, your account's spending limit will be decreased and later it will be banned from making any purchase requests. You will be charged a late fee as well. That's why, we suggest our users to pay installments on time.
---
Final Words
And that's it, ladies and gentlemen.
Here, in this post, we have discussed all possible scenarios that can take place if you don't pay Afterpay installments.
We have also discussed the possible solutions if you have been having issues with your Afterpay installments.
---
Further Reading:
Fix: Afterpay account blocked from making purchases
Fix: Afterpay not showing up at checkout (Shopify, WP, etc)
How to stop Afterpay automatic payments
(Update) Does Afterpay accept Cash App [Workaround]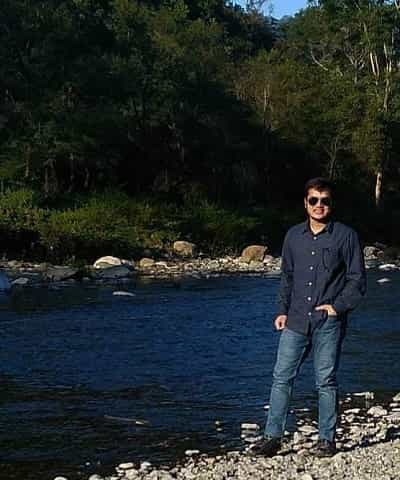 Ankit Kumar is an Engineer by profession and a blogger by passion. Over the last several years, he has written tons of articles, solving queries on Quora. He also has years of experience in investing in Cryptocurrencies, Funds, and Stocks.