Is your Chase account locked and restricted?
Are you unable to log in to your Chase account?
Are you looking for the solutions to fix the problem with Chase 'account locked' issue?
Well, if you nodded in affirmation, you will be glad to know that you have reached the right web page. Here, in this post, we will discuss the reasons why Chase locked your account along with a guide to fix the problem.
---
Why is my Chase account locked
Your Chase account is locked because Chase team has detected a suspicious activity on your account. There are many reasons why 'suspicious activity' message triggered on your account. You are – adding a new vendor, transferring a significant amount of funds, using other platform like Zelle to transfer money, using transaction for unsafe activity like arms, drugs, etc.

As you already know, Chase locks the account as a way to keep your account safe. Sometimes, users' accounts can be hacked, theft or used without their knowledge. To handle these situations, Chase tracks out abnormal activities and flags and locks the account. By this way, the accounts are saved from any possible misuse.
Well, the suspicious activity detection system is not perfect and sometimes might flag the account and lock it even if account's owner is accessing it. In cases like these, the locked account can be unlocked easily.
In the next part of this article, we will be discussing all the ways by which you can fix the problem. So, if you are ready, let us dive right into the details.
---
Fix: Chase locked my account to protect it from suspicious activity
Now that you know why Chase locks your account, let us now discuss the methods to fix this issue.
Start with the first part and then proceed with the second one.
1. Contact Chase bank support
If your account has been locked by Chase, you might get redirected to a new page on trying to use it to make transactions. On this page, you will be asked to email and contact Chase bank support.
This is the only way out of this situation. You will have to email the address provided and contact the concerned team. Some users are also asked to call the support team for identity verification.
The Chase official will ask you a number of questions. But, wait, there is nothing to worry about that; it isn't an interview. You will have to share your personal details, bank account number, routing number, etc., to confirm if you are the real owner of the account.
It's as simple as that!
But, sometimes, if you are unlucky, you might be put on a long hold. Like on really long holds.
Some Redditors have reported that Chase made them wait for hours. Whereas, some users reported that they didn't get any positive response.

There is one more thing that we would like to mention here. We came across some 2 years old Reddit posts and comments like the one we included above during our research. But, at the time of writing this post, that is, on March 2022, we found users reporting the same issues in contacting the Chase support.
But, don't get carried away and try contacting Chase support once before proceeding with the next method.
If you cannot establish a point of contact through call or email, try contacting them through Twitter and don't forget to tag official Chase Support.
---
2. Visit the nearest Chase branch
Contacting the support team might have solved issues with the locked Chase account. But, if you are here, we will assume you have already tried contacting the Chase support team many times and didn't get any solutions.
Confirming your account and ownership through phone or online would have been the easiest way out of this problem. But, fret not; this next method will probably be helpful.
So, rather than contacting the Chase support team, you can reach out to your nearest Chase branch to resolve this issue. When you contact Chase support to unlock your bank account, they might ask you to visit the nearest bank branch to confirm your identity.
To confirm your identity, you will need to present two different forms of state issues valid IDs. Make sure both of the IDs have your official name present on them. Chase won't ask for address proof, but if you can present valid IDs with the same address as provided in Chase records, it might help you.

And that's it.
That's all you need to do to unlock your Chase account if it has been locked to protect you from suspicious activity.
---
3. Identify scammers and never share details
Many users have also reported receiving emails from Chase informing that their account has been locked. Generally, these emails will also ask you to submit the user's account details and card details.
If you have ever received these types of emails, you need to be very careful. These are nothing but scams. Chase will never send you an email asking for your personal or account details.
To recall, Chase will notify you about the locked status of your account on your Chase app or the official website. This is only done to help users differentiate between a fake and official email.
You should ignore these emails and never share any details with them. If you have shared any account details, you should contact and inform Chase support about the same.
To know more about the scam, check out the next part of this post.
---
Chase account locked for suspicious activity text (Scam)
Is your Chase account really locked? How exactly did you come to know about it?
Chase only informs its users about the account restriction through the official mobile app or website. When users try to log in to their account, they will be redirected to a new page and will be asked to call or email on the details provided.
This means the account has been locked. If you are looking for solutions, consider checking the last part of this post.
If you receive an email from any other source, you must ignore it.
Below, you can see how scammers target Chase users and email genuine-looking formats with the official Chase logo.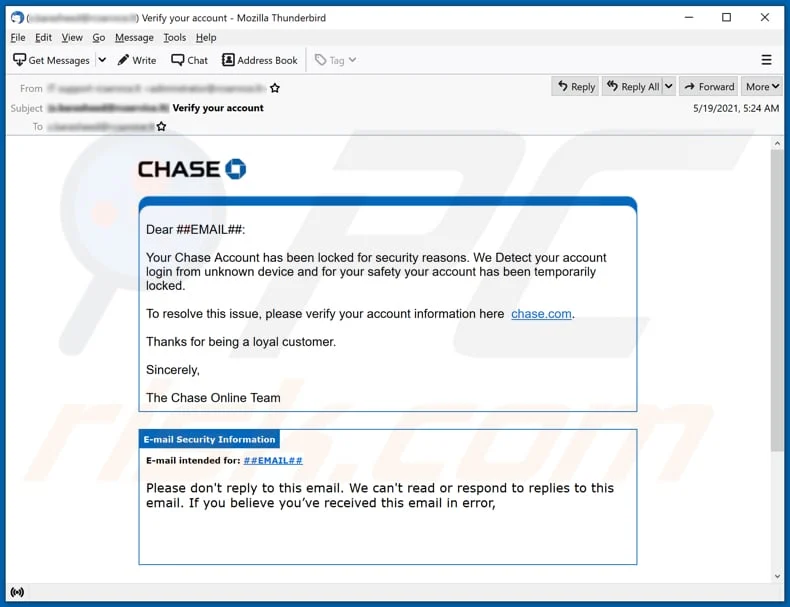 In case you share any personal details by mistake, you must contact Chase support team for assistance.
---
FAQs
1. How do I unlock my chase account from suspicious activity
To unlock your Chase account from suspicious activity, you will need to contact Chase support team through the same page which inform you about your account restrictions. You can also visit your nearest Chase branch and present 2 form of IDs to confirm your verification and unlock account.
---
Final Words
And that's all, lads.
In the post, we not only discussed all the possible reasons why your account is locked but also the methods to unlock the account and fix the problem.
---
Further Reading:
[Fixed] Chase App Features Temporarily Limited
Fix: Chase Direct Deposit not showing up
[6 Reasons] Why did Chase put a hold on my Check
(5 Reasons) Why Can't I Open a Chase Account Online
[Reopen] Chase bank closed my account for suspicious activity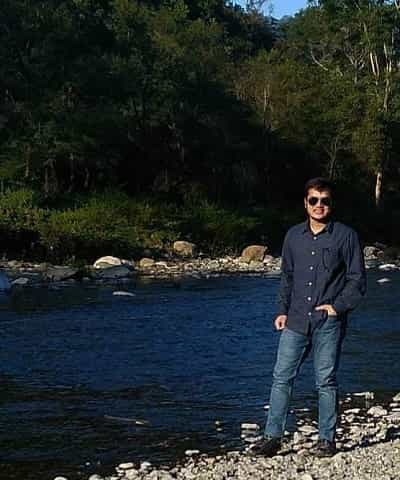 Ankit Kumar is an Engineer by profession and a blogger by passion. Over the last several years, he has written tons of articles, solving queries on Quora. He also has years of experience in investing in Cryptocurrencies, Funds, and Stocks.