Is your Instagram profile picture blank?
Are you not able to view your Instagram profile?
Is your friend's profile picture blank on Instagram?
If you are having such issues with your profile on Instagram, you have landed on the right page. Here in this post, we have explained why your Instagram profile is blank, or empty Instagram post or why you are seeing your friend's profile blank.
We will also provide a few ways to fix your blank Instagram profile.
So, let's get started.
---
Why is my Instagram profile picture blank
Your Instagram profile picture can be blank for several reasons. Your image file size is too large; the file extension isn't supported, there might be an Instagram glitch, you might not have updated the Instagram to the latest build, the cache is causing an issue, etc.
Well, whatever be the case, you can always try out some ways on your own to fix the problem, as discussed later in the post.
Note: Methods below, it will also work for empty instagram post or instagram blank post.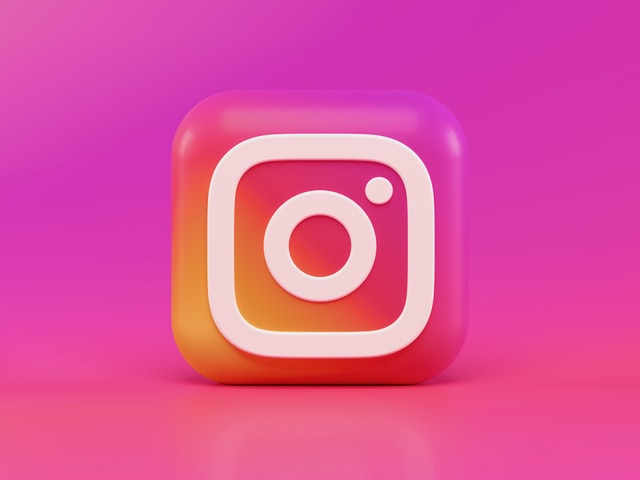 ---
How to Fix blank Instagram profile picture
1. Check your internet connection
The first and foremost step is to check whether your internet is working fine or not.
If your internet is having issues, you will face problems while loading your Instagram profile.
To confirm your internet connectivity is good, you can run an internet speed test on any online service or app, such as fast.com or speed test by Ookla.
Switch your Internet to Mobile Data or Wi-Fi
We would also recommend you to load your Instagram profile with both your mobile data and Wi-Fi.
If you are connected to Wi-Fi, try opening your profile via your mobile data. If you are already using your mobile internet, you should try connecting to a Wi-Fi.
---
2. Check Instagram server status
If your Instagram profile appears blank or not loading at all, the issue could be from Instagram's side itself.
It's generally a good idea to confirm whether the issue lies from your side or the client's side.
If the issue is from the server-side, you won't be able to do much apart from contacting the support channels.
Well, to check the server status of Instagram, you can search it online.
We would recommend visiting the downdetector page for Instagram. Here, you can check the live map and comments section to see if other users in your area are reporting similar issues.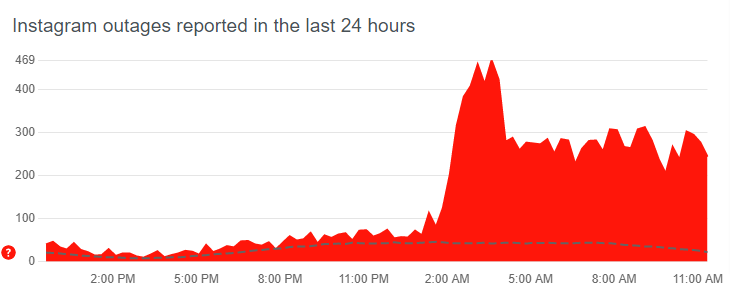 Similarly, you can check IsTheServiceDown's page for Instagram. Like Downdetector, it also provides detailed reports of past outages and user-reported problems as well.
If the outage services show no issues with Instagram servers, it's very likely that the problem is on your side.
In that case, keep reading for more useful fixes.
---
3. Upload profile with supported file size and format
If you have recently uploaded a new profile picture to Instagram and it appears blank, the reason could be that the image you uploaded is of a format that Instagram doesn't support or its file size is too large.
We would recommend using the following Instagram image formats:
Preferred Format for Instagram: JPG, JPEG
Instagram Other Supported Formats: JPG, JPEG, PNG, BMP, non-animated GIF
Maximum file size : 10 MB

Upload a photo with a width of at least 1,080 pixels with an aspect ratio of between 1.91:1 and 4:5.
---
4. Clear Instagram Cache
The cache is a temporary memory with files and data of the apps we use that our device stores to load these apps faster. However, this data can become large with time and rather than providing benefits; it can cause glitches.
So, that's why it is always recommended to clear the cache.
Clearing the cache of Instagram will ensure that there aren't any underlying files or bugs causing issues such as profile not appearing or blank profile.
That being said, to clear the cache on your device, follow the steps below.
Head over to the settings of your smartphone
Go to 'Apps' or Applications
 Search for Instagram.
Tap on 'Data and Storage'
 Tap 'Clear cache.'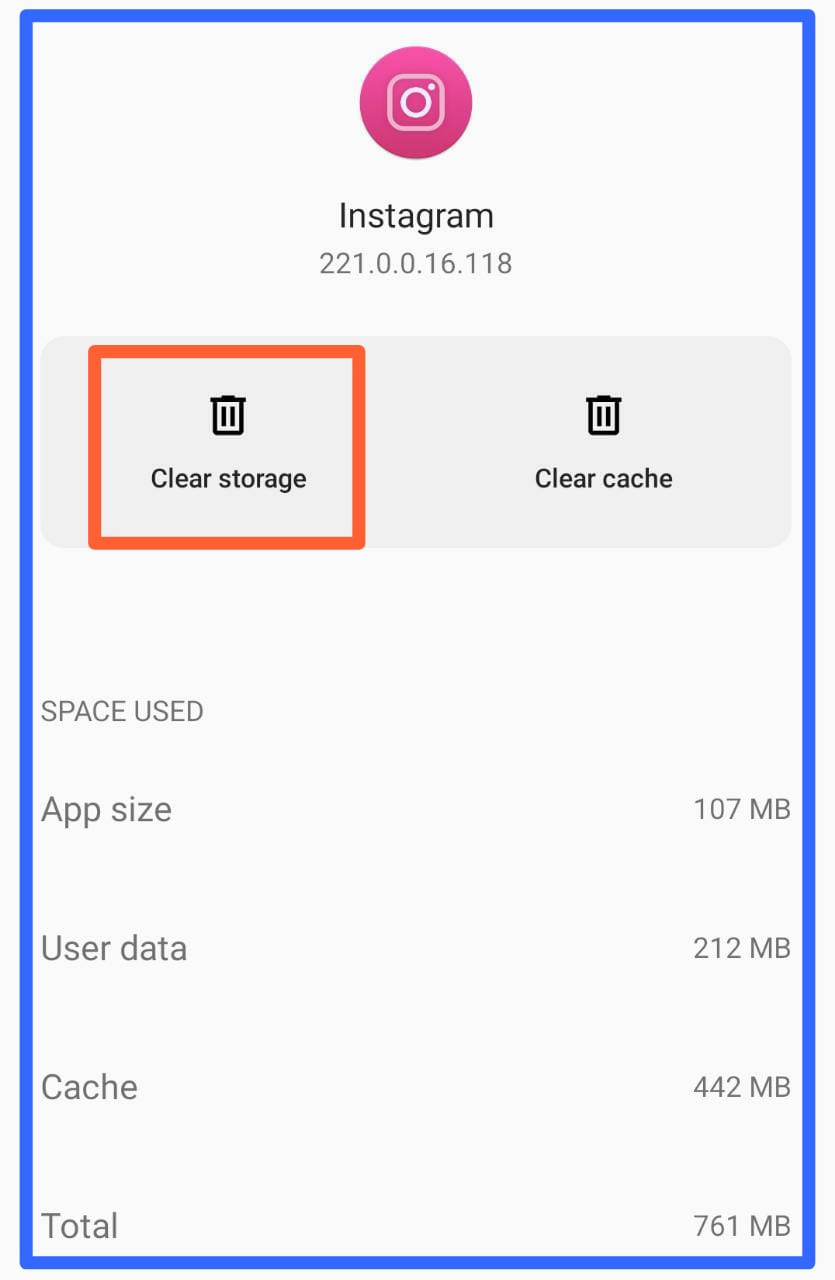 Once you clear the cache, remove the Instagram from recent apps and give Instagram a fresh start, it should work now.
If it's still not working, follow the other methods listed below.
Note: The above setting will differ slightly from device to device.
---
5. Logout and Login again
Moving on, there may be random bugs and glitches in the Instagram app and its files. Hence, these bugs can corrupt your user data, leading to unexpected error messages appearing on your current session.
Therefore, logging out and back into your Instagram account is recommended. You can try this trick whether you are using Instagram app on your smartphone or using its web version.
To log out of your Instagram account, simply find the logout button in your app settings.
Once you log out from your Instagram account, simply close the app or its website and then log in again to your account; it might work properly for you.
---
6. Update Instagram App
If your Instagram profile is appearing blank to you, the reason could be that you are not using the latest version of the Instagram app.
Using an outdated version of Instagram could cause issues and problems due to some underlying bugs housed inside the version of app you are using.
The latest build of Instagram will ensure that there aren't any bugs that might be interfering and problems like Instagram profile appearing blank.
That being said, follow the steps below to update the Instagram app on your smartphone.
Open Google Play Store on Android devices or App Store on iOS devices.
From there, search and locate the Instagram.
Then, visit the Instagram page.
Subsequently, to check if there are updates available, the Update button will be visible.
Finally, tap the Update button if available.
---
7. Restart your device
Moving on, another thing we would suggest is to restart or reboot your smartphone.
Restarting your smartphone will further make sure that there aren't any underlying issues or bugs affecting the loading of the Instagram app. It will also clear and delete other accumulated cache and unwanted temporary files that could be impacting Instagram.
To restart your device, simply hold the power button present on your phone.
Once you have restarted your device, view your profile now, it should now be visible. If not, follow the other ways listed below.
---
8. Free some space on your device
Moving on, it's also worth knowing that insufficient internal storage space on your device may impact system functions. You'll notice certain bugs and issues popping up, which may include Instagram not loading, stuck at loading screen, profile not loading or it is showing blank or black.
If that's the case, you may even be prompted with the "Storage Almost Full" alert.
In this situation, you'll need to free up some space on your device. So, try to move your photos and videos to your PC or upload them to a cloud storage. Moreover, uninstall or delete the apps you rarely use, as those might be taking up a lot of space.
Note: Make sure to make a backup of important files, so that you can move them back to your device when needed later!
---
9. Use Instagram web version
Another method to get around this problem is to access your Instagram account via the web version of Instagram on your computer or PC. So, this step can help you determine whether there's an issue with the Instagram app or your account.
To make your task simpler, here's a link that'll take you to the Instagram login page directly!
If it still doesn't work, there might be an issue with the Instagram servers as detailed above in step 2, or there is an issue particularly with your account.
Other the other hand, if you do not want to use Instagram on the web, the other way could be to use the Instagram on another mobile device.
---
10. Contact Instagram support
Finally, if you have tried all the methods listed above and still cannot view your profile picture, or it's still appearing blank, the last option that remains is to contact Instagram support channels.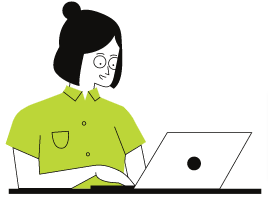 To contact Instagram support, you can visit their help center and fill out the relevant forms.
---
Why is my friend's profile picture blank on Instagram
If your friend's profile appears blank to you, then the reason could be that your friend has blocked you, your friend has deleted his account, your friend is using a blank Instagram avatar for his profile, or his account has been banned/blocked by Instagram.
1. You have been blocked by your friend
The first and foremost reason your friend's Instagram profile is showing blank to you is that your friend has blocked you.
To confirm if someone blocked you on Instagram, you can try searching for their account. If you can't find their account or see the profile image, you may have been blocked. 
Instagram doesn't send notifications for blocked accounts, so you won't be alerted if someone blocks you.
---
2. Your Friend deleted his account
Another reason your friend's Instagram profile appears blank to you could be that your friend has deleted their Instagram account.
If the person has deleted or deactivated his profile, you would see a message, 'Sorry, that page isn't available.'
---
3. Your Friend is using a blank Instagram Profile avatar
Moving forward, another reason is simple, you are seeing your friend profile blank because they are using a blank avatar as their Instagram profile or DP.
People do this to get attention. The really sad person won't bother to remove the DP unless it has to do something with their DP.
They do this because they want someone to ask them, "are you ok" and all because they don't want to tell someone directly; they are upset.
It's similar to those people who won't make the first move but will be desperately waiting to be asked first.
---
4. Instagram banned your friends account
Lastly, if your friend profile on Instagram appears blank, the reason could be your friend's Instagram account has been banned or blocked by Instagram, which is caused due to violating certain terms and conditions of Instagram.
---
Final Words:
Instagram, owned by Facebook, is a photo and video sharing platform with over 2 billion monthly active users. Instagram offers tons of different features to its users, like they can share their photos, videos and stories. Users can chat via direct messages and even call via voice or video.
Well, somtimes Instagram might not work as intended that can be due to dozens of reasons. Problems like Instagram profile blank, Instagram keeps freezing, or crashing can occur every often. However, there are always a few methods to fix the issues from your side, or at least make sure the issue doesn't lie from your end.
So, that's it, folks. After going through this post, we hope you were able to fix your blank Instagram profile or know why your friend's profile might appear blank to you. You would love to visit our Instagram section for more posts like this or follow a few related posts below.
---
Further Reading:
Fix: Your account has been disabled for violating our terms on Instagram
Can you see how many times someone views your Instagram
Fix: Can't see Last Active on Instagram
(7 ways) Fix: Why is my Instagram DP Blurry, Black ?
(3 Ways) Fix 'Help us confirm that you own this account' on Instagram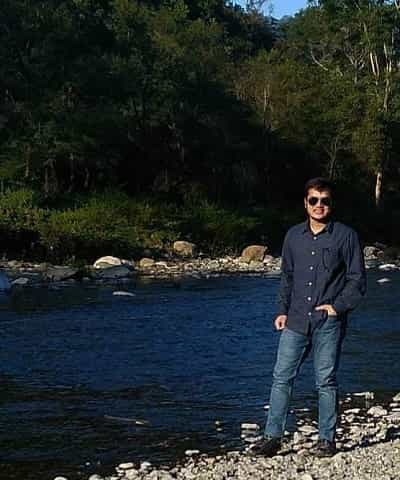 Ankit Kumar is an Engineer by profession and a blogger by passion. Over the last several years, he has written tons of articles, solving queries on Quora. He also has years of experience in investing in Cryptocurrencies, Funds, and Stocks.