Are you having issues in withdrawing cash on Robinhood?
Do you want to know why is your withdrawable cash $0 on Robinhood?
Well, if you nodded in affirmation, you must know that you have reached the right web page. As here, we will be discussing the ways why your withdrawable cash is $0 on Robinhood.
And along with the reasons, you will also find some solutions as well.
Let us dive right into the details if you are ready to learn more.
---
What does 'withdrawable cash $0 on Robinhood' mean?
Robinhood is probably the most popular app out in the USA, which offers users to invest in EFTs, options, and stocks. Along with buying and selling these entities, Robinhood offers other financial services involving intraday and more.
Robinhood is a great platform for those who want to earn profits by trading stocks. The app looks great when it comes to aesthetics, and it is very easy to understand and use.
By earning the profits on your portfolio, you can transfer the profit amount back into your bank account. Sounds easy, right?
Well, you just need to let the amount settle after selling your stock or EFTs. And the withdrawable amount can be transferred back to your bank account.
But, sometimes, users report issues where the withdrawable cash appears $0 on Robinhood. This simply means you do not have any cash to withdraw back to your account.
Well, there could be many reasons why your withdrawable cash is $0 on Robinhood. And in the next part of this guide, we will be discussing all the reasons why the withdrawable cash appears $0 on Robinhood.
So, let's see the reason for the issues now.
---
ALSO READ: Why is my Robinhood account restricted from purchasing
---
Why is my withdrawable cash $0 on Robinhood
Now you know that the withdrawable cash $0 on Robinhood means that you do not have any amount to withdraw back in your bank account.
So, what are the reasons?
Well, we are here to discuss the same. Let's see all the possible reasons why Robinhood shows $0 withdrawable cash. And along with the possible reasons, we will be mentioning the ways to fix the issues.
Reason 1 – Funds not s
ettled
Well, the issue where the user doesn't see any amount in their account is because their funds are not settled.
What funds are we talking about?
These funds are nothing but the amount that can be made available for you to withdraw after selling stocks, ETFs, and options.
And it doesn't matter if you were able to earn profits on your selling. The funds are first tagged as 'Withdrawable' by your Robinhood app. This is also called – 'Settling of the funds.'
If on selling the stocks, or any related entities, you do not get any amount to withdraw, that simply means that the funds are not settled yet.
Solution – This is not a big issue, but there is nothing to fix as well. You just need to wait for the sold funds to appear with the 'Withdrawable' section. And this takes two days from the day you made the trade.
---
Reason 2 – Your account is Restricted
Robinhood is a renowned name in the USA when it comes to sales of stocks and other similar entities and even trading. And it is Robinhood's duty to keep the platform safe for each and every user.
The security of accounts becomes very necessary as there is the involvement of money. And we are talking about millions of dollars that are deposited and withdrawn from the platform.
Well, Robinhood has an automated security system that keeps a close eye on the activity of each account. And not only automated, but Robinhood also does manual verification of accounts as well.
And in case if any account is found to be involved in any unethical activity, Robinhood restricts the account and many features involving the withdrawal of money.
So, even if funds are settled, you won't be able to cash out your money, and you will keep seeing withdrawable cash $0 on Robinhood.
Solution – If Robinhood has restricted you, there could be the chance that you have been flagged by the automated system by mistake. If you are sure you have not been involved in any unethical money laundering activity, you can contact the Robinhood support team.
According to the official statement by Robinhood, they will be helping the user if they have been restricted by mistake. So, simply contact the Robinhood support team and let them know about the whole scenario. And hopefully, they will get your account unflagged.
---
MUST READ: Why can't I withdraw money from Robinhood
---
Reason 3 – Selling referral stock
If you have been using Robinhood for a while, you might have come across their referral program. Robinhood lets the user earn some stocks for free with their referral program just by referring the Robinhood platform to a friend.
With the referral program, the users who recommend and who downloaded the app using a referral both receive the benefits.
But, there is a catch, you cannot withdraw any money selling the amount before 30 days.
Well, Robinhood doesn't put any kind of restriction to sell the referral stock, but the amount you earned on the stocks becomes available withdrawable only after 30 days.
Solution – Even if you are a Robinhood Gold member, the selling amount of the stocks you received cannot be transferred to a bank account instantly. You will have to wait for 30 days before the funds settle for withdrawing.
---
Reason 4 – Withdrawal limits
Even if a user's account has not been restricted, Robinhood has set a limit for withdrawal for all users on the platform. For a particular day, you cannot withdraw more than $50,000 from the Robinhood account. Well, the company says, this limit to check the money laundering from the platform.
Well, the maximum amount of $50,000 can be a single withdrawal or a maximum of 5 withdrawal. Yes, you read that right; you can withdraw a maximum of 5 times on a business day.
Those five withdrawals don't have to reach $50,000 in total.
And if you have already reached the limits, you might see withdrawable cash $0 on Robinhood.
Solution – You cannot withdraw more than five times a day and more than $50,000 in a single day. Wait for at least 24 hours before proceeding with any withdrawal.
And that's pretty much all the possible reason for the 'withdrawable cash $0' on Robinhood issue.
Hope you have found the answer.
If you have got any queries, do let us know in the comments section below.
---
Final Words
And that's it, ladies and gentlemen.
Here, in this post, we first discussed what 'withdrawable cash $0 on Robinhood' actually means.
In the second part of the guide, we talked about all the possible reasons for the issue.
Along with the reasons, we talked about the solutions as well. You can easily implement the solutions and get the issue fixed without breaking a sweat.
---
Further Reading:
[Fix] Why can't I withdraw money from Robinhood
How to cash out on Robinhood (Time, Fee & more)
(12 Fixes) Why is Robinhood not working
Why is my Robinhood account restricted from purchasing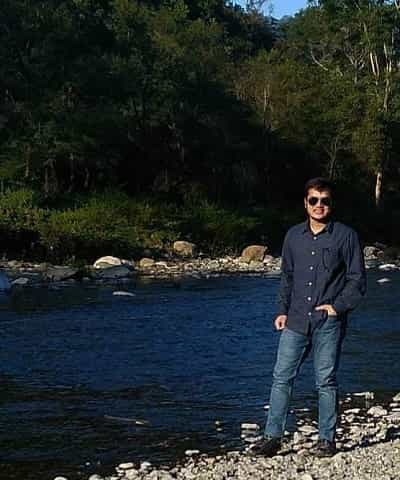 Ankit Kumar is an Engineer by profession and a blogger by passion. Over the last several years, he has written tons of articles, solving queries on Quora. He also has years of experience in investing in Cryptocurrencies, Funds, and Stocks.