Are you having issues in withdrawing money from Robinhood?
Are you looking for the reasons and solutions for this issue?
Well, this is the very right web page if you are looking for the answers.
Here, you can check out all possible reasons and their solutions.
So, if you are ready, let's dive right into the details now.
---
[Fix] Why can't I withdraw money from Robinhood
Robinhood is a financial services company based in the USA. The platform sports features like investing and trading of stocks along with other additional features.
Users can easily add their bank account and associated credit card to transfer money in the Robinhood app and invest. With the help of Robinhood, user can sell their stocks anytime and have the equivalent money in their bank account.
But sometimes, users report that they find it hard to withdraw their money from Robinhood after selling their stocks on the platform. Well, if you are having the same issue, fret not; you are not the only one.
There could be several reasons why the withdrawal procedure failed in the first place. Robinhood has several regulations and rules when it comes to money withdrawal. If you knowingly or unknowingly violate these rules, you won't be able to get your money.
Well, we have got your back. Here, we will be talking about all possible issues which might have caused the problem. Along with that, we will be providing solutions. So, you can fix issues on your own.
Let's get started!
#1
Robinhood Gold Limits
Robinhood Gold is a membership-based program where the users can take advantage of different perks that specifically make their trading journey easier.
If you are a Robinhood Gold user, you have some limits on how you can withdraw money from your Robinhood app. You may already know the conditions where you are required to maintain a brokerage account value of at least $2,000. This condition needs to be fulfilled if you want to take advantage of the borrow feature.
Fix – Talking about the withdrawal limit, you can only withdraw an amount below $2000. You just need to only turn off the margin in the app. This can be done by heading to the Settings.
---
#2 Status is pending
You can easily withdraw an amount from your Robinhood app once it is available. But, any deposit is not available to withdraw from the app immediately.
Fix – The amount takes around five business days to finally reflect in your Robinhood app. Only after the status of the deposit is completed can you finally withdraw the amount to your bank account.
---
#3 Funds not s
ettled
The worth of stocks or any other supported assets on Robinhood cannot be withdrawn immediately after settings them. There is a term called 'Settle', which means the availability of the amount which you earned by selling your funds and other option.
Fix – According to Robinhood's official statement, your funds take around two more additional trading days from the day you closed the deal.
Only after this waiting period, your funds will be available in your buying power, and you will be able to withdraw the cash you have.
---
#4 Account is restricted
Robinhood, to keep its platform safe, monitors activities made by the users on the platform. And if someone is found to be violating terms and regulations on the platform, Robinhood simply flags the account and puts a restriction.
An account with a restriction will not be able to withdraw funds even if the funds are settled in the account.
Fix – There are many reasons why the Robinhood security system has put a hold or restriction on your account. There might have been issues with the account details and other important stuff. Sometimes, the Robinhood team inquires about any possible fraud too.
Well, if you are very sure that you are using your Robinhood account as intended, you can contact the Robinhood support team for more details.
---
#5 Reached no. of withdrawal limit
If you have been a Robinhood user for long, you may already know that there is a limit for the number of withdrawals you can make for a business day.
According to Robinhood, you can make at most five withdrawals in a business day from your Robinhood account.
Fix – There is no specific fix. Maintain withdrawals up to 5 in a day.
---
#6 Reached daily withdrawal limit
You cannot withdraw an unlimited amount of money from Robinhood. There is a limit for the daily withdraw in Robinhood.
According to the official statement by Robinhood, you can withdraw up to $50,000 per business day from Robinhood.
Fix – Again, no specific fix; your total withdrawal can be of $50,000 in a business day.
---
#7 Selling referral stock
Robinhood allows the users to get free stocks with their referral program. Just by referring to the platform for trading and investing, you can earn some free stock from Robinhood.
What if you are eyeing selling your free stocks?
Well, you won't be able to withdraw the cash amount by selling your account before a period of 30 days. Technically, you can sell them; the cash amount will be withdrawable only after a period of 30 days.
Fix – After receiving the free stock on Robinhood, wait for a period of 30 days before initiating selling your account.
---
FAQs
1. Why can't I take money out of Robinhood?
There are many reasons why you cannot take money out of Robinhood. You might have been restricted by Robinhood and put on hold for verification. You might have reached your daily withdrawal limit. Whereas sometimes, your payment takes time to appear on your Robinhood app. In this period, you won't be able to withdraw any amount.
---
Final Words
And that it, ladies and gentlemen.
Now you know why you can't withdraw money from Robinhood.
The best thing is you can fix the related problems on your own. We have provided possible solutions as well.
If you have any related issues, you can let us know in the comments section below.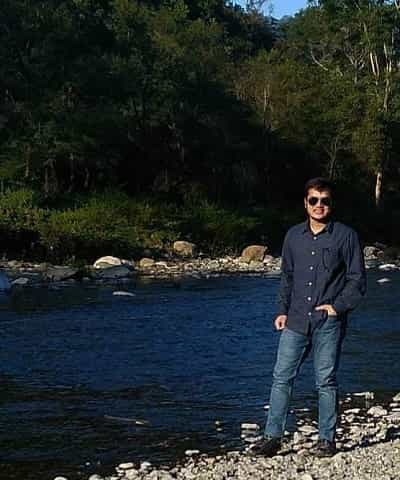 Ankit Kumar is an Engineer by profession and a blogger by passion. Over the last several years, he has written tons of articles, solving queries on Quora. He also has years of experience in investing in Cryptocurrencies, Funds, and Stocks.