Instagram logs you out of your account for 24 hours because of bot behavior. Bot behavior means that you do things like liking posts, following or unfollowing people very quickly in a limited amount of time.
Why has Instagram locked me out for 24 hours? How to fix Instagram logged me out for 24 hours? Read this article to know all about it?
Instagram is a social media application which can be used to share photos and videos on your profile. It was found in 2010 and it was later bought by Facebook Inc. (now known as Meta) in 2012. And since then Facebook has been developing the application.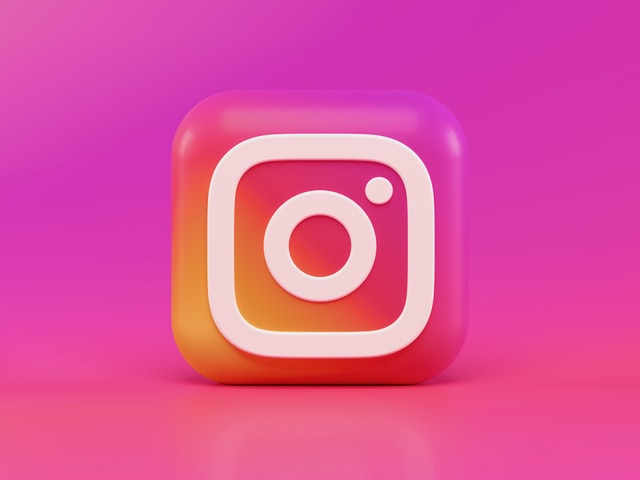 It can be used for posting and viewing media content but Instagram can also be used to message your friends on Instagram. Instagram is said to have more than 1 billion monthly active users. It is the 4th most used application, preceded by Facebook, YouTube and WhatsApp.
---
Why has Instagram locked me out for 24 hours?
Instagram generally locks you out if there is any suspicious activity going on with your account. There is something called bot activity or bot behavior that is monitored by Instagram. If you cross these limits set for bots, your account will be locked.
Firstly, it is important to note that you need to follow rules and guidelines of Instagram and post accordingly. Any deviation from it will result a lock or even a ban of your account in the most severe cases.
Furthermore, it is common sense not to offend any person based on religion, caste, creed, sex and locality. If you offend someone, they might report you for rude behavior. So, ensure that you keep social media a safe space for you and others.
The limit for a maximum number of likes, comments, follows and messages per hour is 60. But, if your account is new these are limited to 30 itself.
Also if you post content to Instagram very often, your account will be locked. Check the limits for number of posts you can do in an hour for a new or an old account.
One last thing is to make sure you don't use a third-party application and integrate it with Instagram. If you use apps like these, your device and your email account related to it will be blocked forever. You will not be able to create an account again.
---
How to fix Instagram logged me out for 24 hours?
These following methods will help you get access to your account.
Step 1 – Submit a form to Instagram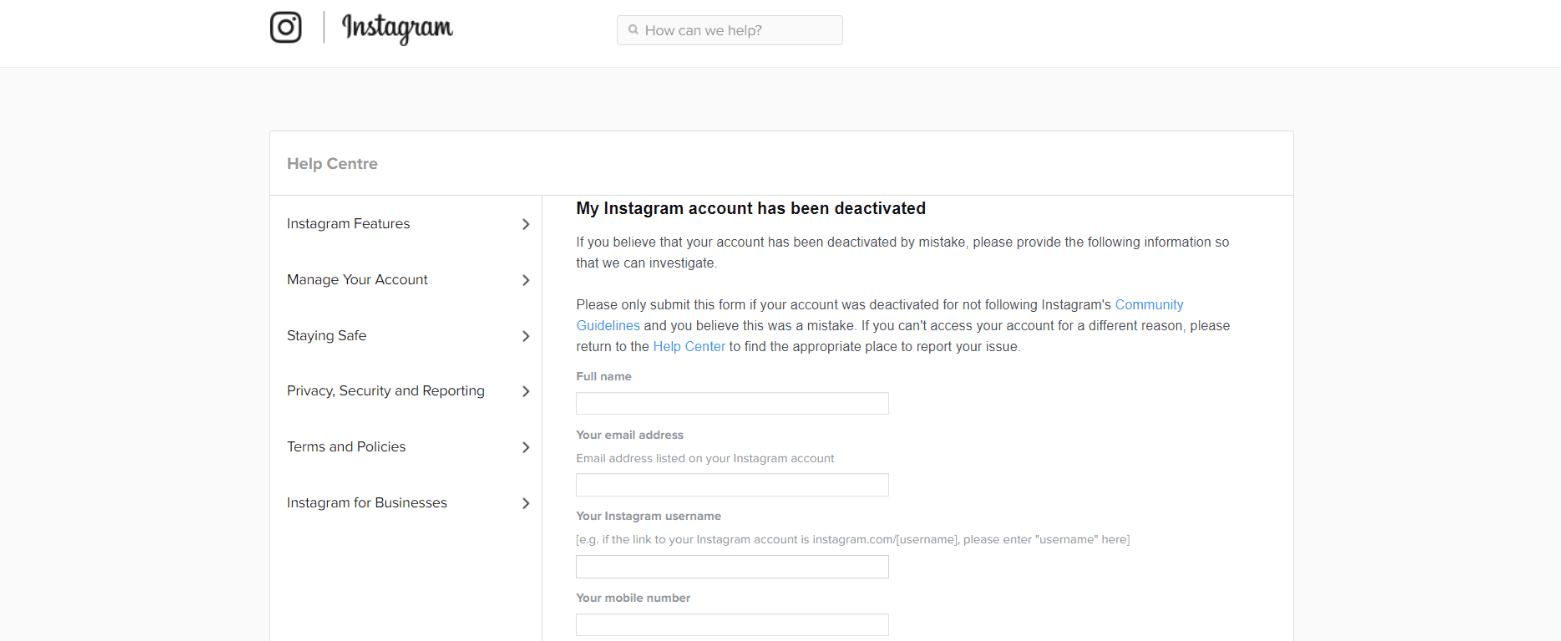 The website – https://www.facebook.com/help/instagram/contact/606967319425038 helps you to fill out all the necessary details to get your account back.
Once you fill out the form and submit it, Instagram will send you a mail with instructions and code. Once you get a code, you need to take a picture with it. This will prove to Instagram that you are not a bot. Ensure that you and the code are clearly visible in the image (it should be in JPEG format).
After this process is done, you will get a reply from Instagram about the status of your account. If you haven't violated anything, you will get your account back. Otherwise, bid adieu to your old account and create a new one.
As mentioned in the website given, if your account is deactivated for a different reason you need to visit the Help Center. Explain your problem clearly and try contacting the customer support to get your account back as quickly as possible.
---
NOTE : The following steps are for people who think they did not cross any Instagram guidelines and this is just a bug.
Step 2 – Clear cache and data
Cache is the storage of the data by the application, to process future requests by the user faster. Also, the cache gets stacked up after each encounter with the application. It is recommended to clear cache once in a while.
Go to applications in settings
Select Instagram, go to storage settings and clear cache.
Also you can clear all the data from Instagram. This will log you out of the application. But this is not an issue, it will be like opening a newly installed application.
Go to the applications in settings.
Select Instagram, go to storage settings and select clear data. Once you click on it, it will ask you just to confirm the choice. Select Ok and the data will be cleared.
Clearing cache will remove bugs and make the application faster. Clearing data will remove all the settings, files and media and opening the app again will be like a fresh interaction. Everything should be normal after this process
---
Step 3 – Clean install Instagram
Uninstalling and reinstalling an application removes any bugs in the software. This process is known as clean installing.
Go to the respective application store on your device.
Search for Instagram and uninstall it.
Wait for a few minutes, say one minute.
Then, install Instagram again.
---
Step 4 – Restart your phone
Restarting a devices frees up your RAM (Random access memory) and will leave more space for applications to run smoothly.
Restart your device by holding the power button and selecting restart option on the screen.
Once the restart is done, open Instagram and try to log into your account. If the problem is gone, well and good, If it isn't try the other methods.
---
Step 5 – Update Instagram application
Application updates pack new and improved features upon the older version of the app. So, make sure to check your application store for updates once in a while.
Visit the respective application store on your device.
Search for Instagram and check if there are any new updates.
Then, install it if you find any. Otherwise, wait till a new one rolls out. Don't worry social media apps get updates frequently to root out bugs (functional errors).
---
Step 6 – Remove Third-party applications from Instagram
Instagram runs on its own. It does not need any secondary application to help it run. There are some applications which help you know the number of interactions with your posts, who followed or unfollowed you. These help you gain some information about your account. But these are not Instagram approved. Using these application will lead to a permanent ban too sometimes. So, remove any unnecessary applications that you have linked with Instagram.
---
Step 7 – Turn OFF VPN
Virtual Private Network abbreviated as VPN is, as the name suggests a virtual network where  your digital fingerprint can be altered to access things you might not be able to access from your location.
At times, VPNs hinder your streaming or scrolling of content. So make sure to turn off your VPN and try logging in to Instagram.
Go to the VPN application on your device and turn it OFF.
Now, open Instagram and see if the problem persists.
---
Step 8 – Use a single Instagram account
People these days tend to have a main account and a burner account (maybe to stalk people). And both of these are put on the same device for easier access. So, try removing an account you use less.
Visit the Instagram application and go to the settings.
Under that you will find Add or switch accounts option and Log out option.
Click on the log out option.
Once you log out you will be shown the accounts on your device. Remove the account you don't use much and keep the one you use frequently.
After removing the account, restart the application and login.
---
Step 9 –  Switch networks
Try switching from a network to another. It might be from one Wi-Fi to the other, Wi-Fi to cellular or even cellular to Wi-Fi. This will help you clear out a major doubt, is the problem caused by the network you are using or not.
Turn off Wi-Fi and turn on cellular data.
Or turn off cellular and turn on Wi-Fi.
Finally try switching to another Wi-Fi network.
---
Step 10 – Change Instagram password
If you are unable to log in try clicking the forgot password option, this will send you a verification link to your Email ID. Or if you have created your account using a mobile number, you will get the details through a text message. Check your emails or messages on your phone and follow the instructions mentioned to change your password.
---
FAQs
Q1. I have been locked out of my Instagram without any reason. How to get it back as quickly as possible?
Fill out the form in the Help Center page and you will get a mail. Follow the instructions mentioned and you will get back your account. If you think this was an error, restart the application or clear cache or restart your phone. See, if it solves your problem. 
The accounts are locked due to the bot behavior as said before. If you have been scrolling Instagram all day and liking posts and following people, you will be locked out of your Instagram.
Q2. My account got deactivated, but I lost access to email address. How to gain access to Instagram now?
When trying to gain access it will also ask your mobile number, in spite of providing a mail address. So, just enter the mobile number and you will get your verification details to your number.
Once the verification details are sent to your number, using that you can change your new email for the Instagram account. It will also ask you to answer a few security questions. Answer those, provide the new email address and confirm with a password. Your account will be back to normal after the review.
---
Final Words
Instagram tries to filter out of spam and spam due to bots. So, make sure that your online behavior does not resemble these patterns. Even if you have followed these patterns perchance, now you know how to get it unlocked. Hope this helps you.
Thank you! Don't have a good day, have a great day!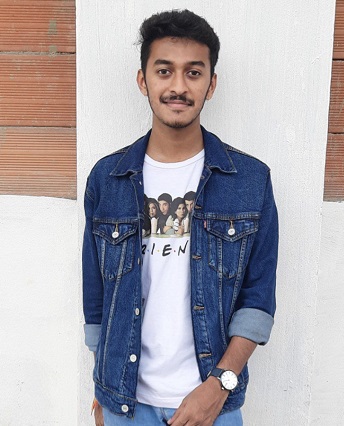 Sri Sahith is passionate and writes his articles by ensuring attention to detail. During his graduation study, he has taken elective subjects like Business Economics and Financial Analysis. These gave him the interest, knowledge and passion to write articles related to Finance-Tech. Also, he loves to read books and talk about them as long as possible.