Are you wondering whether MoneyLion works with Chime?
Does Moneylion credit builder work with Chime?
If you are looking to use Moneylion or Instacash with Chime, you are at the right place.
In this post, we will discuss all you need to know about getting a loan from Moneylion with your Chime account.
Chime offers a cash advance of up to $200 with its feature called SpotMe, it starts with only $20 for most users. It works a bit differently; if you want to learn more about Chime Spotme, you can read the post – How does Chime SpoteMe work?
Well, we've all been in a situation where we need urgent cash and don't have sufficient funds at our disposal. In this situation, a cash advance seems to be the only option, though you don't want to rely on them
Cash Advance apps can be really helpful in situations like an unexpected parking ticket, a sudden car breakdown, a last-minute dinner party, or anything else.
Below, in the guide, we will be talking about how to use Moneylion with Chime.
---
What is Cash Advance
For those who aren't aware, a Cash advance is a short-term cash loan intended to cover an unexpected expense or emergency.
There are mainly 4 types of cash advances —
Credit card cash advances
Payday loans
Installment loans
Merchant cash advances
These options can deliver cash in a hurry, but each works differently. Consider the advantages and disadvantages of each before deciding which option is right for you.
All these are types of Cash advances, using which you can get money in a situation when you run out of your funds. However, Cash advances are usually associated with high interest and fees. It would be best to consider the pros, cons and prices before using any Cash advances app or service.
Moneylion is one such Cash Advance app, and below as we have discussed how you can use it with your Chime's checking account.
---
Does MoneyLion work with Chime
Yes, Moneylion works with Chime. If you have a Chime checking account, you can get a loan or Instacash from Moneylion up to $250 directly to your Chime account if you are eligible.
MoneyLion cash advance or Instacash is usually 15% of your account's anticipated recurring direct deposit amount. The maximum cash advance limit from Moneylion is $250, but if your account does not have any regular income, you will not have access to a large amount. The minimum limit is $25.

Well, before you can get a loan/cash advance or Instacash from Moneylion, your checking account must fulfil the following requirements:
An account has to be open for at least two months
The account has your regular deposits of income/paychecks
It has a positive balance
It's active
Alternatively, you can also qualify for Instacash advances by opening a RoarMoneySM account.
Moreover, you can unlock higher amounts
By setting up direct deposits into a RoarMoneySM account,
By signing up for a RoarMoneySM account
By completing certain tasks in your MoneyLion App to qualify for boosts.
In this case, your cash advance will be up to 30% of your recurring deposit or up to a maximum of $1,000. For more details, visit the RoarMoneySM account.
To request Instacash advances, tap Accounts on the Home screen of the MoneyLion App. You'll find out in seconds if you qualify and how much you can get.
---
What is Instacash?
Instacash is a short-term cash float from MoneyLion. You can get up to $250 instantly to cover an unexpected expense or to use for a fun opportunity at 0% interest.
Traditional payday advance loans often charge ludicrously high-interest rates that can go as high as 790% per year in some states. With Instacash, eligible borrowers pay 0% interest. In addition to charging zero interest, Instacash has no monthly fees, although you can pay an optional fee to receive funding faster.
How does that work?
Let's imagine that your payday is in two weeks, but you need $250 right now. If you head to your local payday loan provider and borrow $250 at 500% APR and a $50 fee, you will have to pay back $348. This total accounts for the original $250 you owe, the $50 service charge, and $48 in interest. With Instacash, you only need to pay back the original $250, which is $98 in savings!
---
How to Get Instacash from MoneyLion to Chime Checking account
To link your Chime account to MoneyLion, follow the steps below:
Open MoneyLion app and sign in to your account.
Tap on the option 'Transfers'
Tap on 'Add accounts'
Now, select 'Chime' from the list of banks.
Follow, the on-screen instructions.
You can also link an account using the More Options menu from the Finances tab.
---
Final Words
There are many situations when we need extra money, but we don't have any funds left. In these situations, a Cash advance can be a life saviour if you don't want to borrow money from your friends.
Cash Advance or payday advance doesn't mean you are taking a loan; it is because you are just accessing your own hard-earned money a few days earlier as you have run out of your funds and your next paycheck hasn't arrived yet. And when your paycheck arrives, you will pay the amount you borrowed directly from your salary.
Since you use your own money, most Cash advance apps do not charge any interest. However, they come with a monthly subscription, or some even offer a tipping system.
One such app is Moneylion that offers a cash advance of up to $250. However, it is highly dependent on your account history and other factors. The best part is that Moneylion even works with Chime, as discussed above in this post.
So, that's all for now. I hope you were able to know all your questions about using Moneylion with Chime. For more guides like this, visit your dedicated Chime section or follow a few posts from the links below.
---
Further Reading:
Why is my Chime Spot Me not working (6 Reasons)
How to check Chime balance & Chime card balance
How to apply for Chime credit builder card
Can I overdraft my Chime Card at Atm or for Gas?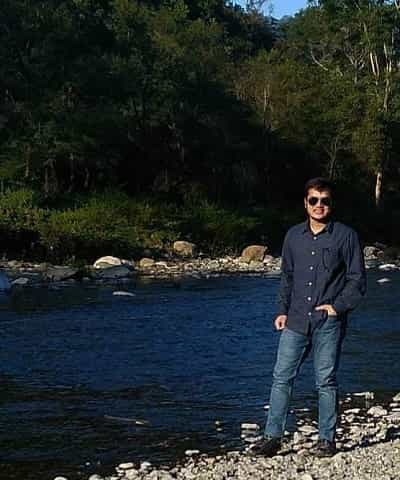 Ankit Kumar is an Engineer by profession and a blogger by passion. Over the last several years, he has written tons of articles, solving queries on Quora. He also has years of experience in investing in Cryptocurrencies, Funds, and Stocks.