In this article, we will be discussing What is a Discord Tag and How to Change or create Discord Tags.
There can be two cases to change tags in Discord. In the first case, if you have a discord Nitro or partner subscription then you have a special setting to directly change your tag. However, if you do not have any discord subscription then you will need a bot to change your tag in Discord.
Well, before we start with the steps to change tags in Discord, let's discuss What are Discord tags and other related terminologies.
---
Discord Tag Meaning :
Discord users are identified not only by their username but also with Discord tags.
Discord tag is a 4 digit discriminator beside someone's username on discord.
Its range is from #0001 to #9999.
Well, you may be wondering if the tags are only limited to 10000 then how millions of users on Discord are identified?
To maintain the uniqueness of users, the username is also considered as a part of the tag.
For example: If you have Discord username "Hey#0007" and someone has a username "Heyy#0007" then both of these are considered unique despite having the same tag.
---
How to Change Discord Tags :
Now, the question comes can you change your tag is Discord. The simple answer is yes, You can change your Discord Tag.
However, the availability to have custom tags on Discord is only limited to Discord Nitro or Discord partner users. Well, normal users can also change tags on Discord by using a bot.
---
What is a Discord Partner:
Discord Partner is a program by Discord that rewards the well-moderated and managed servers. Servers that are accepted in the partner program get special perks and benefits.
Discord Partner benefits;
Unique branding: Personalize your server with a Custom URL, Server Banner, and Invite Splash.
Partner-only perks: Get Discord Nitro, rewards for your community, and access to the Partners-only server.
Be recognized: Receive a special badge on your server and stand out from the crowd on our Discovery page.
Discord Partnership Requirements :
Your server must be at least 8 weeks old.
Have at least 500 members on your server.
Have at least 50 communicators (people who actively talk) per week.
Have at least 100 participators (people who at least visit/view your server) per week.
Having at least a 20% Week 1 Retention over an 8-week period.
Have 2FA Requirement for Server Moderation" enabled.
---
Discord Nitro :
Discord offers two premium subscription services know as Discord Nitro and Discord Nitro classic. A normal user will never ever require these subscriptions but people who want more from Discord can buy the subscriptions. Below are the benefits of Discord Nitro and its pricing.
Discord Nitro benefits:
Better Emoji: Collect or make your own custom and animated emojis.
Personal Profile: Use an animated avatar and claim a custom tag.
Support a Server: Get 2 Server Boosts and 30% off extra Boosts.
Rep Your Support: Profile badge shows how long you've supported Discord.
Bigger Uploads: 100MB upload size for high-quality file sharing.
HD Video: Hi-res video, screen share, and Go Live streaming.
---
Discord Nitro Pricing: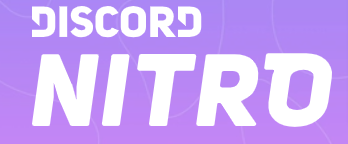 Discord Nitro
$99.99 per year
$9.99 per month
Discord Nitro Classic:
$49.99 per year
$4.99 per month

Change Discord Tag if you have a Discord Nitro subscription, or you are a Discord Partner :
Open your User Settings by clicking on the gear icon beside your username.
On the My Account page, click on the username.
Now replace the tag along with your username with the number you want. The numbers allowed range from #0001 to #9999.
Enter your account email and password.
Click Save.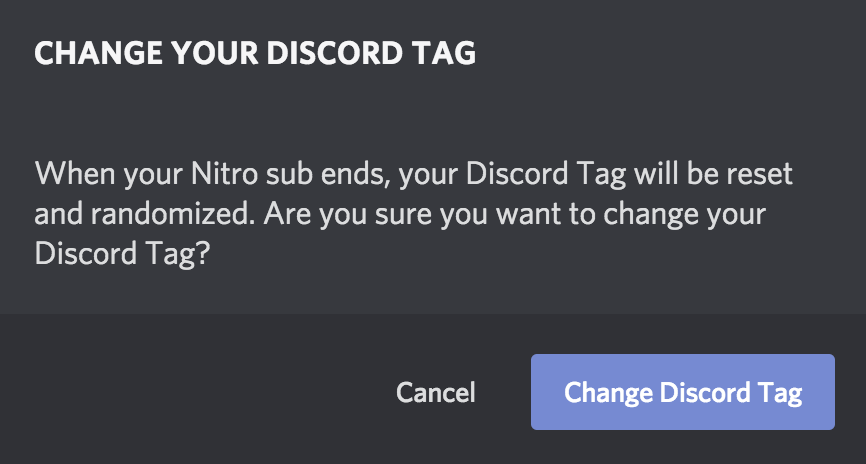 ---
Change Discord Tag using a Bot :
In case you do not have a Discord Nitro Subscription, you can still change your discord tag. However, you will not be able to create a custom tag.
You will be assigned a random tag, and you will have to use a Discord Bot to do the same.
Note: In Discord, to edit username there is also a one-hour time limit per edit.
Also, in case you are trying to add a username that already exists in Discord then you will get a random username.
What is a Discord Bot:
Discord bots are the most powerful features of the platform. Bots in Discord are basically a set of commands that are used to perform a certain task.
Anyone can make a discord bot to perform any specific task in Discord server or chat. Discord bots can be used to dd memes, games, music, and other pieces of entertaining content to the server.
Well, you can also use a Discord bot to change your tag. Below we have provided a few steps to add a bot to help you change your tag in Discord.
Steps to change your Discord tag using a bot:
Open your Discord and create a server.
Go to

Unbelievaboat.com.

Click Invite to Discord.
Choose your server and click continue.
Click Authorize and check the captcha.
On the text input line type !discrim.
You'll then be shown a list of users with the same tag as yours. Note that sometimes you'll be the only one there. It happens. Wait a while for other users to log in and try again.
Once you find another user with the same tag copy their name.
Go to User Settings
Replace your username with the copied name.
Enter your mail and password then click Save.
You'll be assigned a random user tag afterward.
---
SEE ALSO:
---
Final Words: Change Discord Tags
So, that's all about how to change your tag in Discord. You will need a Discord Nitro subscription to directly change your tag in Discord. However, you can also use a bot to change your tag in Discord.
In case you any questions regarding the Discord tag then do let us know in the comments section below.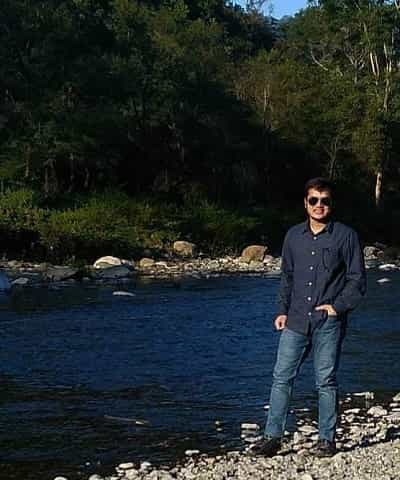 Ankit Kumar is an Engineer by profession and a blogger by passion. Over the last several years, he has written tons of articles, solving queries on Quora. He also has years of experience in investing in Cryptocurrencies, Funds, and Stocks.