Can I send money to a small business with Zelle?
Does Zelle work for business accounts?
You will get the answers to all your questions here.
Zelle is a peer-to-peer payment (like Google Pay) or money transfer service owned by a group of banks in America for America only. So, you can send money from one bank account to another bank account of your friend within seconds or minutes. They have an application and a website that will serve this purpose.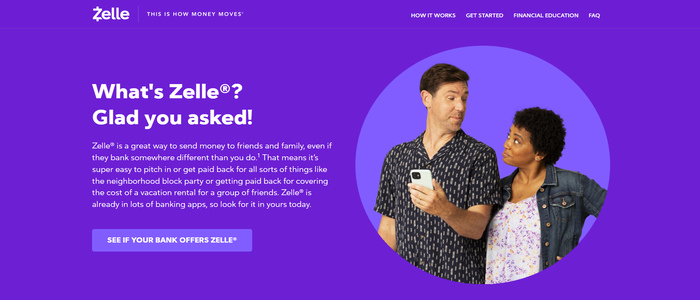 ---
Can I send money to a small business with Zelle?
Short Answer: Yes, you can send money to a small business with Zelle. Just keep in mind that both of you should have to enroll yourself with Zelle.
A small business is generally a business with very less number of customers or turnover for a year. Although the question "What is a small business?" depends on the bank they are related with. So they need to contact their bank and ask if their business is considered small and start the enrollment process.
For sending or receiving money through Zelle, the recipient and sender should have Zelle. You can inform them that they can enroll through their bank or through Zelle itself. Even if one of you have not enrolled with Zelle, the payment will not go through. Also, it is important that the businesses enroll to Zelle with their bank accounts and not debit cards. Users have reported that enrolling with debit cards have caused a lot of payment issues.
---
Does Zelle work for business payments?
Short Answer: Yes, Zelle does work for business payments. As mentioned before, they should contact the bank to know what kind of business they come under.
Zelle can be used for business payments. The money sent will directly be credited to your bank account. But it is better if this is not the only payment method the business accepts. Because it is not practical. Not everybody uses Zelle when coming to pay at at your business.
Businesses need to have other types of payments like Google Pay, Apple Pay, debit or credit cards and cash (obviously!). Accepting more number of payments will widen the business range and let them expand.
---
Why is my Zelle payment unable to process
Short Answer: If your Zelle payment is unable to process, check out the recipient details once and try the payment again. 
In most cases if your payment is unable to process, you should check out the recipient's mail or number properly. If you enter one letter or number wrong, the details might not exist. But in some cases when you enter a wrong letter, it reaches a random recipient if he has Zelle. So, you need to be careful while entering details because it deals with your money.
There might be other reasons which include problems with the server of Zelle or the bank (either the recipient's or your bank's). This might cause problems for a while. You might need to check on these if you run into the "unable to process" error.
---
Fix: Zelle unable to process payment for small business
Here are some of the way to fix your unable to process error for small businesses.
Step 1 – Enroll with bank accounts
Enrolling with your bank accounts will reduce the amount of failures while processing payments. Many people have reported payment processing issues when they have enrolled to Zelle with a debit card. So if you have registered your Zelle with a debit, contact your bank and ask them to add your bank account.
---
Step 2 – Wrong details
Make sure that you enter the right details of the recipient for Zelle to process.
Enter the number of the recipient and repeat it to them, for verification.
Or if you are entering a mail address, enter the alphanumerical detail with perfect detail.
Incorrect pin for transaction might also be a reason. So, remember your PIN.
---
Step 3 – Unverified bank
If your bank is not verified with Zelle or has not replied to you yet about the status of the enrollment, you will not be able to do a payment. This is true the other way around too. If the recipient's bank has not verified their Zelle enrollment, they will not be able to receive the payment too.
---
Step 4 – Server down
Sometimes the problem is not with you or the recipient but with the server of Zelle. You can check this website, to see if there is currently any issue with Zelle's servers. Or you can contact your bank customer support to see whether the online services of the bank are operational or not. Both the bank and Zelle's servers should be functional for the payment to be processed.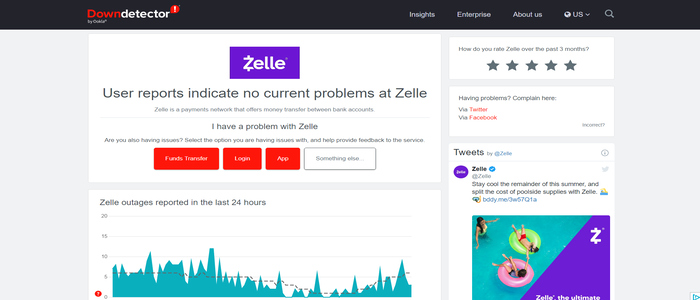 If you wish to report your issue you can click on the red options or type in the Something else… box. So, that the other users can know that there is an issue with their service at that moment.
---
Step 5 – Check your spending limit
There is no limit for accepting payments, but there sure is a limit to sending payments.
If you are registered with your bank accounts, you can spend up to $5000 in a week or $10000 per month.
Or if you have registered another way (debit card), you can spend up to $500 in a week or $2000 in a month.
So if you have spent more than the limits set for a week or for a month, you need to wait until it resets. Or you can contact Zelle and your bank account to increase the limits.
---
Step 6 – Send only to Zelle users
If you are trying to send to a recipient who doesn't have a Zelle account, the payment will not be processed. Also if the amount you are sending is a big one, the recipient should have a verified account. Otherwise the payment will be declined.
---
Step 7 – Unsupported card
As previously mentioned, accounts which have enrolled with debit card have faced issues with Zelle. Also, the card should be supported by Zelle. Visa and Mastercard are the only two cards that are currently accepted by Zelle. So if you are trying to use a Cash App card, Apple Pay card or other online cards – Zelle will not accept.
---
Step 8 – Check your balance
Insufficient money in your balance might be another reason Zelle might not be able to process your payment. You should add some money into your bank account and try the payment again. This should solve the problem.
---
Step 9 – Update software
By software here, I mean both the application and the device's software. Because if you have either one running an older version, you will have problems with payments.
Go to the Settings on your device, search for Software update and install if available.
Also visit the respective application store of your device and install an update for Zelle. And do turn ON the automatic updates for it.
An updates software for a payment application means an improved security detail and new terms and conditions. Terms and conditions should be accepted for the application to work correctly. If you have ignored T&Cs, there will be problems with the app.
Also, ensure that you grant all the necessary permissions for Zelle. In this way, you can make sure that the problem is not on your side.
---
Step 10 – Security
If Zelle finds something sketchy about the receiver, your payment will be cancelled for your own protection. If you encounter this kind of problem, it is better to pay in cash.
---
Step 11 – Turn off  VPN
Virtual Private Network (VPN) is all the hype in the world right now. A VPN gives you access to data without the connection of any intermediate servers. Everybody needs their privacy, I get it. I use it too. But payments do not work when the VPN is ON. This is because Zelle works only in the US with US banks, numbers and email addresses. And when you turn on the VPN, your location will be changed to be more private.
Open whatever VPN application you are running on your phone.
Turn it OFF and try the payment. Once the payment is a success, you can turn it back ON.
---
Step 12 – Contact Zelle
Zelle has it's own Contact Us page. This is where you have all the guides and how to articles for beginners using Zelle. You can select the topic and learn about them. Or you can select from the three options below and then the sub topics and fill out your information. After that, click on Send Message and someone will contact you soon enough.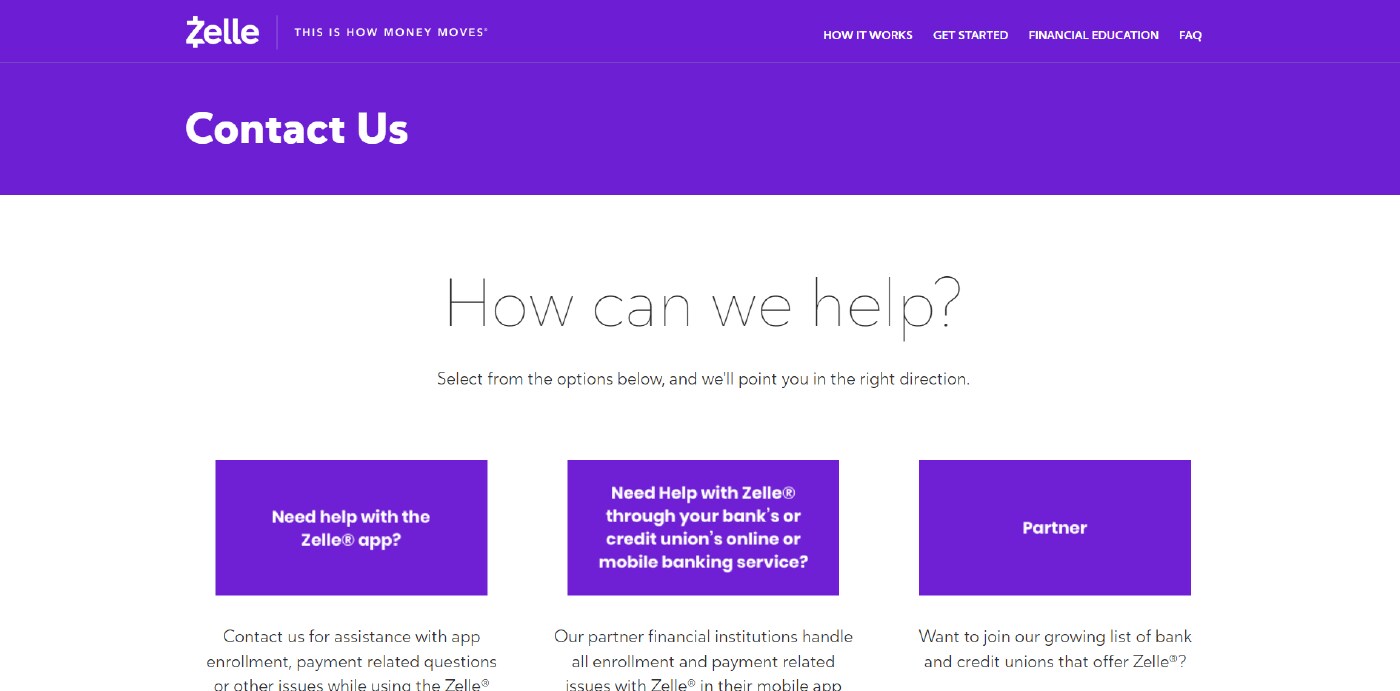 ---
FAQs
Q1. Why qualifies as a Zelle Small Business account?
The definition of small business depends on the bank you use to enroll with Zelle.
In layman's terms, a small business is something with limited number of customer and a limited amount of turnover in certain limits. These limits for a small business and "What is the turnover that is considered highest for a small business?", can only be answered by your bank. You should contact your bank and ask them what category your business falls into.
---
Final Words
This article gives you information related to small businesses registered with Zelle. All the important questions have been answered and the solutions to fix the problems have been listed. Next time you hit a snag with Zelle, be sure to remember this article. I hope it helps!
That is all folks!
Don't have a good day, have a great day!
---
Further Reading:
Fix: Zelle unable to process payment small business
Why is Zelle taking so long to transfer/ receive money
Does Zelle work with Netspend? How to add it? (2022)
(2022) Why is my Zelle payment pending [Fix Guide]
(2022) Does Cash App work with Zelle (No, here's Workaround)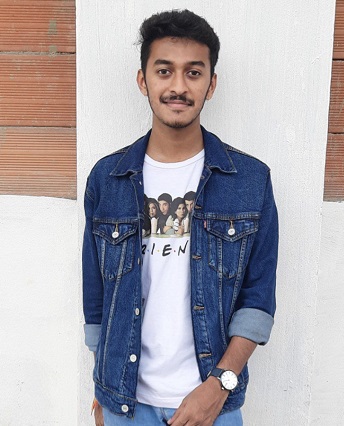 Sri Sahith is passionate and writes his articles by ensuring attention to detail. During his graduation study, he has taken elective subjects like Business Economics and Financial Analysis. These gave him the interest, knowledge and passion to write articles related to Finance-Tech. Also, he loves to read books and talk about them as long as possible.