Do you want to get money from Earnin to your Cash App account?
Are you wondering whether Earnin works with Cash App or not?
If that's the case, you are at right page. In this post, we have discussed all you need to know about working of Cash App or Cash App card with Earnin.
So, let's get started.
Earnin is an app or service that allows access to your hard-earned money before your paycheck arrives.
With Earnin, you can get up to $100 per day or up to $500 per paycheck. The best part is there are no hidden fees, no interest, and no credit checks. However, there is a tipping option, which is optional.
So, whenever you are in a situation when you need money, but you have run out of your funds and your paycheck has yet to arrive, Earnin seems to be a good option.
Before considering Earnin, you should know that it doesn't work with all banks and prepaid cards. Keep reading to learn more about which banks and cards do not work with Earnin.
---
Does Earnin work with Cash App
No, Earnin does not work with Cash App. You cannot use your Cash App account to get money from Earnin directly.
To use both the app together you will need to connect both the apps with the same bank account. If you are still confused follow the workaround below.

---
How to link Cash App to Earnin
As already mentioned above, directly you can't link Cash App with Earnin. To link or transfer funds between both the apps, you will need to connect both the apps with a same bank account.
Follow the steps below.
1. Link the same bank account with both Earnin and Cash App
The first step is to link the same bank account on both apps:
Open the Cash App and navigate to the account settings.
Add the bank account details, including the account number and routing number.
Make a note of the account information.
Open the Earnin app and access the account settings.
Add the same bank account details used in Cash App.
Verify the information and proceed with the linking process.
2. Transfer the funds from Earnin your Bank account
Ensure that you have linked your Earnin account to your bank account successfully.
Open the Earnin app and navigate to the option to transfer funds or withdraw money.
Select the amount you want to transfer from your Earnin balance.
Choose the option to transfer the funds to your linked bank account.
Wait for the transfer to be completed. The processing time may vary depending on your bank.
3. Transfer funds from Bank account to Cash App
Open the Cash App on your mobile device.
Navigate to the "Add Cash" feature within the app.
Enter the amount you want to transfer from your bank account to Cash App.
Select the bank account connected to your Earnin app as the source of funds.
Confirm the transfer details and proceed with the transaction.
---
Can you use Cash App card with Earnin
No, You will not be able to you use your Cash App card with Earnin.
Earnin does not work with dozens of prepaid cards. Below is a list of prepaid card that does not work with Earnin.
Below, is the official list of cards that are not supported by Earnin as of July 2023. You can clearly see the name of the Cash App card is mentioned in the list.
---
Prepaid cards that do not work with Earnin (Updated 2023)
The following list has been provided directly from the Earnin help blog.
AAA MemberPay Visa® Prepaid Card
Aaron Rodgers NFLPA Design Prepaid Visa®
ACE Elite Prepaid Debit Card
Akimbo Prepaid Mastercard
American Express Serve®
American Express Serve® Cash Back
American Express Serve® FREE Reloads
Bank Of America, Government Prepaid Debit Card
BB&T MoneyAccount
BB&T MyLink Payroll Card for Employees
Betty Boop Design Prepaid Visa®
Bluebird by American Express
Branch Card
Brightwell Card (OceanPay)
Brink's Money Prepaid Mastercard
CARD.com Prepaid Mastercard
Care Bears Design Prepaid Visa®
Cash App Visa® Prepaid Card
Cashpass Visa Prepaid Card
CashZone
Cliq® Visa® Payroll Card
Commerce Bank mySpending Card
Commerce DirectCheck Card
Control Prepaid Mastercard
Credit Sesame
CUMONEY® Visa® Everyday Spend Prepaid Card
Direct Express® Debit MasterCard®
DrawPay Commercial Visa® Prepaid Card
DrawPay Visa® Prepaid Card
excella® Visa® Prepaid Debit Card (Payomatic)
Fancard Prepaid Mastercard
FasterMoney® Visa® Prepaid Card
Fifth Third Access 360° Reloadable Prepaid Debit Card
Fintwist Mastercard Paycard
First Horizon PayCard
FlexWage Visa Pay Card
Global Cash Card
Green Dot® Reloadable Prepaid Visa® Card
H&R Block Emerald Prepaid Mastercard
Insight (Republic Bank of Chicago)
Instant Financial
Jelli
Kaiku Visa® Prepaid Card
Mango Prepaid Mastercard®
MoCaFi Prepaid Mastercard
Money Manager Visa® Prepaid
Money Network® Service
MOVO® Digital Prepaid Visa® Card
MyVanilla Prepaid Visa Card®
Netspend Prepaid Mastercard
NetSpend Visa Prepaid Card
NexsCard Prepaid Visa
PaychekPLUS!® Payroll Cards
PayPal Prepaid Mastercard
PNC SmartAccess® Prepaid Visa® Card
Prepaid Mastercard Payroll
Prepaid Technologies dash Payroll
PrestigePay Visa® Prepaid Card
rapid! PayCard®
Ready Credit Prepaid Mastercard
Regions Now Card℠
Revolut
RushCard Prepaid Visa®
SimplyPaidSM (Republic Bank of Chicago)
Skylight ONE® Prepaid Card
smiONE™ Visa® Prepaid Card
TD Connect Reloadable Prepaid Visa®Card
TransferWise Debit Mastercard
Uber Pro Card
U.S. Bank Focus Card
Unidos Visa® Prepaid Card
US Bank ReliaCard
Vamos Pay Prepaid Mastercard
Venmo Mastercard
Vision Premier
Waleteros Prepaid Visa® Card
Walmart Money Card
Western Union Netspend Mastercard Prepaid Card
Wisely® Paycard

---
Does Earnin work with Savings accounts?
No, Earnin does not work with savings accounts or prepaid accounts. You will have to use your checking bank account in which your paychecks are deposited.
Below is the list of the banks Earnin do not support or work with them.
---
Banks Earnin does not support
ACE Elite Prepaid Account
ACE Flare Account by Metabank
Albert
American Express Serve
Axis Bank
Bluebird by American Express
Branch
Comdata
Current
Dave
Fidelity NetBenefits
First Horizon – Horizon Account (Account Now)
Global Cash Card
Go2Bank
KeyBank- Key2Benefits
Lili
MoneyLion
Money Network Pay Card
Netspend
Oxygen
PaychekPLUS!® Payroll Cards
Paypal
Qapital
Revolut
Robinhood
Square
Stash
TransferWise/Wise
Teacher CU Personal
US Bank ReliaCard
Varo
Venmo – Personal
Walmart MoneyCard by Green Dot
Wisely® Paycard
Source: Earnin
---
Final words
So, that's all for now. We hope you were able to know what card work with Earnin and which do not.
---
Further Reading:
How to link Cash App to Chime & Transfer Money
Does Greenlight Work with Cash App
 Why is My Cash App Card Not Working [Fixed]
Does Dave App work with Cash App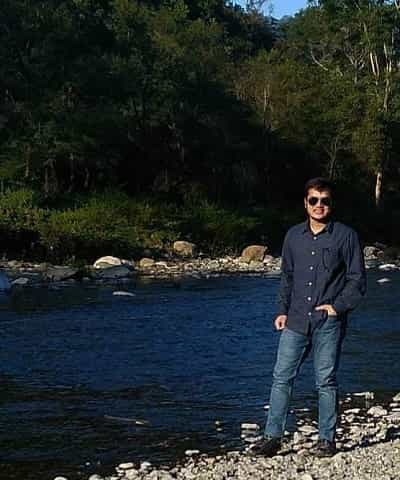 Ankit Kumar is an Engineer by profession and a blogger by passion. Over the last several years, he has written tons of articles, solving queries on Quora. He also has years of experience in investing in Cryptocurrencies, Funds, and Stocks.