PayPal doesn't charge you any time to open either a personal or business and not even a monthly subscription fee. The only way it makes money is through the transfer fees.
However, there are no fees associated with the most personal transactions called "friend and family" payments. But friends and family aren't available in every country; it is only available in the USA.
On the other hand, if you are a business owner, PayPal charges you money when you receive payment, withdraw money, or receive a lot of international payments and more.
Let's learn more about why PayPal charges a fee, what are the circumstances when PayPal charges a fee and how much in detail below.

---
Why does PayPal charge a fee?
PayPal charges a fee to run their business, as this is the only way the platform can earn for their services.
If you are already using PayPal, you might be aware that PayPal is free to use. It doesn't charge you a monthly fee or a sign-up fee. 
So, what do you think from where does PayPal make money? Yes, you guessed it's right; the money PayPal earns comes from the transaction fees.
Though PayPal has a Payment Pro plan for business accounts, Transaction fees and other types of costs associated with withdrawing and depositing money are the primary revenue source of PayPal.
There are different types of PayPal fees that you need to know if you are considering PayPal as a payment method.
Below are the circumstances when PayPal will charge you a fee.
---
When Does PayPal charge a fee
There are several scenarios when PayPal charges a fee for your transfer (no matter whether you are receiving money or sending money) such as when you receive money from a purchase, when you receive money from outside your country, when you send money via cards, when you send money to your bank using debit or credit card from your PayPal account.
Below, we have listed all the circumstances when PayPal charges a transaction fee:
1. When you receive money from a purchase.
2. When you receive payments from outside your country or region.
Yes, PayPal charges a fee in both cases, either you receive money from someone or send money to someone in another country.
For example: Recently, I received a payment of $602 from someone outside my country and PayPal charged me a hefty $31.61. It really pinched, but it is what it is.
See the details below.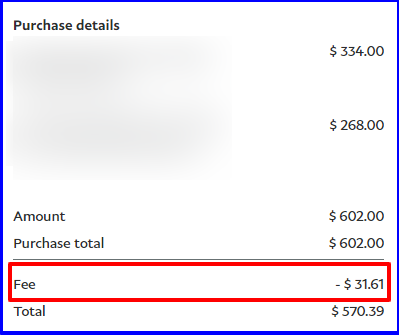 For more in-depth details, you would like to check out PayPal User Agreement for specific information.
3. When you send personal payments using a debit or credit card.
4. When you send money from your PayPal account to your bank account using an eligible debit or prepaid card.
There is no cost if you transfer money from your PayPal account directly to your bank account. If you prefer to receive a check, a small fee will be charged.
---
Paypal fee structure
PayPal Fees to Receive Money
Domestic online transaction – 2.9% + fixed fee of 0.30 USD
International online transaction – extra 1.5% fee
PayPal Fees to Withdraw Money
Local linked bank account – no fee (if there is no currency conversion)
Instant withdrawal to bank account – 1% fee on the total amount you are transferring
Withdrawal to linked debit card – 1% fee on the total amount you are transferring
PayPal Currency Conversion Fee
Currency exchange fees are complex to predict. You have the transaction exchange rate and then an extra fee for the conversion itself. It can vary between 3-4% depending on who you are paying.
PayPal Credit Card Processing Fees
PayPal Here (POS/card reader) – 2.7% fee
PayPal Here international transaction – extra 1.5% fee
Online credit or debit card transaction –  2.9% + fixed fee of 0.30 USD
International online credit card transaction – extra 1.5% fee
American Express Payments – 3.5% fee (this % fee is consistent whether it is an overseas American Express payment or a domestic transaction).
---
How to avoid PayPal fees when sending or receiving money?
1. Use PayPal Micropayments
If you have a product for less than $10 and receive its payment via PayPal or your business gets a lot of micropayment (under $10) through PayPal, you can use a feature called PayPal Micropayments to save money.
When you sign up for this program, you get a 5% cut of the transaction amount instead of the regular fee of 2.9% and 30 cents.
You might feel that a 5% fee is more, but a quick calculation will reveal the truth. Well, if the transactions in this program are from outside the USA, the fee rises to 6.5% of the amount.
---
2. Use PayPal Merchant Rate
This feature is for a business that has heavy transactions of up to $3000 or more.
This feature allows you to lower the fees up to 1.9% instead of the regular 2.9%. For transactions between $3000 and $10,000, you'd be paying a reduced fee of %2.5 under this program. Transactions above $10,000 would attract further discounts until you're paying only 1.9%.
To use this feature, just head over to the settings -> My Money in your PayPal account and register for the "Merchant rate.
---
3. Receive Money Less often by Combining Payments
Yes, combining the payments rather than receiving them separately helps you save Money in PayPal.
PayPal charges a flat fee on every transaction, so combine them into one larger amount instead of making a lot of transactions.
There will still be a fee for the transaction, but you will save the transaction fee for every payment.
This trick can be helpful for freelancers who can accumulate their funds in the freelancing platforms rather than withdrawing each time via Paypal.
---
4. Receive Money as Friends and Family
As discussed earlier, PayPal charges you a fee when you receive money as a business. However, this fee doesn't apply when you use the friends and family feature of PayPal.
To use this feature, do not send an invoice through PayPal; generate it somewhere else and send it via mail.
Well, this method is not actually designed to receive money from unknown people as it comes with risk. The Payment protection program of PayPal doesn't cover this method.
---
5. Withdraw from PayPal Using Other Means
Yes, transferring money from your PayPal account to your bank is also important when it comes to saving money.
If you go for the instant transfer in PayPal, you will be charged a 1% fee (maximum $10), but if you use the direct transfers, it is free of cost. It may take a few days to transfer, but it will save you money.
---
6. Use PayPal Alternatives
Nevertheless, if you feel PayPal is charging a lot of fees, you can always use its alternatives.
Below are some of PayPal's alternatives:
Stripe
Payoneer
Apple Pay
Google Pay
Transferwise
---
Further Reading:
Can PayPal take money from my bank account?
Why does PayPal need my address?
How to withdraw money from PayPal without a bank account
Why is Paypal Friends and Family not showing up
Fix: Paypal refunded but no money in bank | Where is my Paypal refund?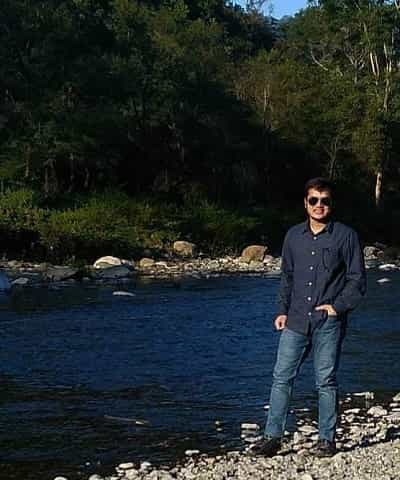 Ankit Kumar is an Engineer by profession and a blogger by passion. Over the last several years, he has written tons of articles, solving queries on Quora. He also has years of experience in investing in Cryptocurrencies, Funds, and Stocks.