Wondering if you can print tickets purchased through Ticketmaster?
You are not alone if you have faced this question. This is a common problem, especially for those who like to physically hold on to their tickets. One can get scared of losing access to the internet and want to have a physical copy of the ticket with them to avoid any uncertainties.
Fortunately, in this article, we provide you with a clear solution to your questions and discuss whether you can print tickets using the app or the website and how to print tickets from the platform in detail. So, stick around!
---
Can you print tickets from Ticketmaster?
Short Answer: Yes, you can print tickets purchased through Ticketmaster. The tickets you purchase from Ticketmaster may usually be downloaded as a PDF and printed from home.

Tickets purchased from Ticketmaster may be printed from the comfort of your home using any standard PDF reader and printer. You'll need a PDF reader to view your tickets.
This creates a downloadable PDF file that can be printed on any standard home printer. This option is helpful since it provides a hard copy of your tickets so that you can easily access the event.
---
Can you print tickets from Ticketmaster app?
No, you can't print tickets from the Ticketmaster app.
Getting your hands on a paper ticket is no longer necessary thanks to Mobile Tickets, which can be downloaded directly on your phone. To learn more about how to access tickets on your phone, refer to this – How do I get my Ticketmaster tickets on my phone. 
If you bought your tickets over the phone or via the Ticketmaster app and you don't see a Print Tickets option, it's because digital tickets are often provided with these means of delivery instead of paper ones.
Tickets purchased with the Ticketmaster app or over the phone are delivered in the same digital format. Your tickets will then be available for scanning at the event either inside the app or via your Ticketmaster account.
This transition to digital ticketing improves efficiency and lessens the negative effects of paper tickets on the environment. In case you lose network connectivity on the way to the event, you should save a copy of your tickets to your digital wallet before you leave. This will guarantee that your tickets are always available to you.
---
How to print tickets from Ticketmaster
Step 1: Visit Ticketmaster.com
Begin by opening your preferred web browser on your desktop computer or mobile device. Navigate to the Ticketmaster homepage.
Step 2: Log into your My Account
On the Ticketmaster homepage, you will find an option to log into your account. This is typically located in the upper right-hand corner of the page. Click on the "Sign In" button. You will be directed to a login page. Enter your Ticketmaster account credentials and click on Sign In.
Step 3: Select your ticket under the My Tickets section
After successfully logging in, you'll be directed to your Ticketmaster account dashboard. Look for the "My Tickets". This is where you'll find a list of your purchased tickets and events.
The list is organized chronologically or by event, making it easy to locate the specific event for which you wish to print tickets.
Step 4: Check if the Print Tickets button is available
Once you've identified the event or order for which you'd like to print tickets, you'll need to check if the tickets are ready for printing.
Ticketmaster typically indicates when your tickets are ready by displaying a "Print Tickets" button next to the event details. Please note that this button will only appear when the tickets are available for printing.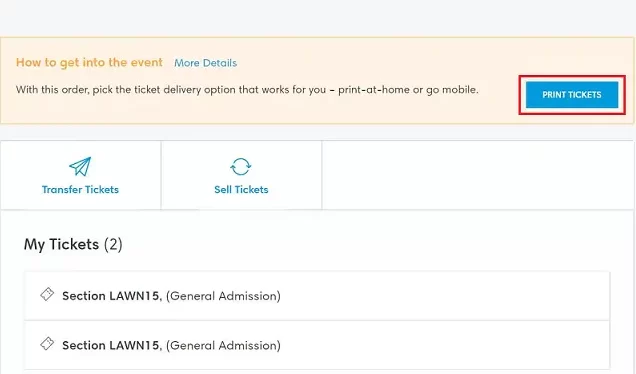 Step 5: Click Print Tickets and verify your account
Once you've identified the event or order for which you'd like to print tickets, click on the "Print Tickets" button.
Ticketmaster will send you a verification code via email to confirm your identity. Check your email inbox for the code enter this code in the designated field and follow any additional on-screen instructions.
Step 6: Print your tickets
After verifying your account, Ticketmaster will typically generate a PDF file containing your tickets so make sure you have a PDF reader to view your tickets. Open this PDF file and use your printer to print the tickets on paper.
---
FAQs
1. Can I print my tickets if I purchased them through the Ticketmaster app?
Printing Ticketmaster tickets purchased through the Ticketmaster app is not an option. Tickets acquired via the app are specifically designed to be digital, and they are meant to be displayed on your mobile device for event entry.
So, if you've chosen the Ticketmaster app as your ticket delivery method, printing those tickets is not possible as they are exclusively digital.
2. What if I didn't receive the verification code to print my Ticketmaster tickets?
In the event that you haven't received the verification code necessary for printing your Ticketmaster tickets, start by examining your email's spam folder. If the code is still missing, your next step should be to reach out to Ticketmaster's support team. They can assist in the process of resending the code
---
Final Words
The answer to the issue of whether or not you can print tickets from Ticketmaster is murky in a world where the digital and physical worlds are frequently intertwined. Digital tickets have many advantages, but having a paper backup may ease worries about potential system failures.
The way Ticketmaster does business strikes a balance between the old and the new, making it possible to experience events on your own terms. Ticketmaster's easy process, whether paper or digital, keeps the buzz of live events going strong.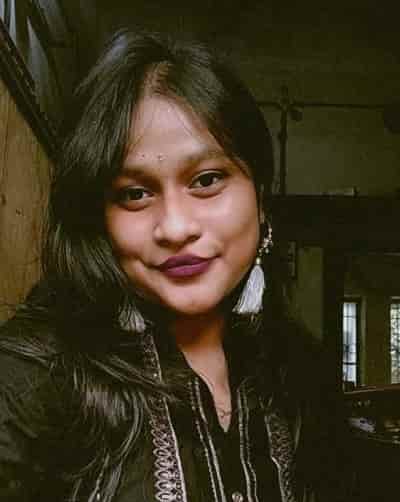 Having earned a Bachelor's degree in Commerce from Ravenshaw University, with a background in Accounting and Finance, Akshita Pattanayak contributes to UniTopTen by writing clear and concise articles based on Finance-Tech. With more than a hundred fin-tech related articles, she hopes to educate people about how banking and payment apps function.