Yes, you can use Venmo under 18 for small transactions under the guardian's supervision, however, Venmo's terms of service require a user to be at least 18 years old to use all of the services. For major transactions, Venmo will ask you to prove your identity and submit SSN.
Are you someone wondering how to get a Venmo card under 18?
Are you looking for a guide to get Venmo card for your kid?
If you nodded in affirmation, you have landed on the right page. You can thank Google for that.
Here, as you might have understood by now, we will be mentioning a guide to get a Venmo card under 18.
You can check out the step-by-step guide along with other important details below. So, without further delay, let us dive right into the details.
---
Can you use Venmo under 18
Yes, you can use Venmo under 18 years of age. But, Venmo has clearly stated that a user has to be 18 years or older to use entire services. Even if you manage to create an account, Venmo might ask you for identity verification.
Venmo is one of the popular payment apps in the USA. The payment platform is owned by the renowned company Paypal. The company released Venmo as a peer-to-peer payments app, especially for users across the USA.
Well, unlike Cash App, Venmo comes with a limited number of features, only where money transfer is the only significant feature.
Venmo has got a global feed on the home page, which shows the people using the payments app. Just like a social media app.
According to us, this feature makes little to no sense. That's why we always recommend using Cash App if you are looking for an app with minimal features.
Coming back to Venmo, a lot of users ask us if minors can use Venmo.
Sometimes, it might become really important to give the kids an option to transfer money even though they might not be in dire need of one.
We totally support that kids must get an option to transfer money, but only if there is a situation. But, according to Venmo, minors – kids under 18 years of age – must not be given the power to transfer money. And that's why, Venmo, in its terms policy, has mentioned that minors can't be on Venmo.
Cash App however has realized the demand of guardians to provide their minors a way to make payments. And last year Cash App dropped the minimum age requirement for account sign up to 13 years.
---
ALSO SEE: Fix: Venmo "There was an issue with your payment"
---
How to get a Venmo Card Under 18
In the first part of this article, we mentioned why minors could not use Venmo. But, at the time of an emergency, there is something that can be done. But, we still suggest not to hand over Venmo services or any other app like that to your minor kid.
Venmo card is a great option to pay anyone. It is powered by Mastercard, and it can be used everywhere Mastercard is accepted. You can simply use the card to pay to any store. So, you don't have to be carrying your smartphone all the time.
Well, managing Venmo or any debit card is much of a responsibility. And according to us, this responsibility must not be given to kids who are still understanding this complex world.
There are scammers out there who are continuously targeting users having little knowledge of these apps. And kids are more prone to fall into scammers' tricks. That's why getting your kid a Venmo debit card might not be a good idea.
But, as we said earlier, you can choose to get your child a Venmo card if it is important. But, you should be aware that Venmo doesn't allow debit cards and even Venmo app to be used by minors. Venmo will ban those accounts that are run by minors as soon as they get to know about it.
Anyways, if it is important and you have made up your mind even after considering all the possible issues, you can follow the steps mentioned below. To apply for a Venmo card, the user's SSN is asked. So, you will have to provide your own SSN and other details like your name and birthdate.
To get Venmo card under 18 follow the quick guide mentioned below.
Step 1 – Open the Venmo app
Step 2 – Go to the More Options icon. It is the 3-dot icon at the top left corner of the home page.
Step 3 – Select the 'Venmo Card' option.The option can be found just below the 'Search People' option.
Step 4 – Select the 'Get the Card' option
Step 5 – Choose the color for your Venmo Card.You get 6 different options to choose from.
Step 6 – Enter your official name
Step 7 – Enter SSN & date of birth and hit Next
Step 8 – Enter Bank Account details
Step 9 – Recheck the details and click Submit
Step 10 – Click Next
Step 11 – Activate when received
And that's it.
You have now applied for the Venmo card under 18.
After successfully applying for the Venmo card, you will need to wait for the company to deliver card to your mailing address. According to the official statement by Venmo, the debit card arrives in 8 business days.
So, before contacting the support team and asking them about the debit card, we will advise you to wait for a week.
---
FAQs
1. Can you use Venmo Card under 18?
No, you cannot use Venmo card under 18. It is because of the fact that to create a Venmo card account; you need to submit your SSN as well as your birth date.  And according to Venmo's official terms for usage, minors – children under 18 years of age – cannot register for Venmo cards or even app.
---
Conclusion
Venmo is a really great app for the users in the USA. It is a great alternative for the apps like Cash App and Zelle. And services like Venmo debit card only adds convenience for the users out there.
If you are a parent and asking if Venmo can be used of kids under 18, you know the answer now. Venmo is not for users under 18.
But, if you are a parent, you can apply for Venmo card on the behalf of your kid, who has not gotten the SSN number yet.
We have also mentioned a step-by-step guide to apply for the Venmo card. Hope the guide helped you out.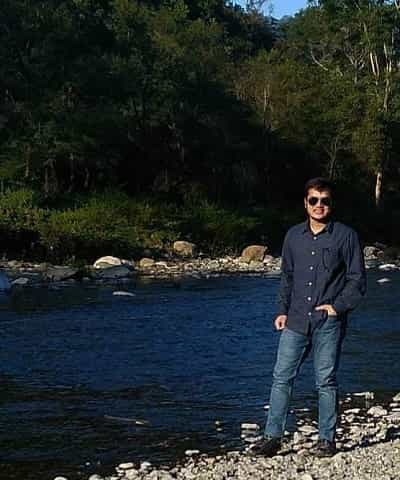 Ankit Kumar is an Engineer by profession and a blogger by passion. Over the last several years, he has written tons of articles, solving queries on Quora. He also has years of experience in investing in Cryptocurrencies, Funds, and Stocks.