Wondering why you keep getting the Ticketmaster error code u521?
Looking for solutions to fix the same?
You could have been eagerly attempting to get tickets for an event when this error code showed up. Having to deal with this problem is disappointing since Ticketmaster won't let you buy tickets and you could miss out on a once-in-a-lifetime opportunity.
Don't worry, however; this article will explain what triggers the u521 problem and, more importantly, show you how to fix it.
---
Why am I getting the Ticketmaster error code u521?
Short Answer: You are getting the Ticketmaster error code u521 because of server issues, an unreliable internet connection, a technical glitch, a faulty cache, an outdated app, or browser extensions and ad blockers.

1. Server issues
In most cases, this is what triggers the u521 error. This error message usually occurs when there are issues with Ticketmaster's servers. Overloaded servers that can't keep up with demand are a common cause of the u521 error when these services are used by a large number of people or when they have technical issues.
2. Unreliable Internet connection
Problems with connecting to Ticketmaster's servers may occur if your internet connection is poor or not stable. U521 occurs when the internet data required to load the Ticketmaster website or complete a transaction are not transferred successfully due to an interrupted or poor connection.
3. Technical glitch
The u521 problem might be brought on by a Ticketmaster system issue or glitch. It's possible that Ticketmaster's app or website is experiencing due to unforeseen technical issues. Such errors can interrupt the normal sequence of activities and result in error messages such as u521.
4. Faulty cache in the browser or app
Caching information in a browser's or app's temporary storage space allows for quicker page loads on future visits. When getting latest data from Ticketmaster's servers, if the cache becomes faulty or obsolete, it might create problems. The u521 error may occur because of this.
5. Outdated version of the app
If you're using an old version of the Ticketmaster app, you could have problems connecting to the server. The u521 error is shown when an app that should be able to access Ticketmaster's services is unable to do so because its version is no longer supported or has been left out of critical updates.
6. Browser extensions or device's ad blockers
It's possible that your device's ad blocker or a browser extension you've installed will prevent you from booking tickets on Ticketmaster's website. These extensions or ad blockers could block some features from working correctly while purchasing tickets resulting in the u521 error.
---
Fix: Ticketmaster error code u521
Method 1: Check for server availability
Verify that Ticketmaster's servers can be accessed and are not experiencing any problems. If there are any updates or alerts about the server status or outages, they will be posted on Ticketmaster's official website or social media channels.
Method 2: Make sure your internet is stable
If you have an internet connection, make sure it is steady and working correctly. Try switching to a different network or rebooting your router if you're having trouble with your wireless connection. Make sure your mobile data connection is solid before you start utilizing it.
Method 3: Clear browser and app cache
When problems arise because of obsolete or corrupted cached data, clearing the cache in your browser or app might assist. To clear your cache, go to your browser's app's settings and look for the clear browsing data option.
To delete cache from an Android mobile, you need to navigate to Apps from Settings and select the option to clear the cache. iPhone doesn't have the option to clear the cache, you will have to Offload the app and install it again. Try accessing Ticketmaster once again once you've deleted all of your cached pages.
Method 4: Get the latest version of the app
Make sure you have the most recent version of the Ticketmaster app on your phone or tablet. Older releases may have serious bugs or missing updates, increasing the likelihood of malfunctions. To see whether there is a newer version of the Ticketmaster app, you can go to your device's app store.
Method 5: Disable browser extensions and ad blockers
If you're having trouble viewing Ticketmaster's website, try temporarily disabling any add-ons or ad blockers in your browser. Turn these off and observe whether the u521 error still appears when you visit the Ticketmaster website after refreshing.
Method 6: Try selecting a different seat
Some Redditters have reported getting the u521 error while attempting to buy resale tickets.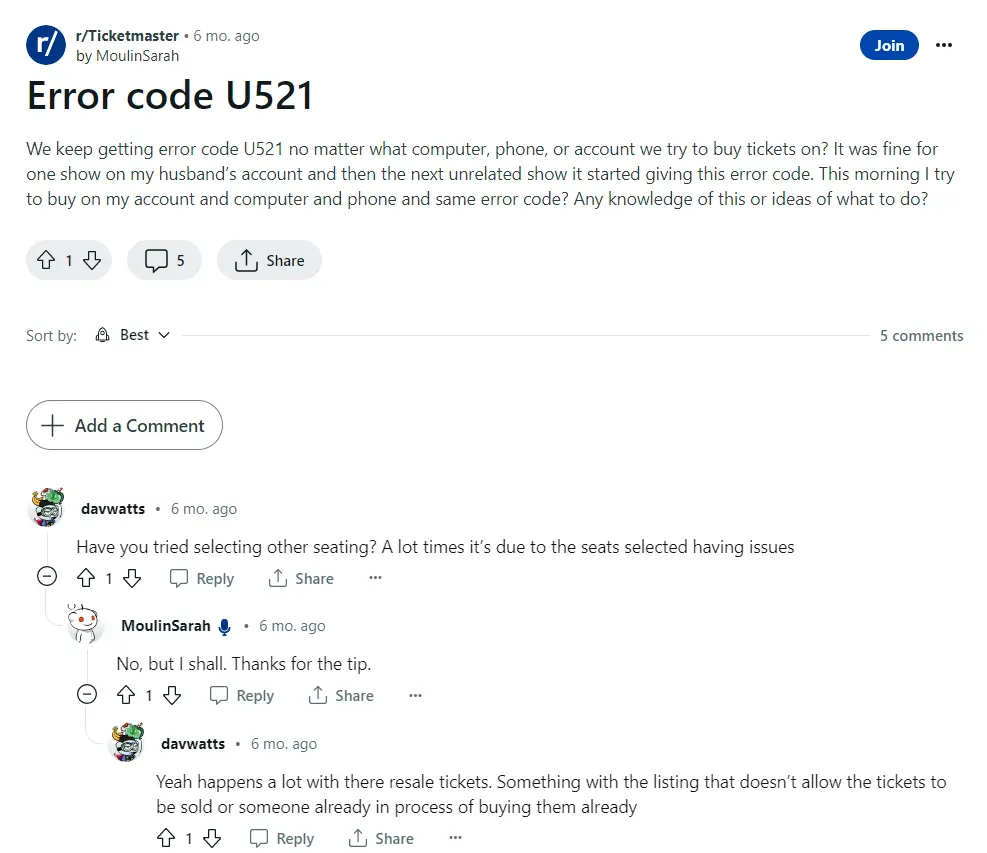 This error message may display if the seat you are attempting to reserve has already been bought but has not been reflected in the booking database. You may overcome this problem by picking an alternative seat location when you buy your tickets.
Method 7: Sign out and sign back in
Signing out of your Ticketmaster account and then signing back in again will refresh your account. By doing so, you may refresh your current session while taking care of any purchasing issues with your account or login.
Method 8: Reinstall the app
If you're getting the u521 problem when using the Ticketmaster app, consider deleting and reinstalling the software. This may assist in resolving issues related to your ticket-buying process.
Method 9: Use a different device
If you're having trouble using Ticketmaster on one device, try switching to another. This might help you figure out whether the problem is limited to your device or if it affects others as well.
If the u521 error persists after trying a new device, it may be indicative of a more general problem (such as a server issue) rather than an issue occurring only on your device.
Method 10: Contact Support
If the u521 problem persists after attempting the aforementioned solutions, contact Ticketmaster's support team for more help. They have specialized help channels, including phone assistance or online chat, where they may provide personalized troubleshooting and advice for fixing the problem.
---
FAQs
1. What is Ticketmaster error code u521?
When buying tickets from Ticketmaster, you can get the infamous "error code u521." The U521 error, as it is commonly called, stops users from completing their bookings. In addition to server problems, ad blockers installed on the user's device or corrupted cache files may also cause the u521 error.
---
Final Words
To sum up, getting the Ticketmaster error number u521 is annoying.
In any case, you will be able to buy tickets without any problems if you learn what causes the u521 issue and then implement the suggested solutions, such as verifying server availability, establishing a steady internet connection, clearing cache, upgrading the app, and so on.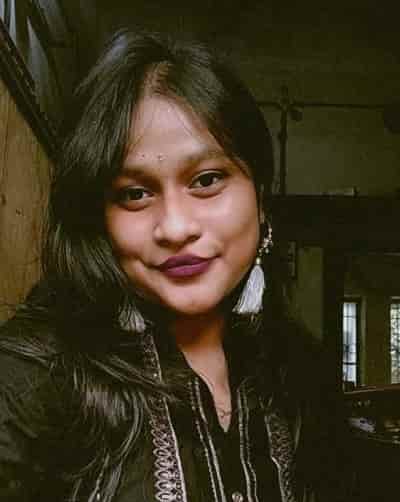 Having earned a Bachelor's degree in Commerce from Ravenshaw University, with a background in Accounting and Finance, Akshita Pattanayak contributes to UniTopTen by writing clear and concise articles based on Finance-Tech. With more than a hundred fin-tech related articles, she hopes to educate people about how banking and payment apps function.