Why Wells Fargo says "you do not have any accounts available for mobile or online access? Why can't I access my Wells Fargo account online? How do I get my Wells Fargo online access? Know all about it here in this article.
Wells Fargo is a MNC (multi national company) that is declared as a Systemically Important Financial Institution (SIFI). Like all banks, Wells Fargo gives you the opportunity to manage your accounts online.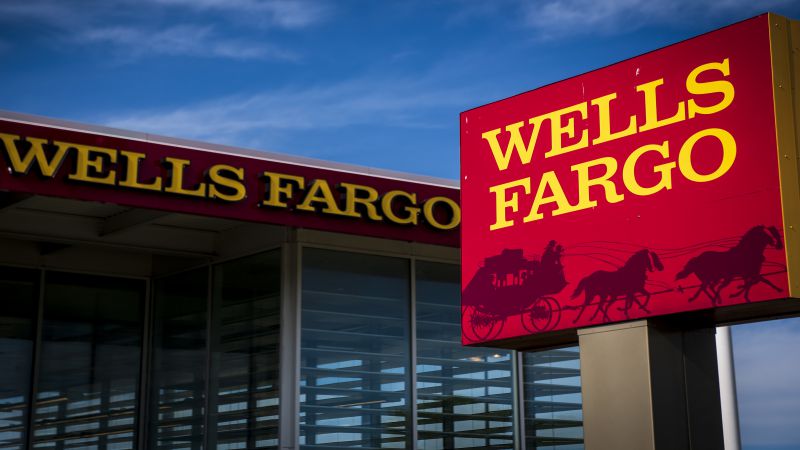 All you need is a good internet connection and a mobile or electronic device to access it's website and manage your account online.
---
Why Wells Fargo says 'you do not have any accounts available for mobile or online access'?
Short Answer: The reason why Wells Fargo says 'you do not have any account available for mobile or online access is because you have not enrolled for online account access.
You cannot magically access your accounts online. You have to enroll with Wells Fargo first. If you do not enroll, you can only manage your account by going to your local branch and contacting your branch manager.
Online access is to ease the burden of people or for people who roam around a lot. They can just open their device login to the Wells Fargo website and manage or do what they want with their account.
---
Why can't I access my Wells Fargo account online?
Short Answer: You cannot access your Wells Fargo account online if you have not enrolled for online access.
You might have Wells Fargo accounts but have you enrolled those accounts online? If the answer is no, you should visit the website previously mentioned in the article and enroll yourself. Also, check that your accounts are not closed due to overdraft. As you know, closed accounts cannot be accessed again without the reopening or permission of the bank.
But if you have enrolled but are having issues you might want to check it's server, the browser you are trying to access it from and certain other trivial things that might cause this problem.
---
How do I get my Wells Fargo online access?
Short Answer: To get online access to your Wells Fargo account, ensure that you have enrolled online access for the account in question. You might have multiple accounts, but see that the one you are trying to access is enrolled.
If you have enrolled and are having trouble accessing your accounts, there might be some other factors affecting your experience.
Step 1 – Enable JavaScript
JavaScript is an essential part of any webpage. Without it the websites will not load properly and you will have a bad encounter with it.
If you are using Chrome or Firefox and you are having issues with it, try downloading the required JavaScript. Otherwise allow JavaScript in the browser when prompted.
Or if you are an Apple user, Safari has JavaScript enabled. Just restart the browser and try again.
---
Step 2 – Check Wells Fargo server status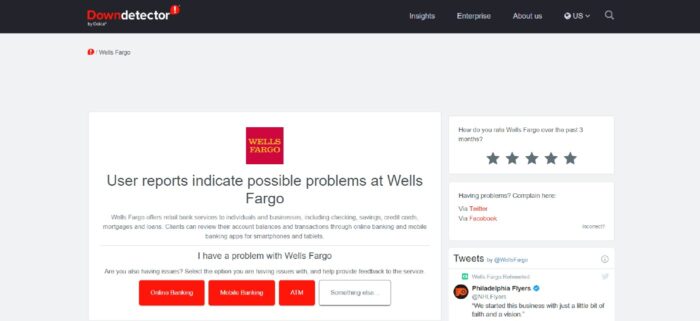 You can check out the Downdetector page of Wells Fargo, to see whether the server is down.  As you can see in the picture above – while I write this article, Wells Fargo users report issues with it's server. So, you can also visit the website and mention your issue by clicking the boxes. Or you can type your own issue in the "Something else…" box.
---
Step 3 – Allow Cookies
Cookies in websites are bytes of data that contain the essential information for the working of a website. Disabling them will break the website. Nothing will work as intended.
 As soon as the website is loaded, you will be asked to allow or block cookies. Click Allow.
If you have selected Block, reload the page or close the window. Open the website again and this time, select Allow.
---
Step 4 – Check browser
Your browser should always be updated. The JavaScript should be turned ON and cookies allowed. Also, you need to run a compatible version for the Wells Fargo website to run. If you have some older versions without JavaScript, the website will not open for you.
You can try refreshing the website. There are two way to refresh soft and hard.
Soft refresh is clicking on the reload icon near the webpage address.
Hard refresh is Ctrl+F5 or Shift+F5 or Ctrl+Shift+R for Windows. And Shift+Command+R for Mac users. Hard refresh will clear cache too. Making the browser experience faster.
You can ask the customer support, to see if your browser supports their website. Or you can try accessing it and see for yourself.
---
Step 5 – Update Wells Fargo Application
Wells Fargo Mobile application helps user manage their account from their phone itself. You do not need a browser, since the application takes care of it.
 Go to the respective application store on your device.
Search for Wells Fargo and make sure that the app is up to date. And do not forget to turn ON automatic updates.
---
Step 6 – Check your internet connectivity
Internet connectivity is must for any activity these days. Also it is very important for you to connect to a secure and trusted network for banking purposes.
If you are connected to the Wi-Fi, make sure that it can access the internet. Otherwise, contact your local Internet Service Provider (ISP).
Or if you are connected to the cellular network, turn it ON. Try airplane mode or restarting the phone to kick start the connection. If all else fails, contact your network provider.
At last if you think the problem is with the speed of your network, visit this website to check it.
---
Step 7 – Contact Wells Fargo customer support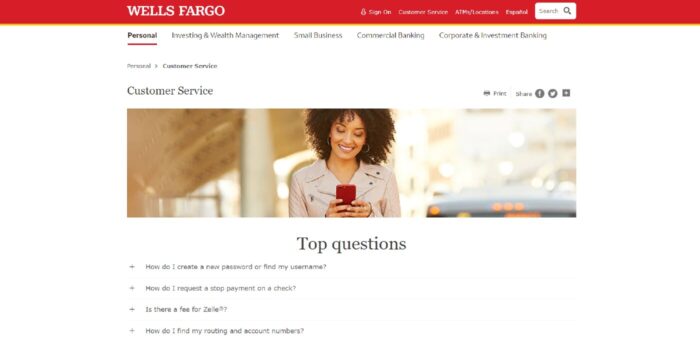 Wells Fargo Customer Service has a options on the top to select the type of account. You can select Personal or Commercial depending on the type of account you use. On this website, you can visit the Online Banking Help page to get some frequently asked questions about online accounts cleared. You can also type in your question in the search bar. Or you can book an appointment or call them directly to get instant solutions.
---
FAQs
Q1. Why is Wells Fargo server down now?
The server is down due to a large amount of traffic (users) at this moment of time.
Although the other reason might be the server is being updated by the bank. If you are having issues with online banking wait for a few moments. Otherwise if the issue is with ATMs you should try contacting your local branch for help.
---
Final Words
This article gives you the reason why Wells Fargo says "you do not have access…". You know now the ways to fix not getting access and also how to enroll your accounts for online or mobile access. I hope it helped you.
That is all folks!
Don't have a good day, have a great day!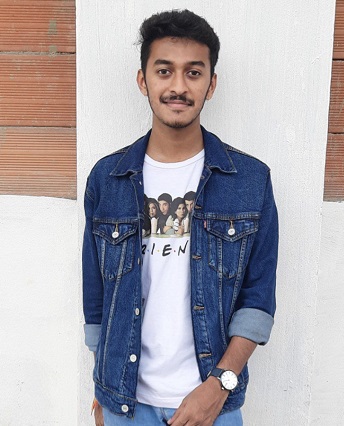 Sri Sahith is passionate and writes his articles by ensuring attention to detail. During his graduation study, he has taken elective subjects like Business Economics and Financial Analysis. These gave him the interest, knowledge and passion to write articles related to Finance-Tech. Also, he loves to read books and talk about them as long as possible.