Having trouble figuring out how to send a photo to a friend in a direct message on TikTok? If so, then you've come to the right place looking for answers. This is a common problem for those using the TikTok app, and it may be annoying if you're trying to send a picture to a friend through DM.
Sharing images might be difficult on TikTok since there is no simple way to do it using the app's messaging system. However, there are workarounds to this issue, so don't fret. We'll go through two approaches in this post for sending pictures on TikTok DMs. By the conclusion of this guide, you'll be able to share photographs on TikTok DMs.
---
Can you send pictures in TikTok messages?
Short Answer: TikTok does not support the sharing of images through DMs at this time. It's possible to get around the issue at hand, however.

While there may not be a built-in way to send photos to pals using direct messaging on TikTok, you may still do it in a few different ways. The green screen effect may be used to make a quick video out of the picture you are interested in sending. After you've uploaded the video, you may share it privately with a buddy.
You may also send a picture to a friend using a direct message by copying the URL to the image you wish to send. The picture may then be seen by clicking the link provided.
---
How to send pictures on TikTok
Method 1: Make a TikTok using green screen and then send it.
The first method is to include the image in a TikTok and message it to your pal. TikTok's green screen feature makes it possible to use any image in your phone's album as a video's backdrop. If you have a picture you'd want to share with a friend, you may turn it into a video and share it on your page.
When publishing, remember to choose Friends from the Privacy settings section since the video isn't going to be particularly fascinating to other people, and doing otherwise might limit the reach of future videos you do want others to watch. After posting the video, send it to your friend and ask them to screenshot it.
---
Method 2: Make a video of the image
Step 1: Launch TikTok and choose the plus (+) symbol.
Step 2: Select the Upload option
To submit an image on TikTok, simply choose the Upload option, which will take you to the library on your phone.
Step 3: Find the image you wish to share through DM.
Step 4: Disable the sound feature
The sound may be muted from above the screen. It takes only one click to deselect the currently playing music or sound.
Step 5: Adjust the privacy option to "Friends."
If "Everyone" is selected as the audience, go to the Privacy Settings and change it to "Friends." If you set your profile to "Friends," the photo you post will only be shown to those you follow back.
Step 6: Complete the modification of your privacy settings.
Make sure that the boxes for "allow comments," "allow duet," "allow stitch," and "save to device" options are all disabled. This is to restrict others from saving the image you upload and leaving comments on your post.
Step 7: Select the "Post" option to share the image.
Step 8: Navigate to your account and choose the image you posted.
Step 9: Direct Message the image to a friend
Select the three vertical dots beneath the message box in a TikTok chat to attach a photo for your friend to see. When you do that, the Send to window will appear. Find the contact you want to send it to and hit the send button.
Step 10: Remove the image from your TikTok account.
Before removing the image from TikTok, be sure you ask your friend to capture a screenshot of it.
---
FAQs
1. Can you send GIFs on TikTok messages?
The answer is yes. Click the happy face symbol at the extreme right of the message input section at the bottom of the window to start a new direct messaging conversation. Click the "GIF" button, then choose the appropriate GIF to send.
---
Final Words
Although there isn't an official way to send photos to pals via TikTok's DMs, you can still do it with a little creativity. TikTok makes it simple to share photos with friends by allowing you to either use a green screen filter or publish the photo as a video with customized privacy settings.
Keep in mind that these alternatives might not turn out to be the most convenient method to send pictures or as easy to use as your preferred messaging apps.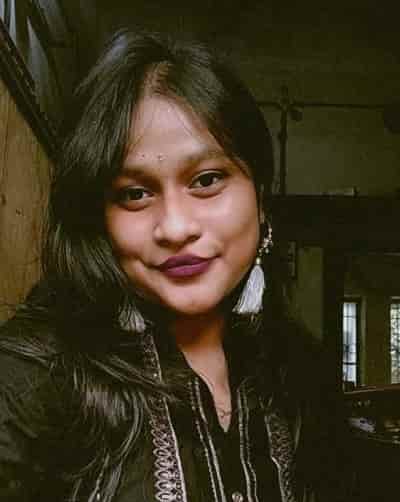 Having earned a Bachelor's degree in Commerce from Ravenshaw University, with a background in Accounting and Finance, Akshita Pattanayak contributes to UniTopTen by writing clear and concise articles based on Finance-Tech. With more than a hundred fin-tech related articles, she hopes to educate people about how banking and payment apps function.