Do you keep getting the error message "phone number already taken"? For users who are certain they have never used their phone number to sign up for TikTok, this may be a very annoying and confusing situation.
Don't worry; this article will explain why you're seeing that error message and show you how to fix it. If you follow the steps in this post, you'll have no trouble signing up for TikTok using your mobile phone number.
---
Why does TikTok say 'phone number already taken'?
Short Answer: TikTok says your phone number is already taken, it might be because someone else is using it, there is a technical problem, you didn't log out of your old device, or a scammer has set up an account using your number.

1. Number already used to register an account
Another user may have already registered your phone number with TikTok. If you've just gotten a new phone and it turns out that someone else had used that number to sign up for TikTok, you can find that your phone number is linked to their account.
Additionally, if you just obtained a new phone number and want to sign up for TikTok with it, it's likely that the company hasn't had a chance to finish activating or registering your number. You should give it some time, maybe a few hours or days, and then try again.
2. Technical problem
Even though there is no other account linked with the phone number, TikTok may sometimes display the error message "phone number already taken" due to platform issues with technology. If this happens, try again later or get in touch with TikTok's support team.
3. Previous phone left logged in with the same number
Your previous phone number might still be linked to the TikTok app if you just got a new one and forgot to log out before making the switch. We recommend that in this instance you sign out of your previous device's account before attempting to sign up for a new one on your new device.
4. Fraudulent account
It's likely that a fraudster is using your phone number to impersonate you on TikTok in an effort to defraud others. The best course of action in such a situation is to report the problem straight away to TikTok's customer service.
---
Fix: TikTok says number already taken or registered
First, double-check that you entered the proper number before continuing with the rest of these troubleshooting steps.
The chances of your entered number being identical to one that has already been registered are slim, but they do exist.
Method 1: Remove your existing phone number.
If you have already created a TikTok account using your phone number and are attempting to establish a new account with the same number, it is likely that the old account is still active on your device.
In this scenario, you must remove the number before creating the new account and fixing the problem. The "How do I unregister my number from TikTok?" section explains in detail what has to be done in this regard.
---
Method 2: Register using a valid email ID
If you had trouble when you tried to join up for TikTok using your phone number, try signing up with an email address or username instead. When you select the option to Sign up for TikTok, you will get the option to 'Use phone or email'. Select this to continue with the signup process using your email address.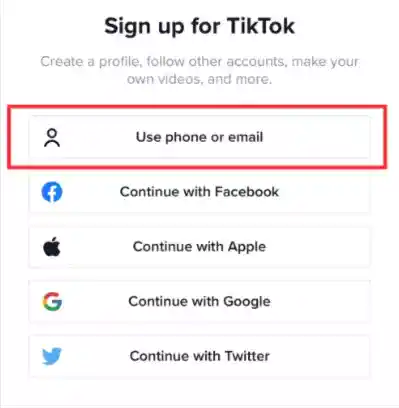 ---
Method 3: Get in touch with TikTok's support staff
Concerned about the safety of your personal information? Get in touch with TikTok's support staff ASAP if you learn that somebody else has utilized your phone number to sign up for the service. There is a possibility that TikTok may ask for evidence of being the owner of the phone number before removing it from the other account.
Any documentation proving your phone number is acceptable. Within a few business days, you should hear back from someone on the TikTok support staff after contacting them.
---
Method 4: Make a new account with a new phone number
If you've tried everything else and TikTok still won't let you in, you may need to sign up for a new account using a different phone number.
Step 1: Log out of your existing TikTok account.
Step 2: Log in to your already registered Tiktok account.
Step 3: From the main menu, choose Edit Profile.
Step 4: Click the edit button next to your existing phone number.
Step 5: Enter a new phone number.
Step 6: Confirm the number and exit the old account.
---
How do I unregister my number from TikTok?
The steps to unregister your number from TikTok are as follows:
Step 1: Open the TikTok app.
Step 2: Enter your previous account's login information.
Step 3: Select 'Me' from the lower right corner.
Step 4: From the upper right side, select the three dots.
This will take you to the 'Settings and Privacy' screen.
Step 5: Go down and click 'Report a problem'.
Step 6: Go to 'account and profile' and choose it.
Step 7: Select 'email and phone number' from the choices.
Step 8: Choose 'changing the phone number and email associated with your account.'
Step 9: Study the presented panel and then click 'No'.
Step 10: A new page will appear. Select the 'need more help' button.
Step 11: Enter your complaint.
There will be a box for you to fill out with the request you have. Make it clear that you want to alter the registered phone number since you no longer have ownership of the original number.
Step 12: Finally, click on send
TikTok will be asking for your date of birth and other personal data to validate your account.
---
FAQs
1. Why doesn't TikTok recognize my phone number?
The fact that TikTok won't let you sign up with your phone number indicates that it's been used for another account. You may have an old account associated with your phone number that you are unaware of.
Therefore, you must delete the old account before you may use the same phone number to register for a new one.
---
Final Words
For many users, seeing the error message "phone number already taken" on TikTok might be concerning.
Don't let this error warning deter you from accessing the app's amazing features and content, however; just follow the steps outlined in this article to start creating a new TikTok account today.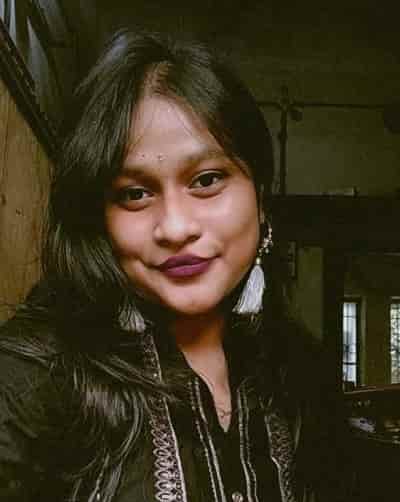 Having earned a Bachelor's degree in Commerce from Ravenshaw University, with a background in Accounting and Finance, Akshita Pattanayak contributes to UniTopTen by writing clear and concise articles based on Finance-Tech. With more than a hundred fin-tech related articles, she hopes to educate people about how banking and payment apps function.