Do you get an error message saying "This effect doesn't work with this device" when you try to use a certain TikTok effect on your smartphone? Please know that you are not alone in this.
Getting this error and being unable to utilize certain effects may be quite annoying, particularly if you're trying to provide engaging content for your followers. But don't worry, because we've got some tips to help you get through it and go back to making great videos for TikTok.
---
Why does TikTok say This effect doesn't work with this device?
Short Answer: TikTok's "this effect doesn't work with this device" error can occur for several reasons, including but not limited to not having provided the camera and microphone access; using an outdated version of the TikTok app; an issue with the cache; not having updated your device's OS; TikTok's servers being down; or internet or server problems.

1. Camera and microphone access not provided
The user may not have provided permission for the TikTok app to use their camera or microphone on their device, which is a typical cause of this issue. If you want to use TikTok, you'll have to provide TikTok access to these devices so that you may record video and music and add effects. For the app to utilize the effects, it needs access to the camera and microphone.
2. Outdated app
With each new update, TikTok adds several new features and filters, some of which may not work on older app versions. Some features may be inaccessible on outdated versions of the app. In this situation, upgrading the TikTok app to the most recent version may help fix the problem.
3. Bug or glitch in the app
The TikTok app has been known to have occasional errors and malfunctions, which may prevent certain effects from functioning as intended. If the problem persists, consider uninstalling and reinstalling the application or restarting it. If the issue continues, you may get in touch with TikTok's support team for further help.
4. Uncleared cache
If you're having trouble with effects in the TikTok app, try clearing the app's cache. If you haven't emptied the cache in a while, the app may have built up temporary data that is slowing it down and causing errors like the one under discussion.
5. Internet or server issues
TikTok is only usable with a reliable data connection. An error message such as "This effect doesn't work with this device" may appear in the app if you are unable to connect to the internet.
Additionally, there may be server problems with TikTok, which might impact the app's performance. You may either wait for TikTok's technical staff to fix the problem or open the app from a different network to test if it still doesn't function.
6. Outdated OS
TikTok effects not working properly may also be caused by an out-of-date OS. You may not be able to use the newest TikTok effects on your mobile device if it's running an older operating system.
It is recommended that you check for and apply any available software updates to guarantee that your device is up-to-date and capable of running the most recent version of TikTok.
---
Fix: This effect doesn't work with this device TikTok
Method 1: Grant TikTok access to your camera and microphone
Allow TikTok access to your camera and microphone by enabling the appropriate permissions.All that is required to fix the issue is a single click of the "Try this effect" button and permission to use the camera and microphone.
If you're using an Android smartphone, you may grant the app access to your camera and microphone by tapping the "While Using The App" option. The Settings menu on your smartphone is another option for granting the TikTok app access to your camera and microphone.
If you're using an iOS device, tapping "OK" will take you to the app's settings screen. To enable the app's microphone and camera, you'll need to do so from the app's settings menu.
---
Method 2: Upgrade the TikTok app
TikTok is constantly updating with new features, including filters and special effects. It's important to use the most recent version of the TikTok app since several filters and effects are exclusive to that version.
Consequently, you may encounter difficulties if you attempt to use a new special effect or filter in a video creation on an earlier version of TikTok. Follow the steps outlined below to update TikTok.
With an Android device:
Step 1: Navigate to the Google Play Store.
Step 2: In the search field, input TikTok and press enter.
Step 3: Pick TikTok from the list of available apps.
Step 4: Click the Update button.
On iOS:
Step 1: Launch the App Store.
Step 2: In the upper right corner, select your profile image.
Step 3: Go to the bottom until you locate "Upcoming Automatic Updates."
Step 4: Select TikTok from the app list.
Step 5: Select the update icon located right beside the app.
---
Method 3: Upgrade the OS
Verify that your device's software is up-to-date. The TikTok app and its features may not work properly on older operating systems. If you're having trouble using all of TikTok's features, it may be time for an OS update.
To get the latest OS update, please do as follows:
Step 1: Navigate to Settings and choose About.
Step 2: Select System Update and then Check for updates.
Step 3: Click the Download option.
After doing the necessary software updates, launch TikTok and attempt to apply the effect or filter; perhaps, this time it will take.
---
Method 4: Sign out and sign back in
If you're having trouble with your TikTok account, try signing out and then back in. This may resolve any temporary problems that may be affecting your account and allow it to function normally again.
To end your session on TikTok, please use the following steps:
Step 1: Launch TikTok
Step 2: From the lower right corner, click on your profile.
Step 3: In the upper right, select the hamburger menu.
Step 4: Click the Settings and Privacy tab.
Step 5: Select the sign-out option.
When you are ready to access our account again after logging out, just enter your username and password. If the filters are still not functioning, try the other solutions.
---
Method 5: Wait for the server to be restored
The problem may lie with TikTok's servers rather than your mobile device or the app itself. If the problem persists, visit TikTok's website or social media sites to see if there are any updates on the status of TikTok's servers. In this case, waiting for the server to become functional again is your best bet.
---
Method 6: Examine your internet connection
Establish a reliable connection between your device and the internet. The "This effect doesn't work with this device" error and other problems with the TikTok app might be caused by a slow or unreliable internet connection.
---
Method 7: Delete the cache
If you're having trouble with the TikTok app, such as the "This effect doesn't work with this device" error, try clearing the cache on your smartphone.
To clear the cache, go to your device's Settings, select Apps, and find the TikTok app. Then select the option to clear the cache. This will erase any temporary files, which may have been the source of the issue.
---
Method 8: Reinstall the app
TikTok may be uninstalled and reinstalled if erasing the app's cache does not resolve the problem. But first, be sure to back up any work in progress you have. This is because erasing TikTok will also remove any unsaved drafts you may have created. Because of this, you must first ensure that your drafts have been saved to your mobile device.
After deleting and reinstalling TikTok, launch the app and sign in with your account details. Find and use the effect now by searching for it. You should have no trouble this time locating and using the effect.
---
Method 9: Apply this effect after selecting the Record Button
This is one of the approaches that has proven successful for several users. Be sure to give this strategy a go. You may find the effect you are looking for by pressing the record button, then exploring the options under the effects tab in the lower left corner. In this way, you should be able to apply the effect.
---
Method 10: Replace the device
If, after attempting the aforementioned solutions, you still can't get the desired effect or filter to function on your phone, it's time to upgrade to a new smartphone. When you want to use TikTok but the filters and effects won't work on your old phone, you need to obtain a new phone.
---
FAQs
1. Why can't I find some effects on TikTok?
If the Effects tab doesn't offer what you're looking for, you can always search through other users' videos to locate something you haven't watched before to utilize on your own. TikTok may not have the specific effect you're looking for, but there are plenty of other video-editing apps out there.
---
Final Words
TikTok's "this effect doesn't work with this device" problem might be caused by anything from a lack of necessary permissions to out-of-date software. The aforementioned procedures may be used to identify the problem and, hopefully, resolve it.
If the problem continues after trying these steps, please contact TikTok's support team for more help. Using these methods, you should have no trouble using the newest features and effects on TikTok.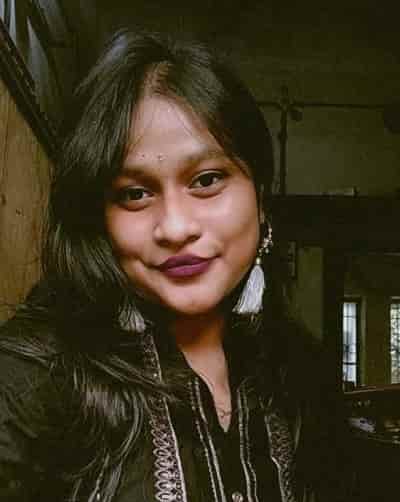 Having earned a Bachelor's degree in Commerce from Ravenshaw University, with a background in Accounting and Finance, Akshita Pattanayak contributes to UniTopTen by writing clear and concise articles based on Finance-Tech. With more than a hundred fin-tech related articles, she hopes to educate people about how banking and payment apps function.