Why is your Chase credit card not showing up online?
How to fix your Chase credit card not showing up online?
JP Morgan Chase Bank is an American financial and multinational banking services company. The debit card will be provided when you sign up for a bank account with Chase Bank. But that is not the case with a credit card. A credit card needs to be applied for by yourself.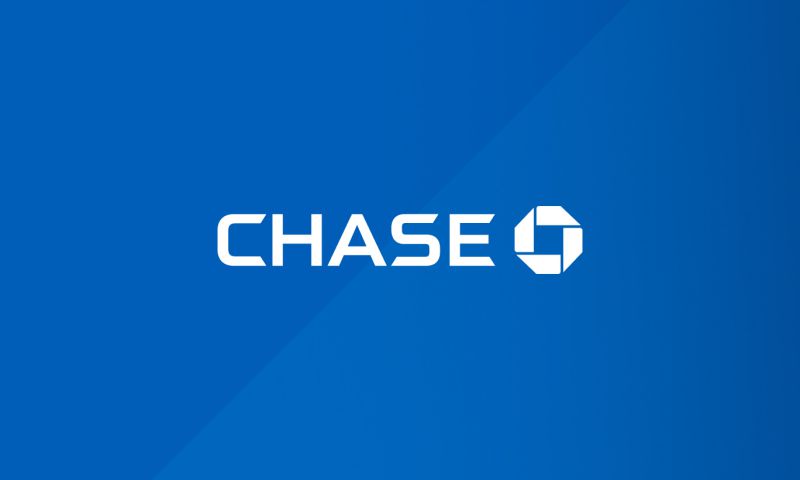 ---
Why is your Chase credit card not showing up online?
Short Answer: If your Chase credit card is not showing up online, check if you have added it to your digital wallet. Or the card has not been added to the bank database yet. 
The card will be added to the online portal if you are enrolled in online banking (If you haven't enrolled yet, here's the link). But to be able to use it anywhere without the need for a physical card, you need to add the card to your Chase digital wallet.
All your existing cards can be viewed using Chase's online portal. If you take any new cards, they should also be added to the portal. It is the norm. As soon as you get a physical card, your card should be added to the portal. But sometimes the online banking portals do not get updated as fast as you think.
Also, if the bank has not yet added your credit card to their database which can be accessed using online banking, your card will not show up. Another reason could be an error at the server which can mess up your access to the online banking experience.
---
How to fix your Chase credit card not showing up online?
Here are some solutions to help you fix the issue and get your credit card to show up online. 
Method 1: Add it to a digital wallet
To be able to use your card online you can add it to any one of the digital wallets you possess. Presently, Chase accepts Apple Pay, Google Pay, PayPal, Samsung Pay, and some other wallets too. Here are the steps to add your card to a digital wallet.
Step 1: Log in to your Chase online account using your browser or mobile.
Step 2: Tap on any card you want from your account.
Step 3: You will see a list of options. Then, find account services, and after selecting that click on digital wallets.
Step 4: It will show you a list of digital wallets and choose the one you want to add your card to.
Step 5: The digital wallet's application or website will show you some instructions on-screen. Follow them and your card can now be accessed through a digital wallet.
If you are unable to link your Chase account to PayPal, you can check out our previous article.
---
Method 2: Check the server status
As previously mentioned an issue with the server will not keep your data updated in your account. Check the server status of Chase here. You can see in the image below that while I write this article, users have reported issues with Chase.
If you are currently facing any issue, visit the website and choose the option (the red boxes) with which you have a problem, or type your issue in the Something else… box.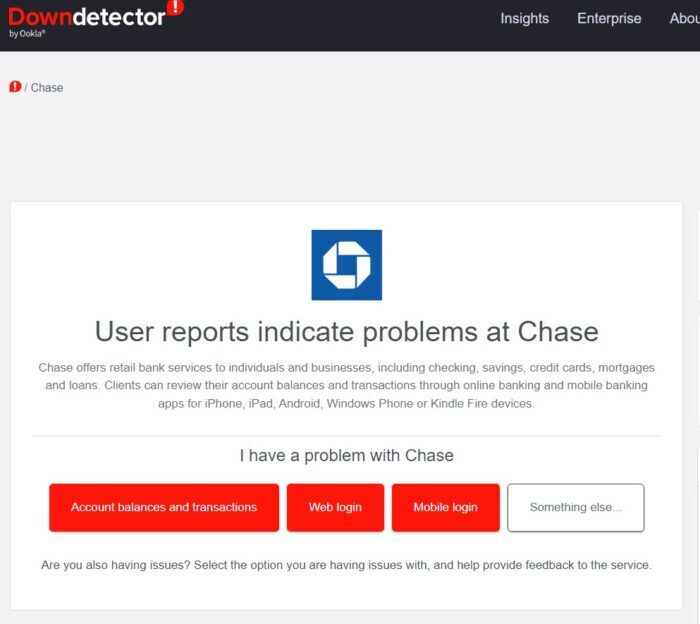 ---
Method 3: Check your internet connectivity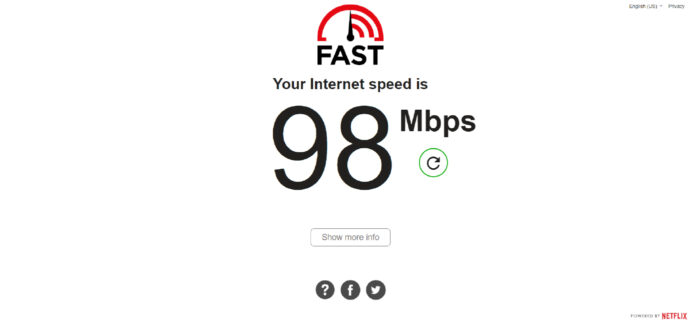 Sometimes a slow internet connection might not help you get the application's data up to date. So you might want to check your network speed. A speed of 5-7 Mbps is the minimum you need for any kind of internet service.
Whether you are on your cellular data or connected to Wi-Fi, you will get a notification if the network is not connected to the internet. So at this point in time, you should contact your Internet Service Provider to check the issue.
---
Method 4: Update your Chase application
If you are unable to view your card or having issues with mobile banking, you should check if you are running an updated version of the application or not. An updated version of the application will surely have a smoother experience and newer features.
Go to the respective application store on your device.
Search for the Chase Mobile app and check if it has any updates. Install it, if you find one.
Otherwise, make sure to turn ON auto-updates so you do not miss out on a newer version next time.
Note – If you are using a browser to access online banking, this method is not for you. Because when you open them, the websites are connected to the internet and do not need any intervention or approval to get updated.
---
Method 5: Clear cache
The cache is the data stored from previous engagements with the Chase app or a website. So, when this data gets stacked up, Chase might not work as you intend and your credit card (old or new) might not be available to you.
If you are an android user, go to settings and search for Chase Mobile under applications. Then, under that, you select the Clear cache option.
Or if you are using an iPhone, you will not have the option to clear the cache. So, you have to offload or delete the app from settings and set it up again.
And if you are accessing from a website, try to use the key combination for Mac users – Shift+Command+R and for Windows users – Ctrl+F5 or Shift+F5 or Ctrl+Shift+R.
---
Method 6: Contact customer support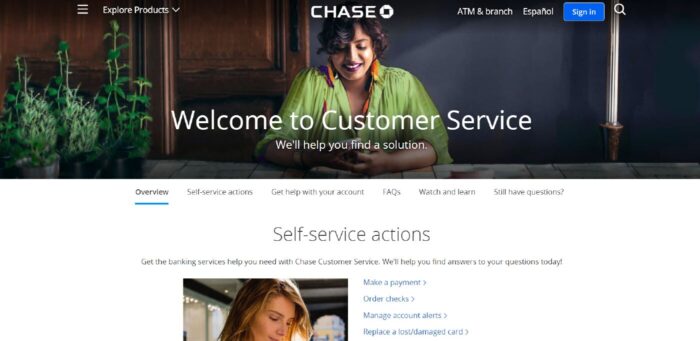 When nothing seems to work, you need to contact Chase customer support for help with your issue. They will be able to solve your issue by giving you personalized help. There are various topics, guides, and videos to help you learn about its services. It also has some frequently answered questions to some commonly faced issues.
If you have gotten your physical card but the online portal does not show it yet, inform them about that.
---
FAQs
Q1. I have got my physical card and it is available online too. But I am unable to add it to the digital wallet. What is the solution to this issue?
The card you are trying to add might not be accepted by the wallet. 
Some digital wallets do not allow adding of certain cards. And some wallets do not allow adding credit cards as payment methods. So, it is advised to check for the rules on the cards accepted for the digital wallet you are trying to use, before adding the card.
---
Final Words
This article has given you the reason why you are unable to view your credit card online and the ways (or fixes) to bring it back online. I hope this article has helped you access your card online.
That is all folks!
Don't have a good day, have a great day!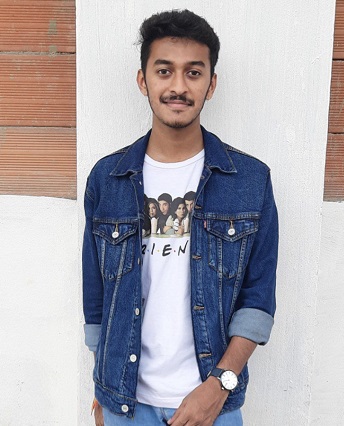 Sri Sahith is passionate and writes his articles by ensuring attention to detail. During his graduation study, he has taken elective subjects like Business Economics and Financial Analysis. These gave him the interest, knowledge and passion to write articles related to Finance-Tech. Also, he loves to read books and talk about them as long as possible.