Are you having issues with Venmo?
Are you getting the error, 'Something went wrong on Venmo? Or any of the error codes mentioned below:
Venmo something went wrong transfer

Venmo error transaction declined, please try again in a short while

Venmo something went wrong getting your bank account

venmo error try again later

venmo that didn't work error
First of all, don't fret if you are getting one of the error codes mentioned above. You are not alone in getting one of these error codes/ phrases.
There are many, like you, who are getting the same errors on Venmo.
Below are a few comments by netizens:
So i'm trying to link my bank account to my Venmo account and I put in the credentials right, I enter the verification code sent by text, and then I get a screen that says "Something went wrong" after entering the verification code. I'm confused as I entered the code in multiple times and it's right, but get the screen every time. If someone has an answer, that'd be greatly appreciated, thanks! – Reddit
@VenmoSupport venmo will not allow me to transfer money that is on a visa card in my account. ALL DAY i couldnt get through to customer serv. message says "Something went wrong. Please try your transaction again"

— Amy (@tireiron123) December 19, 2021
@Venmo BIG problem: My mom reset her password, but she can't log in on any device or browser! She keeps getting a random error message – "Something went wrong" or "Resource not found." PLEASE help ASAP. She needs access to the funds. Thank you.

— 〽️atthew S. Schwartz (@SchwartzReports) August 6, 2020
Well, whatever the case, there are a few things you can try out on your end to make sure that the error isn't just from your end.
Venmo is renowned peer-to-peer money transferring service in the USA, owned by PayPal. It plays an integral part in its users' everyday lives. It is frustrating when users can't use Venmo to pay their friends or buy items due to login issues or errors like "Something Went Wrong."
In most cases, the issues may be from the server's side, but it's always a good idea to try troubleshooting the source of the problem yourself.
Does that sound too technical or 'nerdy'? Well, we at UniTopTen are ready to help you with that!
So let's get started.

---
Why does Venmo keep saying something went wrong
Short Answer: Venmo says 'Something went wrong, please try again later' because – your internet connection is not working fine, you are using a VPN, your Venmo app isn't updated, the cache is causing the issues, or servers of Venmo are down or having issues.
---
Fix: Venmo something went wrong, please try again error
1. Wait then retry
Sometimes, Venmo throws 'something went wrong getting your bank account' or 'Venmo sign in something went wrong'.
Well, these errors are temporary and can be easily fixed by restarting the action you were performing earlier.
Wait for a few minutes, restart your Venmo app and try logging in or making the transaction again.
---
2. Check your internet connection
The first and most basic step you need to perform is to test your internet connection. If your internet connection is not working fine or having issues, you will have loading issues with Venmo.
If you are subscribed to high-speed internet, it doesn't mean you will always have high-speed internet. In contrast, the internet speed delivered may vary depending on the weather, the number of users, and other factors.
So, it is highly recommended to perform an internet speed test. You can perform the test on Fast.com or speed test by OoKla.
Switch from Wi-Fi to Mobile data:
If you are using your Wi-Fi, and it's not working fine or having issues while loading the Venmo, you can try to switch your internet to your Mobile data.
Contrarily, if you were already using your mobile data, connect it to Wi-Fi and try opening Venmo.
Note: Be safe or do not connect to any free public Wi-Fi while using Venmo or any other payment app for privacy and security reasons.
---
SEE ALSO: You Can't use this Card on Venmo (6 Reasons)
---
3. Check Venmo server status
Before you move on to other methods to fix Venmo, it's generally a good idea to know whether the issue lies on the client-side or the server side.
Venmo sometimes throws 'transaction declined please try again in a short while' error when there are issues with their servers.
If the problem is on Venmo's end, there isn't much you can do to fix it. In that case, the only way left would be to either wait till the issue gets resolved or report it via Venmo's help and support channels.
That being said, to check the server's status of Venmo, there are a lot of free online services.

We would recommend checking Downdetector's page for Venmo. Here, you can check the live map and comments section to see if other users in your area are reporting similar issues.
Similarly, you can check IsTheServiceDown's page for Venmo. Like Downdetector, it also provides detailed reports of past outages and user-reported problems as well.
If the outage services show no issues with Venmo servers, it's very likely that the problem is on your side.
In that case, keep reading for more useful fixes!
---
4. Disable your VPN
If you are using a VPN (Virtual private network), then disable it and then open the Venmo app, it should work properly now.
A VPN service hides your location and disguises your location, and payment services like Venmo need to know your identity, so that's why while using a VPN, Venmo might not work properly.
So, disable the VPN and then try again.
---
5. Sign out and Sign in again
Signing out and logging in back to your account is a fundamental trick to resolve temporary glitches by reloading your account details.
If there are some temporary bugs or glitches that might be affecting Venmo, those will be resolved once you sign out and sign in again to your account.
By doing this, you can also make sure no other device has your Venmo account logged in.
---
6. Update Venmo App
Another reason why Venmo is throwing the error 'Something went wrong' is that you haven't updated the Venmo app to the latest version.
With the latest updates being installed on your device, you can be sure that Venmo is running its latest version along with the most up-to-date bug fixes.
That being said, follow the steps below to update Venmo on your smartphone.
Open Google Play Store or App Store on Android or iOS devices, respectively.
From there, search and locate Venmo.
Then, visit the Venmo page.
Subsequently, to check if there are updates available, the Update button will be visible.
Finally, tap the Update button if available.
Once you have updated the app, you would like to restart your device and open Venmo freshly. Now it should load and work properly; if not, follow other solutions below.
---
SEE ALSO: Why Venmo won't let me send money from Balance
---
7. Clear Venmo cache
Our devices, whether it be a smartphone or PC, all collect and store the temporary data of the apps and services we use the most – in order to reduce the load time next time the app requests these same resources. This data is known as a cache.
However, over time, the cache can become large, and rather than providing benefits, it can cause problems, making the app buggy and sluggish.
So, that is the reason why clearing the cache is always recommended.
To clear the cache on your device, follow the steps below.
Head over to the settings of your smartphone
Go to 'Apps' or Applications
 Search for Venmo
Tap on 'Data and Storage'
 Tap 'Clear cache.'
Cleaning the cache will make sure that no previous data or files are interfering with the loading of the Venmo.
Once you clear the cache, remove the Venmo from recent apps and give it a fresh start, it should work now.
If it's still not working, follow the other methods listed below.
Note: The above setting will differ slightly from device to device.
---
SEE ALSO: Why is Venmo not verifying bank account (8 Reasons)
---
8. Restart your device
After clearing the cache of Venmo, you can take a step further and restart your device. Restarting your devices is a simple and efficient way to free up the system resources.
When you do not restart or reboot your device for a long period of type, processes build up in the background, leaving no space or RAM to run the apps properly.
Hence, it is necessary to restart your device to ensure that you have enough system resources for the Venmo to work correctly.
To reboot your device, follow the steps below for Android or iOS devices.
For iOS
First, press and hold the Power button until the "Slide to Power Off" option appears on your screen.
Drag the slider to the right to turn off your device.
Turn on your device again after waiting for at least 10 seconds.
Finally, once your device is turned on completely, try to log in to your account to check if it resolved is resolved or not.
For Android
First, press and hold the Power button on your device.
Now, tap the Restart button.
Wait till your device boot up completely, then try logging in to your Venmo account.
However, if you still can't access your Cash App after restarting your device. Follow the other methods listed below.
---
9. Update your device
Moving forward, Venmo might also not work properly or showing something went wrong error because you have not updated your device's software.
Follow the steps below to update your Android or iOS device;
iOS Devices:
Plug your device into power and connect to the internet with Wi-Fi.
Go to Settings > General, then tap Software Update.
If you see two software update options available, choose the one that you want to install
Tap Install Now. If you see Download and Install instead, tap it to download the update, enter your passcode, then tap Install Now.
Android Devices:
Make sure your device is connected to Wi-Fi.
Open Settings.
Select About Phone.
Tap Check for Updates. If an update is available, an Update button will appear. Tap it.
Install. Depending on the OS, you'll see Install Now, Reboot and install, or Install System Software. Tap it. Your phone will reboot.
Updating your device to the latest software version will make sure that there aren't any bugs or issues that are interfering between the loading of the Venmo app on your device.
---
10. Try Venmo on another device
If Venmo isn't working on your device, and you are repeatedly getting the something went wrong error, there might be some issue or bug in your device that is affecting the Venmo app.
If you have another mobile phone, install the Venmo App from the Google Play Store or the App Store, depending on whether it's an Android device or an iOS device, respectively.
Once the Venom app is installed, log in with your credentials and check if the issue persists or not.
---
11. Try using Venmo on a browser
Yes, you can use Venmo on a browser instead of using via its app.
So, if you want toimmediately pay someone with Venmo but the app is throwing errors like 'something went wrong', 'that didn't work', you can try using it on Venmo website.
Simply open Venmo.com and log in to your account and use it. Hopefully this time you won't face issues.
Contact Venmo support by following the ways mentioned below if it still exists.
---
12. Contact Venmo support
If after all these attempts you haven't managed to fix Something went wrong error on Venmo, reach out to their support team.
You can contact Venmo support via numbers ways as mentioned below:
Chat with Venmo on mobile app (M–F, 7:00am–1:00am ET; Sat–Sun, 9:00am–11:00pm ET).
Call Venmo at (855) 812-4430 (M–F, 10:00am–6:00pm ET)
Reach out to them on Twitter
---
12. Use an alternative to Venmo
Finally, if Venmo support can also not help you out, and you are still having issues with the app, it's time to try out alternatives to Venmo.
There are several apps like Venmo that allow you to transfer money and manage your finances.
Below are a few alternatives to Venmo you should check out:
---
SEE ALSO: Fix: Venmo "There was an issue with your payment"
---
Final Words
Venmo is a mobile payment app owned by PayPal. Users can create a Venmo account to send and receive funds from each other. However, it is only available in the USA.
To sum up, that's all the 12 fixes for the "Something Went Wrong" error on Venmo!
Typically, the exact cause of this error is still a mystery to all. Especially, since the error message doesn't give much information, and you don't know what exactly "went wrong".
However, through this guide, we aim to provide you with all the steps you can try from your end to overcome this error.
So, that's all for now. We hope, this guide helped you. For more posts like this, visit our Venmo section or follow a few related posts from below.
---
Further Reading:
Can't add Bank account to Venmo (Reasons & Solutions)
[Fixed] Why Does Venmo say My Card is Already on File
Venmo lost connection with Bank Plaid: Here is what to do
(10 Reasons) Venmo Card Not Working at ATM [Fixed]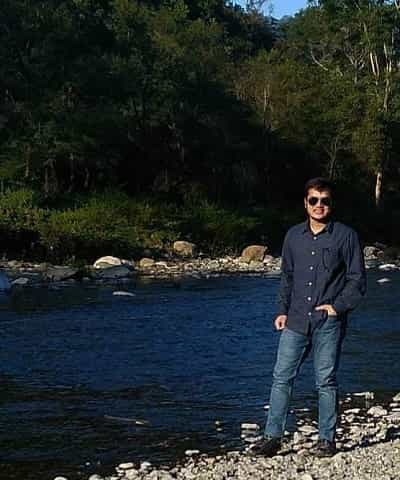 Ankit Kumar is an Engineer by profession and a blogger by passion. Over the last several years, he has written tons of articles, solving queries on Quora. He also has years of experience in investing in Cryptocurrencies, Funds, and Stocks.