Are you trying to make a payment using your Venmo app and suddenly realized that your bank is not connected with the app?
Does Venmo say 'lost connection with bank plaid'?
If you are also having issues with your bank account on Venmo, you are at the right place. This post explains why Venmo says 'lost connection with the bank' and what to do when your bank account is disconnected from the app.
So, let's get started.
---
Why does Venmo say 'lost connection with bank'
Short Answer: Venmo says 'lost connection with bank' because – Venmo is limiting your connection, you have recently changed your banking credentials, you have adjusted your banking MFA settings, you are using an outdated version of the Venmo app, or there could be security issues
Below we have listed all the possible why Venmo may lose connection with your bank.

1. Change in banking credentials
If you have recently changed your banking credentials like you have updated your online banking username or password. If you have changed your email or phone associated with your bank, then it is likely that your bank account will be disconnected with the Venmo app.
Venmo detects changes that have been made to your banking credentials, and for security reasons, it automatically disconnects your bank account from the app.
Thus, in this way, it would help protect your account from unauthorized access.
---
2. Change in banking MFA settings
If you have changed your security settings for your online banking or enabled the MFA (multi-factor authentication) to protect your account, Venmo disconnects the connection with your bank account.
Again, this is also done due to security reasons. If you have changed the MFA setting, Venmo systems detect it and your bank gets disconnected from the app.
---
3. Connection Issues
Sometimes there can be some connection issues between your bank servers and the Venmo servers, and due to an awry connection, your linked bank account with Venmo app will get disconnected.
---
4. Use of outdated Venmo app
If you haven't updated the Venmo app, or you're using an outdated version of the app, any problem and issue can occur.
In this situation also, you can get an error where Venmo says we lost connection with your bank.
---
5. Security issues
There can be several other reasons why your bank may get disconnected from your Venmo account, such as someone trying to log in to your account, or you are using multiple devices to sign in to your Venmo account, etc.
Plaid on Venmo is safe to use, but if Venmo identifies any possibility of fraud your connection will be restricted.
---
6. Venmo restricts your connection
Sometimes, Venmo might affect your connection with the plaid and restrict the financial information you can access. This could be the other reason why you are encountering the Venmo Plaid not working issue.
---
7. Issues with Venmo or Plaid
Well, if none of the reasons mentioned above makes sense to you, it could be a possibility that the servers of either of the platforms are facing issues.
Even if one of the services is working fine, it doesn't mean you will be able to complete the desired action. The servers of both the services must be up and working fine.
---
SEE ALSO: Fix: Venmo "There was an issue with your payment"
---
Fix: Venmo 'we lost connection with your bank'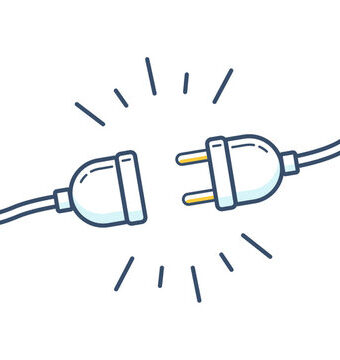 Step 1 – Reconnect your bank
If you ever get 'we lost connection with your bank' on Venmo, you can simply remove your bank account and reconnect it.
If you don't know how to remove or add a bank account in the Venmo app, you can follow the steps below.
How to Add bank account to Venmo
1. Open  Venmo App and log in
To begin with, open the Venmo app on your device and log in to your account if you haven't already.
2. Tap on the Menu button
Now, from the home screen of the Venmo app, tap on the menu button (three dots icon) present in the upper right corner of the app.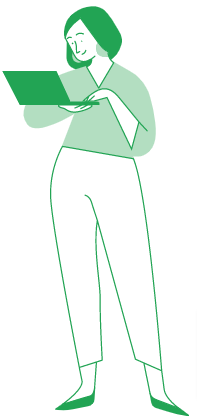 From the drop-down menu that appears, tap on the 'Settings' option.
Now, from the settings menu, tap on the option 'Payment Method' 
5. Tap on Add Bank or Card
In the Payment method menu, tap on the option 'Add Bank or Card.'
6. Enter bank account/card details
Finally, add the details of your card or bank account.
---
Step 2 – Check Plaid & Venmo server status
As we mentioned in the first part of this post. If any of the platforms are having issues with their online services, you will observe a Venmo-Plaid not working situation.
Well, as you might have realized, there is nothing much that can be done in this scenario. You have to wait till the concerned team of both platforms fixes the issue, and the services come back online.
All you can do is identify the server issues on your own and save your time by not trying to add the bank again and again.
Follow the instructions below to check the server statuses of both Plaid and Venmo.
Plaid –
First, check if the Plaid servers are working fine. The server status can be checked using the official server status page. Use this link and check for any issues.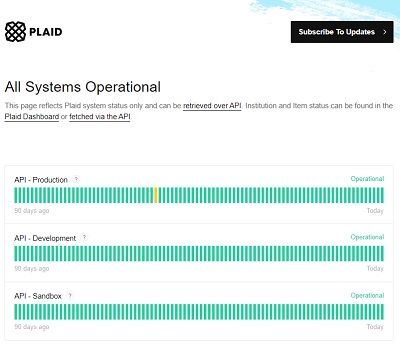 If you find any issues with the services wait till the services are up again. You will have to keep checking the server status page. You can follow the official Plaid Support Twitter handle for services-related updates.
---
Venmo –
If the Plaid server status page doesn't show any issues, we will suggest you proceed to check Venmo's service status.
Well, Venmo doesn't have any official server status page. But, you can check the reports posted on third-party platforms like Downdetector and search Venmo's Downdetector page for any reports.
If you see report spikes like these, this is a clear indication that Venmo servers are not working as intended.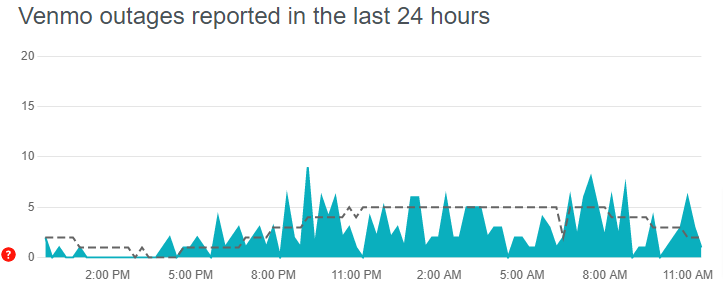 Again, stay tuned to Venmo Support official Twitter channel for any updates.
---
Step 3 – Contact Venmo support team
Well, the very first Step might have fixed the 'Venmo lost connection with bank' issue, but if you are still on the same page, we will suggest you contact the Venmo support team for further assistance.
There could be issues specific to your account and the only way to fix them is by contacting the Venmo Support team.
There are several platforms and ways to establish a contact –
Send an email. Follow this link, and enter your details and the message describing your problem
Make a call. You can call Venmo support at (855) 812-4430 (Mon – Fri, 10:00 am–6:00p m ET)
Chat with Venmo representative. Describe your issue using the chat feature on Venmo mobile app. (Mon – Fri, 7:00 am–1:00 am ET; Sat – Sun, 9:00 am–11:00 pm ET)
Tag the official page and Tweet. Venmo Support has an official Twitter handle. Tweet them!
---
Final Words
Venmo is an easy-to-use online mobile payment app using which you can easily send money to your friends, family, or someone else who has an active Venmo account.
It makes sending and receiving money so simple. Just create your account and link your bank account or card, and you are ready to go.
The best part of the app is that it also provides you with a debit called Venmo card that can be used at ATMs to take out cash or used to pay bills at both online and offline stores.
Well, sometimes you might have issues using the Venmo app, such as sometimes your payment can have problems or sometimes Venmo may lose connection with your bank, like we discussed today in this post.
So, we hope you were able to know why Venmo says you lost connection with your bank, and you have successfully relinked your bank with Venmo.
---
Further Reading:
How to get free money on Venmo (Official Rewards)
How to get a Venmo Card Under 18 Kid
Does Venmo report to IRS or Police?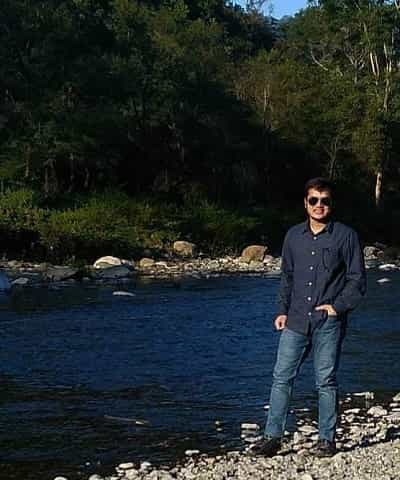 Ankit Kumar is an Engineer by profession and a blogger by passion. Over the last several years, he has written tons of articles, solving queries on Quora. He also has years of experience in investing in Cryptocurrencies, Funds, and Stocks.