Are you wondering whether Venmo is a checking account or a saving account?
If this is your question, you are at the right place. This post will explain all you need to know about Venmo.
In short, Venmo isn't a bank account; it is just a P2P money transferring app.
Confused? Let's learn more about it in detail below.
---
Is Venmo a Checking or Savings Account?
Short answer: Venmo isn't a checking or a saving account. Venmo is not a bank account, it is just a Peer-to-Peer money transferring app.
Venmo, owned by PayPal, is a P2P (Peer-to-Peer) money payment service or app with a social media twist (which is now dropped).
Using the app, you can send or request money to and from your friends or family members with emoji-studded text messages, which are shown up on a Facebook-like feed. Well, the dollar amount is hidden, and visibility can always be altered in the settings to private, friends, or public.
Venmo was founded in 2009, later acquired by PayPal in 2012. Venmo was aimed at friends and family who wish to split bills, e.g., movies, dinner, rent, or event tickets. The company handled $159 billion in transactions in the first quarter of 2018.

---
SEE ALSO: Does Venmo add friends automatically? How to hide them?
---
Is Venmo a bank
No, Venmo is not a bank. It is just a money transferring app owned by PayPal. 
---
SEE ALSO: Is Venmo identity verification safe?
---
What bank is Venmo associated with?
Venmo is owned by PayPal, and its banking services are handled by Synchrony Bank, Bancorp Bank. 
The Venmo Visa Credit Card is issued by Synchrony Bank pursuant to a Visa USA Inc. VISA license, a registered trademark of Visa International Service Association, and used under license.
The Venmo Mastercard is issued by The Bancorp Bank pursuant to license by Mastercard International Incorporated. The Bancorp Bank; Member FDIC.
SEE ALSO: Can you use a Savings Account with Venmo
---
How does Venmo work
Using the Venmo app is pretty simple; anyone who is eligible can link download the Venmo app from the Google Play Store or App Store on Android or iOS devices, respectively.
Once the Venmo app is downloaded on your smartphone, you can sign up with your phone number or email and then link your bank account, and you are good to go.
Now, you can send and receive money to and from someone who is on Venmo.
Venmo has three main requirements for using the app:
You must be located in the U.S.
Have a U.S. cell phone to receive text messages.
Must be at least 18 years old.
---
Final Words:
Venmo offers a variety of features apart from transferring money, such as you can use Venmo to split the bill and even invest in cryptocurrencies.
However, Venmo isn't a bank account as some people might think. Venmo is a financial technology company owned by PayPal, and its banking services are provided the Bankcorp Bank and Synchrony Bank.
So, that's all for now, guys. We hope you were able to better understand Venmo after reading this post. For more posts like this, visit our Venmo section or follow a few related posts below.
---
Further Reading:
Is Venmo safe to use with Strangers, Sellers, Buyers
How to get a Venmo Card Under 18 Kid
Does Venmo report to IRS or Police?
How long does it take Venmo to take money out of your bank account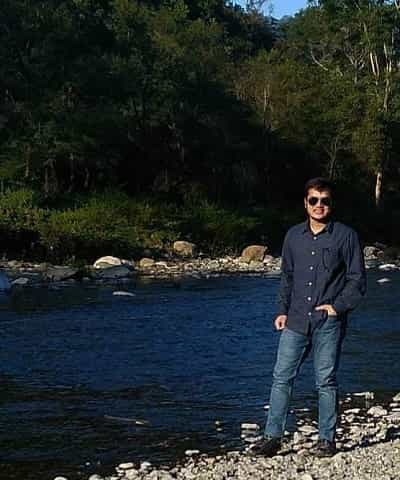 Ankit Kumar is an Engineer by profession and a blogger by passion. Over the last several years, he has written tons of articles, solving queries on Quora. He also has years of experience in investing in Cryptocurrencies, Funds, and Stocks.