How much is Venmo credit card fee? Is it even possible to use a credit card on Venmo
Is using a credit card on Venmo count as a cash advance?
If you have such questions in your mind, you have landed on the right place. This post explains all you need to know about using credit card on Venmo.
So, let's get started.
---
Can you use a Credit card on Venmo
Yes, it is possible to use a credit card on Venmo.
Although, you can use a credit card on Venmo, but will have to pay a 3% fee to send money on Venmo using your credit card. On the other hand, sending money with your debit card or bank account is totally free.
Moreover, when you pay your friends and family via credit card, Venmo warns that card issuers could code the transactions as cash advances—which means an additional set of fees, often a minimum of $5 or $10. Cash advances also don't come with an interest-free grace period; they begin accruing interest immediately, sometimes at a higher APR.

---
Does using a Credit card on Venmo count as a Cash advance
Yes, using a Credit card on Venmo now counts as a Cash Advance. 
Well, there is a kind of incomplete information about as some banks may consider using credit card on Venmo as a cash advance while some may not.
So, to play safe, it's better to confirm with your credit card provider that whether using their credit card on peer-to-peer apps like Venmo, Cash App, PayPal will be considered as cash advance or not.
As far we know, by digging through different sites and forums, the following banks consider their credit
Chase: Charge a cash advance fee
American Express: does not charge a fee
Bank of America: charge a cash advance fee
Citi: charge a cash advance fee
Discover: no info
Wells Fargo: no info
Note: The above information is not 100% correct, it is based on our own research from different forums and news sites.
Also, As per Venmo's official statement, your card provider can consider the credit card payment as a cash advance.
Some credit card providers charge cash advance fees (possibly including an additional dollar amount or percent rate, in addition to other possible cash advance service fees, including a higher APR) if you use your credit card to make payments to friends on Venmo. For more information about whether your card provider charges these fees, contact your card provider.
You would also like to read a long Reddit discussion about whether using a credit card on Venmo is considered as a cash advance or not below:
Are major credit cards coding paypal and venmo as cash advances? from personalfinance
As per a Nytimes article " Chase is not charging its credit card holders the cash advance fee for peer-to-peer payments, a spokesman said. Citibank is charging the fees when the transactions are classified as a money transfer.

Other big banks that issue credit cards, including Capital One and Wells Fargo, didn't immediately respond to a request for comment. You can check your credit card user agreement to see what the card charges for cash advances.

Discover, which issues cards and operates its own payment network, treats app transfers as regular "merchandise" transactions, so there is no additional fee, said a spokesman, Robert Weiss. American Express is also not charging a fee.
---
Venmo credit card fee
If you use a credit card on Venmo to pay your friends and family, you will be charged a flat 3% fee. You may also be charged an additional cash advance fee by your credit card provider, as discussed above.
---
SEE ALSO: Can you use a Savings Account with Venmo
---
Final words:
Venmo is a mobile payment app owned by PayPal. Users can create a Venmo account to send and receive funds to each other. However, it is only available in the USA.
So, that's all for now, guys. We hope you were able to understand how credit cards can be used on Venmo and what fees and charges are associated with it after reading this post. For more posts like this, you would love to have to a look at our Venmo section or follow a few related posts below.
---
Further Reading:
Can you make two Venmo accounts with the same phone number
Can I Venmo myself? How to Venmo yourself?
Why Venmo won't let me send money from Balance
How to Pay someone on Venmo without an account (2021)
Can you Overdraft with Venmo (2021)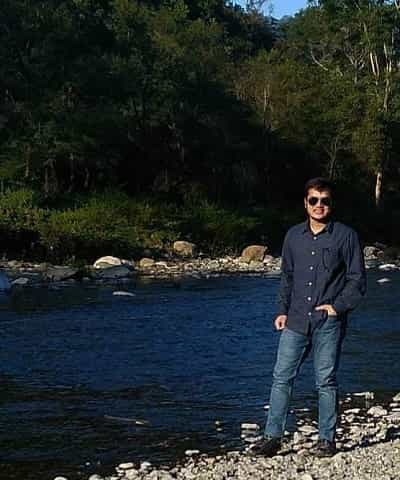 Ankit Kumar is an Engineer by profession and a blogger by passion. Over the last several years, he has written tons of articles, solving queries on Quora. He also has years of experience in investing in Cryptocurrencies, Funds, and Stocks.